November 16, 2019
The good, bad, and ugly of HubSpot; social video trends for 2020; and how to run a They Ask, You Answer book club

...this is THE LATEST!
💯 Jump Right into the good stuff!


👎 The #1 reason digital marketing strategies fail is a lack of buy-in from sales and leadership. But you can break the cycle with an IMPACT inbound culture workshop.
OK, here's the deal, folks.
Most of you are about to — or smack dab in the middle of — building your sales and marketing plans for next year. (I certainly am. Is it possible to drown in spreadsheets? Asking for a friend...)
Before you finalize anything, I have one piece of advice for you. If you haven't done it already, you need to read They Ask, You Answer.
Now, you might be thinking to yourself, "Liz, I know you worked on the book, so you're biased."
You're not wrong about that.
Still, I want you to consider two things.
First, I guarantee you that, after reading it, you will fundamentally change how you attack your digital sales and marketing strategies for 2020, for the better. Second, it's a quick read. (I have the attention span of a goldfish and the emotional range of a teaspoon, and even I couldn't put it down.) What do you have to lose?
If you're still not convinced, watch this video from Yale Appliance, a company that went from $30 million to $117 million in sales after reading it and embracing its philosophies.
I'm sorry for yelling; just know I'm doing so because I care.
Actually... let's make this a little more fun, shall we?
🚨🚨CONTEST ALERT 🚨🚨
Send me a really funny joke (about anything!) as a reply to this email before 5 p.m. Eastern on Monday, November 18. The one that gets me to laugh the hardest will win a copy of They Ask, You Answer paid for by yours truly.
I will announce the winner in next Tuesday's edition of THE LATEST.
Now, let's get down to business.
🤔 Why go HubSpot? (A candid look at the good, the bad, and the ugly)
For businesses that have adopted the inbound methodology or are ready to, HubSpot provides an affordable selection of tools that support your marketing, sales, and service teams as they implement this new strategy. But is it the right fit for you? HubSpot is extremely powerful, but it's not always the right choice. In this candid, thorough article from IMPACT HubSpot Consultant Lexie Ward, you'll get the inside scoop on the good, the bad, and the ugly of one of the most popular digital sales and marketing solutions on the planet.
🔎 Related articles and resources
🎬 Everything you need to know about social video marketing going into 2020 (a must-read infographic)
It's been another great year for video marketing, which should come as a surprise to no one. But where should you be focusing your video publication efforts in 2020? The best way to get the answer to that question is to take a deep look at where digital marketers saw the best results in 2019 — as well as what strategies flopped spectacularly. IMPACT Head of Partnerships Nick Bennett has your back with this fantastic infographic from Animoto, which covers all of the essential social video data and trends you need to know before you next year's strategy.
🔎 Related articles and resources
📚 How to run a

They Ask, You Answer

book club at your company that ignites lasting change
A few weeks back, IMPACT Content Marketing Consultant Jolie Higazi received an email from one of our clients with the following question — they were planning on running a mini book club within their company with They Ask, You Answer, but did we have any recommendations on how to break up the book into "manageable chunks"? So, Jolie decided to take a page out of They Ask, You Answer, by writing this in-depth article that answers the question of how to run a They Ask, You Answer book club, along with suggested discussion questions, book club facilitation tips, and much more.
🔎 Related articles and resources
✍️ Eliminate the learning curve of creating digital marketing content and start seeing immediate results with IMPACT content consulting
You understand the impact of creating content that answers the most burning questions of your potential buyers to drive real sales results. But you could use some guidance to make sure you're doing it right and staying on top of best practices. We can help.
🎧 Latest shows and podcasts
📆 Upcoming events
🚿 Weekend Nonsense
I may or may not have spent 15 extra minutes in the shower this morning wondering if there was a way for me to do my work from there...
🖼️ One last thing
To this day, this was one of the most surprising A/B tests we ran with THE LATEST. (Never stop testing, folks. You never know what you'll learn.)
Have a great weekend, everybody!
November 12, 2019
3 keys for leading a tribe, FTC clarifies endorsement guidelines, and the best email newsletters

...this is THE LATEST!
💯 Jump Right into the good stuff!


🏆 Assess the current state of your digital marketing strategy with our free (10-min) Digital Sales and Marketing Scorecard! Get a score of your current strategy and personalized action plan of what you need to do right now to see better results. Get your scorecard now.
I'm a Leaf Raker. 🍁
It's a tad ironic that I'm talking about raking leaves on a cold Chicago morning where at least 4 inches of snow have already blanketed the city. But here we are.
You're probably thinking to yourself wait, Stephanie, what the heck is a Leaf Raker? Fair question.
If you've never heard of the Leaf Rakers Society, it's a sort-of-secret community created by Starbucks for people who are obsessed with fall (and coffee).
If your eyes light up at the sight of a Starbucks in the distance or if your heart races when you step on that first crunchy leaf of autumn, you are probably a Leaf Raker.
What started as a #PSL-lovers group has since transformed into a wonderfully festive online community of people who wanted a safe place to express their scarf-wearing, holiday-loving, coffee-drinking, decoration-hanging thoughts all 👏 year 👏long 👏.
And yes, I am a bonafide Leaf Raker. I've got the pin to prove it:

The highly coveted, Starbucks-official Leaf Raker pin.
Which is why, when I woke up this morning to a fresh dusting of white powder, I couldn't wait to post a pic of my new #redcup in Leaf Rakers where no one would tell me "it's too early to listen to Christmas music!"

What's most amazing to me about Leaf Rakers is that, despite our many differences, we are a positive and supportive group. People come to this group to share updates about their cancer treatments (and what latte got them through their last round of chemo). They share engagements and wedding day updates. It's one of the most heart-warming parts of my Facebook feed.
Starbucks has created something truly unique on the internet - a place of compassion and joy unencumbered by the typical negativity on social media. They've created a tribe.
🔑 Seth Godin's 3 keys for leading a tribe [TED Talk]
People don't want to just buy a product anymore, they want to buy into something they believe in. They want to connect and feel like they're a part of something greater than just a transaction. Just like Leaf Rakers.
IMPACT Video Editor Megan Lang shared her takeaways from Seth Godin's TED Talk on tribes and the steps your business can take to create a community.
🔎 Related articles and resources
💁 FTC clarifies guidelines for how influencers must disclose endorsements
If you can't tell already, I love talking about the things I love. I'm certainly not an #Influencer, but I do, from time to time, get rewarded for talking about these things. I always make it obvious in my posts when this is the case so I don't deceive anyone. It's not just a best practice, though, it's also legally required. IMPACT Editorial Content Manager John Becker outlined the FTC's endorsement guidelines and how they've recently been clarified.
🔎 Related articles and resources
📌 Proving their worth is one of the top 5 fears marketers face
Why? For most marketers, their success depends upon cooperation and collaboration with other key leaders inside the organization. And, for most people, getting that isn't easy. That's why we created the inbound culture workshop.
📩 7 best email newsletter examples for digital marketers (B2B and B2C)
Look at me talking about newsletters right in the middle of a newsletter. How meta. Your usual author of THE LATEST, Liz Murphy, is here with a roundup of the 7 best email newsletter examples for digital marketers.
🔎 Related articles and resources
🎧 Latest shows and podcasts
📆 Upcoming events
Hey Chicago, whaddya say? The Chicago HubSpot User Group's most popular event of the year is back! Get ready for eight short, motivational, industry-related talks from fellow HUG members at the HUG chiX event on November 20. Save your seat now now as space is limited and 125 people have already signed up!


Lookin' at you, Connecticut. Video expert Zachary Basner will be teaching us how to harness the power of video to generate revenue in this one-day workshop at IMPACT HQ in New Haven. Join us on Thursday, November 21 from 9:00 AM to noon (lunch is included!) to learn how to create effective one-to-one and one-to-many video that can be used throughout the sales process. Learn more and get your ticket today.
🌎 IMPACTers on the move
🗞️ What I'm reading
Here are the long reads, articles, and news items that have caught my eye:
While I usually focus on community and events, I freaking love email. It absolutely fascinates me. This oldie but goodie came up in my "to read later" folder with a nifty little preview text hack. (LOL @ "published in 2018" but I just now read it.)
Have you been to our site lately? This morning I was reading this article from our CEO about why IMPACT's site is always evolving. (Yes, I read stuff on our own site.)
💡 One last thing
Katie Haller, copywriter at VaynerMedia (and comedian), has tweets worth push notifications. I saw this gem over the weekend and about spit out my coffee.
Stay confident! See ya next month 👋 Now back to you, Liz.
November 2, 2019
How to write a pillar page, Google's new BERT update, and everything you need to know about Google display ads

...this is THE LATEST!
💯 Jump Right into the good stuff!


🏆 Assess the current state of your digital marketing strategy with our free Digital Sales and Marketing Scorecard! In 10 minutes or less, you'll not only get a score of your current strategy, you'll also receive a personalized action plan of what you need to do right now to see better results. Get your scorecard now.
I'm being stalked.
I'm being stalked by a shirt from Old Navy.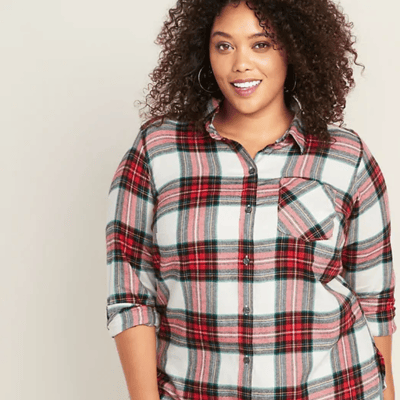 Just look at all that plaid. Swoon. 😍
I came across it a few weeks ago, while I was binging the fifth season of Schitt's Creek (a show I have to thank Ann Handley for turning me on to) and doing a little light online window shopping.
I really, really wanted it. But, by some miracle, I was able to tap into an unknown reserve of deep inner strength and left the Old Navy website in possession of all of my money.
But now I see it everywhere.
When I'm reading articles on the Baltimore Sun website, there it is:
When I'm scrolling through ideas on what the heck to do with my mountain of leftover Halloween candy on RealSimple.com, it appears:
Even when I'm trying to find an easy dinner recipe that's delicious and minimizes the risk that I'll burn the kitchen down, I can't escape it:
As a digital marketer, I love the power of Google display ads — I know our paid media team certainly does.
But as a consumer, I feel hunted.
Every time I see that shirt, my resolve weakens.
I know I'm one step closer to shamefully returning to OldNavy.com under the cover of night and buying it... probably along with some yoga pants, a new sweater, and pajamas covered in snow globes.
It's only a matter of time before I succumb to my baser, plaid-oriented instincts. But please keep me in your thoughts and prayers.
✍️ Our pillar pages have generated almost $1 million in revenue; here is the exact process I follow to write and launch a pillar page — with loads of examples! (13-minute read)
To date, I have overseen the strategy, production, and publication of close to 20 pillar pages at IMPACT — a few of which I've written all by myself — so I know first-hand how complex and daunting the process can be. Furthermore, I know how scary it can be to wonder if all of your time and effort will even be worth it. Well, with the right process, it can be. My article will walk you through (in detail) the 11 steps required to write and launch a pillar page, so it will increase your traffic, leads, and sales — guaranteed.
🔎 Related articles and resources
⚠️ Google rolls out BERT update to provide more nuanced search results — but what the heck is BERT? (2-minute read)
BERT allows users to use their normal language when searching. As Google points out, searchers often don't know what keywords to use because they're coming to search to find information. With BERT, you can type in your question or query without knowing the exact keywords and still find what you're looking for. And Google is calling this latest update "the biggest leap forward in five years." IMPACT Digital Beat Reporter Kate Williams has the scoop on what the heck BERT is, how it works, and what this massive update means for marketers who are trying to get their content found online.
🔎 Related articles and resources
💸 In paid media, what gets results (and what doesn't) seems to change on a weekly basis (get help)
From Google Ads to Facebook — and every platform in between — our team of paid media advertising experts can help you achieve the growth you're looking for with innovative paid media campaigns and strategies. No matter how many times the rules change.
🔥 Here is everything you need to know about Google display ads to create your strategy for 2020 (10-minute read)
Think about the last time you went online window shopping, where you visited a website, saw something you liked, but controlled yourself and didn't buy it. Then, no matter where you went online, you saw an ad for it. Eventually, you cave to the internet stalker gods and buy it. Those are Google display ads. In this highly entertaining article from IMPACT Paid Media Specialist, you'll learn what Google display ads are, how they work, and everything you need to know to create super profitable Google display ad campaigns in 2020.
🔎 Related articles and resources
🎧 Latest shows and podcasts
📆 Upcoming events
🌎 IMPACTers on the move
🐧 Weekend nonsense
Yesterday, someone sent me this: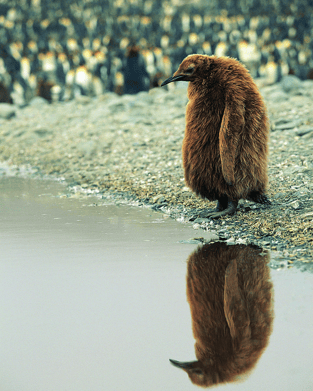 According to "science," this is a juvenile emperor penguin. But in reality, I think we can all agree that this is some sort of nonsense penguin/bear hybrid.
I haven't been able to stop thinking about it, so now you must all suffer with me.
🎧 One last thing
A few weeks ago, I quietly relaunched my IMPACT podcast — Content Lab — with a new co-host, IMPACT Editorial Content Manager John Becker: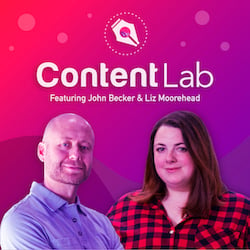 I'd love to get your feedback on what you think of the brand new Content Lab! Here are the most recent episodes:
Or you can also access all episodes of Content Lab on Apple Podcasts, Google Podcasts, Spotify, and Stitcher.
Not familiar with my podcast? Content Lab is for any digital marketer, content manager, or business leader who wants to learn what it really takes to create content that drives traffic, leads, and sales.
In short, we talk about how the content sausage really gets made.
Have a wonderful weekend!