The 10 Must-Have SaaS Marketing Tools & Platforms

January 17th, 2017 min read
Software as a service (SaaS) us one of the three main categories of cloud computing. It's a software distribution model which customers can access applications online via third-party providers.
The term gets thrown around alot these days, but it's not without reason.
It may sound complicated or "techie" to some, but it's likely that you use many SaaS products in life and don't even realize it.
From the site you use to email your boss to the app streaming your favorite 80s playlist on the way to the beach, SaaS is all around you and if you're in digital marketing, it may even be a bit overwhelming.
With so many SaaS marketing tools and platforms available, which ones truly deserve your attention?
Frankly, the market is diverse and extremely vast. Most marketing SaaS does something unique or different and there are very few that can do absolutely everything you need on its own.
That being said, below we've shared 10 of the most robust and trustworthy SaaS marketing tools money can buy -- and that every marketer can appreciate.
Google Analytics is also an amazing tool for measuring traffic metrics for your website, analyzing its performance, and gaining audience insights.
Plus if you don't have HubSpot or another website platform collecting data for you, this is a comprehensive free option.
In fact, even if you sre using another tool, you may still want to use Google Analytics as it goes even more in-depth regarding traffic metrics, categorizing all visitors by traffic type, and even segmenting visitors by country as well. It's all about the details with this one.
The internet has over 3.17 billion users.
Of those users, there are 2.3 billion active on social media, so needless to say, if your business doesn't have a social media strategy, it's setting itself up for a rude awakening.
With tools like Hootsuite creating and maintaining a social media presence is fast, easy, and -- free.
Hootsuite enables you to schedule posts on your Facebook, Twitter, LinkedIn, YouTube, Google+, and even Instagram accounts ahead of time, and also enables you to engage with your following right from the SaaS itself.
Hootsuite helps you track all of your mentions and comments and reply instantly without logging into all of your social media accounts separately.
All of your marketing efforts go to waste if you're not closing sales -- and the most profitable companies equip their sales teams with the best tools available.
While there are many options available today, Salesforce remains the industry standard for customer relationship management (CRM) software.
By using Salesforce, you're able to track every step of the sale. From phones calls and emails to working with colleagues, everything is tracked in one place, enabling your sales team to stay on top of every deal and also engage more effectively with prospective clients. The SaaS allows you to:
Collect and monitor leads
Track insights for better sales opportunities
Improve the productivity of your sales reps
Engage directly with leads and create email campaigns
Collaborate with sales reps and other members of your team
It also integrates with HubSpot creating a seamless connection between marketing and sales if you're on the marketing automation platform.
Wistia is the video marketing platform for businesses. Although YouTube provides a great free option for video marketing, Wistia allows you to learn more about the people watching your videos and in turn, provide a better user-experience.
The capabilities are far beyond what you could do with a free video hosting platform. Features include:
A customizable high resolution (up to 4K) video player
Analytics with heatmaps and viewing trends
Calls to action and email opt-ins
Drag and drop organization
Team collaboration
Simple embed code
Video SEO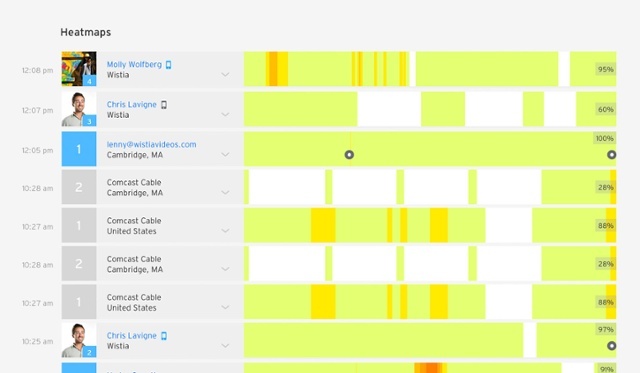 Optimizely is an A/B testing tool that allows you to increasecon versions on various pages throughout your website (and across all devices) by testing and analyzing the performance of multiple variations on everything from copy to button call and more.
The SaaS platform is incredibly easy to use and includes features like:
A/B, multivariate, and multi-page testing
All desktop and mobile browser support, as well as iOS and Android apps
Stats Engine that provides analytics for better decision making
Personalization that allows you to deliver targeted content in real-time
With the data you get from Optimizely you can then make improvements to your site and ultimately increase your website conversion rates.
Whether your organization has team members spead across the map or you regularly engage with clients through video chat, GoToMeeting remains the top choice for video conferencing.
GoToMeeting allows you to host an online meeting with up to 100 people, right from your desk. You can even share applications on your computer in real time, providing a more interactive feel to your meetings.
Fetures include:
Easy scheduling
HD video quality
Screen sharing with the ability to hand over control of your keyboard and mouse to other attendees
One-click recording
Personal meeting rooms
Drawing tools
Now, if you just need to setup a basic video conference call and don't like Skype or Google Hangouts, you can actually use GoToWebinar for free with up to three participants. Features are limited in this version, but it certainly gets the job done!
SEO isn't the end-all-be-all it once was. Social media plays such a powerful role in SEO these days and activity is constantly fluctuating.
To get a full picture of the competitive environment in your market, you have to understand how content is performing in all avenues of the web and BuzzSumo helps you do that.
BuzzSumo allows you to analyze content by domain or topic to see which posts are being shared the most. It's also great in helping you find key influencers whom you can contact once your content has been published as part of your promotion strategy.
The social SaaS provides:
Content insights regarding author, domain, and more
Search content engagement in the past 24 hours and up to the past year
View shares of content across all social media platforms
Search social backlinks
Content curation
Find and research influencers
Hotjar is an all-in-one analytics and feedback tool used for conversion rate optimization. This is the tool, alongside Optimizely, that the best CRO experts use to dramatically improve conersion rates and user experience.
Essentially, it combines a variety of tools that you would have had to purchase separately in the past and includes:
Heatmaps
Session recordings
Conversion funnel tracking
Form analytics
Feedback polls
Surveys
User testing recruitment
Instead of wondering what people think about your website or how they're using it, Hotjar gives you incredibly accurate feedback on even the smallest details so you know exactly what areas need improved and what people love the most.
Qualaroo is quite possibly the best on-page survey tool available. Its attractive forms and personalization options, make it stand out from other survey softwares.
With it, you can target website surveys and prompts by time on-page, number of visits, referring search term or your own internal data, and even by custom variables such as number of items in a shopping cart.
Qualaroo also includes a feature called "Skip Logic" where you can deliver a unique follow-up question based on a previous answer. For example, if a user mentions a certain feature is important, you can follow up to understand why. It makes the experience of an automated survey much more conversational.
In addition to its personal UX, Setup on Qualaroo only takes a couple of minutes and you can customize your surveys to include your logo or brand colors.
Now, I know I said at the beginning of this, there's no one marketing SaaS tool that can do it all for you, but HubSpot comes quite close. HubSpot touts itself as an all-in-one marketing automation software and with all of these features available, it's hard to argue:
Blogging
SEO
Analytics
Land pages
A/B testing
Email marketing
CRM
If needed, the platform even has a user-friendly website builder.
What SaaS Tools Are You Using?
HubSpot is a huge part of our business and it's the tool we use most frequently, but as you can see there are a number of marketing SaaS tools available for you to mix and match.

What are some of the marketing SaaS tools you are using? Let us know in the comments section below!