Long-form content vs short-form content

Head of Editorial Content, Strategized Initiatives That Increased IMPACT's Website Traffic From ~45K to ~400K
November 21st, 2016 min read
With short attention spans and multi-tasking the norm, inbound marketers have long accepted short-form content as the best way to provide information to people without taking up a lot of their time.
People are busy and you've got to be concise to keep their interest -- but when it comes to search ranks and organic traffic, this assumption couldn't be farther from the truth.
Although there is still a demand for short-form blog posts, videos, etc. from audiences, marketers' demand for long-form content has increased dramatically as posts tend to rank higher in search engines (more specifically in Google).
As blogs have become a more widely-accepted source of information, the competition for audience's attention has increased as well. With this in mind, having a high search rank is one of the easiest ways to get in front of your audience's eyes, which brings us back to long-form articles.
Yes, long-form requires more work on your part, but after reading this article you'll understand why it's worth it.
Why you should be publishing long-form content
Blog posts that are around 1,200 to 2,000 words are typically considered "long-form." However, those numbers are slowly increasing with 3,000 to 10,000 words becoming the new standard.
That's a lot more than the traditional 350 to 600 words that we were taught was the best practice back in 2013.
Three years ago when inbound marketing was still young and not as widely-accepted, this practice was effective. In fact, it's the guideline we used at IMPACT to create content for our clients and even ourselves.
We would use our resources (budget, time, etc.) to publish two to three short blog posts a week. They were easy to create, ranked well in search engines, and produced a great ROI... until it didn't.
Things have changed, which brings me to...
The most important section of this article:
With more companies (and larger companies at that) adopting inbound marketing, both content saturation and competition has significantly increased.
Since 2013, the search engines have become filled with short-form blog articles trying to rank for every keyword under the sun -- and honestly, most of these articles suck.
So, Google had a problem; Users were searching Google looking for answers and all they were finding was this short, poorly-written (though keyword-optimized) content by cheap copywriters.
Focused on the user, as Google has always been, the team made several algorithm changes to bring quality content to the top of their search rankings.
Today, when you ask Google a question, it will return what it believes is the highest quality post that answers your question, and in almost every case, it's long-form content, over 2,000 words.
This has created a unique challenge for marketers.
If we want to outrank the competition, we must create content of the highest quality. It must deliver more value than any of the other search results trying to rank #1 for the same keyword. The more competitive the keyword, the more valuable the content needs to be.
Length is often seen as a quality factor, so if the top search result you're trying to unseat is a high-quality, 3,000 word masterpiece, don't think you'll outrank it with a 500 word piece -- even if you've used every SEO best practice.
With this in mind, many of IMPACT's client's budgets have shifted. Instead of delivering three short-form posts per week, we now may only deliver 2-4 posts per month for the same budget.
These new articles, however, are longer (roughly 2,000 words on average), more highly-researched, well-written, immensely valuable, and keyword and conversion optimized. The ROI on this shift has been huge.


....But will anyone actually read a blog post that long?
This is probably what you're asking yourself right now and I've asked the same thing.
Quite frankly, they probably won't (at least not in one sitting), but despite the length, people are also more likely to share long-form articles and come back to your website for more information in the future.
In this post, I'll walk you through this a bit more in-depth and explain why you need to consider shifting from short-form content to long-form content.


1. Long-Form Content Gets More Shares
Simply put, long-form content allows you to provide more value. The point of a long-form post isn't to reach a particular word count for the sake of that word count, but instead to provide so much valuable information that it reaches or exceeds a particular word count.
Writing long-form allows you to take a reader from beginner to advanced material on a topic within one post.
Providing that kind of value attracts more people to your content, inspires them to share it with others, and positions your brand as an authority. In fact, BuzzSumo found that "the longer the content, the more shares it gets, with 3000-10000 word pieces getting the most average shares (8859 total average shares)."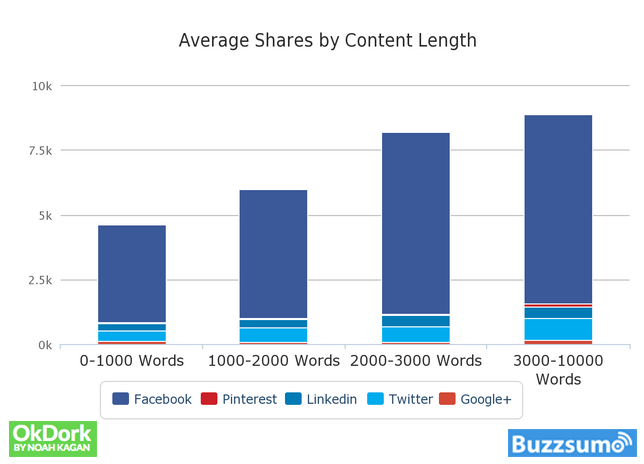 2. Long-form is Great for SEO
All of those additional words in long-form posts provide more opportunities to rank for long-tail keywords and get discovered in search engines.
serpIQ did a study of the average length of the content in the top ten results of search queries and found that on average they were over 2,000 words.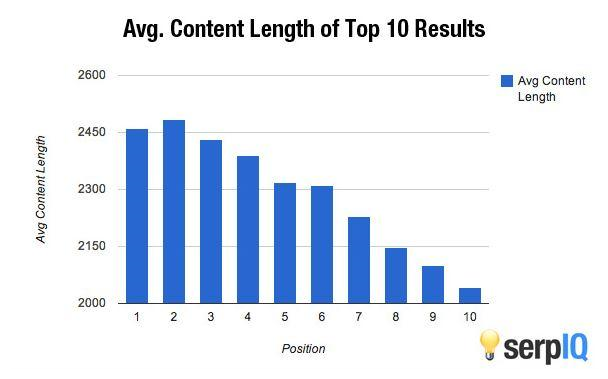 Part of the reason that long-form content performs so well on Google is that people are spending more time on your website. Google factors this into their ranking algorithm they've shown a clear preference for content that keeps attention longer.
(Source)
3. Long-Form Content Positions Your Brand as an Authority
Think of the most trusted names in your industry. Who do people turn to when they need expert advice?
In the inbound marketing world, HubSpot is the authority, but there are other authorities in the digital marketing space, such as Kissmetrics, Moz, etc. One thing all of these authorities have in common is they produce long-form content. (Not that that means they don't create short-form content, as well.)
Long-form content like that created by these authorities is usually comprehensive content; covering everything you would need to know about a topic and leaving no questions unanswered.
When you can offer such complete coverage on a topic, this helps establishes yourself as a knowledgeable expert; a reliable authority on everything in your industry.
4. Long-Form Content Increases Conversion Rates
In case you didn't think it could get any better, long-form content can also improve conversion rates.
In a post on Search Engine Journal, John Lincoln discusses a study that tested long-form content against short-form content for conversions. Take a look at what he found:
"There's a classic case study that demonstrates the effectiveness of long-form content in generating more conversions. Highrise Marketing wanted to increase signups with its website. The company contracted out the conversion process to a couple of professionals who engaged in some split testing. They found that the home page with long-form content saw an increase in conversion rate of more than 37 percent.

Similarly, Crazy Egg saw its conversion rate increase by more than 30 percent with the use of long-form content. In that case, the longer-form content was about 20 times the length of its shorter counterpart.

According to the Crazy Egg blog: "The media would have us believe that people no longer have any capacity to concentrate. In reality, you cannot have a page that's too long — only one that's too boring. In the case of Crazy Egg's home page, visitors wanted their many questions answered and that's what we delivered."
There's a lot to love about long-form content. However, you don't want to fall into the trap of trying to add more length to your content when it isn't appropriate or necessary.
Quality is Still Better Than Quantity
As I mentioned previously, quality is still the top priority. A short, useful post is always going to be more valuable than a long post that's boring and provides no value.
In fact, there are many times when it might be better for your business to stick to short-form content. According to Ramsay of BlogTyrant, you should figure out what's best for your situation or goal at hand.
"If you've tried long-form articles on your blog or guest posting spots but haven't got the reception that you'd hoped it might be worth asking a few questions like:

What does your audience respond to?
Some people just don't consume long-form content. They might be too used to BuzzFeed-type articles that are broken up into tiny animated clips or sentence-long sound bites that make them blow air out of their nose quickly and then move on.
Are your writing skills up to the task?
This is a really harsh point to bring up but some bloggers just don't seem to have the writing skills (yet!) to write 5,000 words and make it interesting. I'm constantly surprised that people read my writing and I've been at it for a few years now.
Are you picking topics that warrant massive detail?
Not all topics need that much detail. Some of the popular "news" that we see now (think celebrities and sport) barely require a photo and a bit of gossip to get people onto the page then then clicking onto the next thing. There's just no time or space for a long analysis.

If you get one or more of these elements wrong then there is a good chance that your hours and hours and hours of research, writing and editing may be all wasted."
Long story, short (no pun intended), you don't have to commit to exclusively publishing long-form content.
The goal is simply to do justice to the topic and leave no questions unanswered. This may be done in 600 words or it may be 6000. Don't get caught up in the number of words so much as the value you are delivering.
How to Write High-Quality Long-Form Blog Posts
Creating long-form blog content requires more time and effort than shorter alternatives, but it's not as difficult as you might think to get started.
One simple approach is repurposing multiple blog posts.
For example, you might have several old blog posts on a particular topic that aren't performing well but are still full of useful content. Take all of these pieces and combine them into a guide or comprehensive article, redirecting the old posts to that newer, longer post.
This will not only save you writing time but also help you salvage lost existing content.
Another option is to hire someone to write your long-form posts for you, but regardless of your process, here are four valuable tips to help you get started.
1. Have a Goal
The first thing you need to figure out is what purpose your long-form content will serve. Are you trying to generate more leads? Sell more of a specific product? Build brand awareness? Does this goal warrant a long-form piece? Make sure that you have all of these points figured out before writing a single word.
2. Pick a Topic
The next step is to pick a topic that your buyer persona is interested in and is broad enough to write 1,200 to 4,000 words about.
Here's where you can find topic ideas:
Your existing analytics
Your competitors' websites
3. Outline Your Content
Creating long-form content is much easier when you have a plan to follow. Just like writing a high school or college essay, you're going to cover a lot of information so your outline will help keep you organized and give you a course of action.
Outline your content into sections and think of each section as a short-form blog post. (If you repurpose old content, each section can be a short blog post.)
4. Focus on Visual Appeal
If you want people to actually read your long-form content that you've worked so hard on you need to make it easy for them to do so. The best way to accomplish this is to focus on the visual appeal of your content.
Big chunks of text are ugly and off-putting. (There's a reason even textbooks had photos and charts, people.) So, break up your content using visuals aids and thoughtful formatting.
Keep sentences short and concise
Keep paragraphs at two to three sentences (four maximum)
Use headers and subheaders to keep everything organized and easy to scan
Use bullets, bold text, italics, etc.
Add images or graphics to illustrate your ideas
Embed videos when relevant
Add lists like this one to add variety and make it easier for people to scan content
In addition to making your content easier to digest, visuals can also help increase your search rank as research shows the average top ranking page has 9 images.
For more information and resources to help you increase your visual appeal, check out this article.
Should Long-Form Content Be Gated or Ungated?
Now, with the creation of long-form content comes the inevitable question: to gate or not to gate?

In the past, inbound marketers would usually use long-form content synonymously with premium content that they'd gate, but with it becoming so integral to search engine success, it can be difficult to know when to take the gated plunge and when to give it all away.
In this Daily Egg article, Emma Siemasko compares the two options.
Gated Content

Gated content means that users have to fork over some info to you. This is so that you can gain information about them to 1) put them into your sales funnel, 2) understand who it is that is reading your guide, and 3) opt people into your emails.

"A Customer Driven Guide to Creating Content that Converts" by Onboardly is gated content:

Pros:

You'll know exactly who is reading your guide, down to their industry and company (or whatever else you specify).
You can get prospects in your sales funnel.

Cons:

Propensity for fake email addresses and phony companies.
Drop off. Fewer people will read because they don't want to give out their info. This could mean a drop in social shares and a narrower reach.

Un-gated Content

Un-gated means users can click around without giving you any information. "The Ultimate Guide to Dropshipping" by Shopify is un-gated. The user can click around without filling out a form:

While you'll be better able to spread your content, you won't have much information on who's reading it (much harder to turn readers into leads).
In the end, the decision is ultimately up to you and what you think is best for your goals and your specific situation. If your business really needs leads, gate away! If you're more concerned about boosting awareness and driving organic traffic, opt for ungated. Every situation is different.
Conclusion
Don't get me wrong -- short-form content is long from dead, but if you are neglecting its long-form cousin in your strategy, you are doing your business a grave injustice.
With long-form content proven to perform better in search engines, encourage more social shares, and increase on-page time dramatically, it is a vital piece of your content mix. Now is the time to invest more in long-form content experimentation while it still offers a significant competitive advantage.
You'll never know what a difference it can make if you don't try (write away.)
This article is part of the "Content Marketing & Blogging" Hub in The IMPACT Anthology. Other articles include:
What is Content Marketing?
8 Expert Editorial Tips to Ensure Your 'Content Rules'
Joe Pulizzi's 6 Principles for Truly EPIC Content
7 Content Marketing Roadblocks (& How to Get Around Them)
The Best Content Marketing Strategies Your Company is Still Ignoring
30 Days of New Content Ideas for Your Business Blog [Infographic]
Writing to Save Your Business: Blogging Tips from Marcus Sheridan