19 Infographics for Anyone Using Digital Marketing in 2018

Director of HubSpot Training, Co-Host of the Hubcast, INBOUND Speaker, Certified HubSpot Trainer, Retains 10 HubSpot Certifications
December 21st, 2017 min read
So, you want to be a digital marketer, huh? That's great! You're going to be an ace in no time. What's more, 2018 is the perfect year to start.
Digital marketing, as an industry, has seen significant periods of growth over the last few years and it has been projected that there will be an industry-wide spend of close to $120 billion in 2018.
As someone who didn't start out as a digital marketer, I can tell you that while you may have a lot to learn, there are a lot of resources out there to accelerate your growth and development.
Don't be overwhelmed by the sheer amount of content out there. If you take one thing at a time and keep current with the latest trends, you'll be on your way to being a digital marketing expert in no time.
To get you started, we put together a list of 19 infographics anyone who is starting inbound marketing in 2018 needs to see.
Inbound Marketing Infographics


1. What is Inbound Marketing?
Maybe you're coming from a traditional marketing background, or maybe you're just completely new to marketing altogether. Either way, if you're entering the digital marketing world, you're going to need to have a strong understanding of the inbound marketing methodology.
While digital marketing tends to be an umbrella term to refer to any kind of marketing tactic on a digital platform, inbound marketing is what is taking center stage.
Here's a simple infographic on the basics of the inbound marketing methodology from The Whole Brain Group:

2. The Idiot's Guide to Inbound Marketing
Now that you're familiar with the basics of inbound marketing as a methodology, it's time to get into some of the nitty gritty of what the practical implementation of inbound looks like.
In the Idiot's Guide to Inbound Marketing Infographic, SevonAtoms takes us through common inbound marketing tactics that produce great results.
From pay-per-click to calls-to-action, these tactics will give you a great idea of the day-to-day life of a digital marketer.

3. How Effective is Inbound Marketing?
Still not convinced that the inbound marketing methodology really works? (Our free guide, "Proving the ROI of Inbound Marketing" may change your mind!)
Did you know that inbound leads cost 61% less on average than outbound leads? Did you know that 79% of companies that have a blog report a positive return on investment for inbound marketing?
This infographic from Invesp is chock full of statistics and trends that make it impossible to deny that inbound is a worthy investment.

4. Inbound Marketing Process: How to Get Started in 3 Months
Now that you know all about the inbound marketing methodology and are convinced you need to start using it, you're probably looking for some practical steps to actually start DOING inbound marketing, right?
We know the feeling. That's why we put together this infographic to explain the basic process of implementing inbound into an organization. There are 10 simple steps, plus tips on tools that will help get you going:
Content Marketing Infographics


5. A Well-Balanced Blog
Creating remarkable and compelling content is at the core of the inbound marketing methodology, but it's not always easy to figure out how to do that. Consistent and strategic blogging is a great way to start.
Column Five and LinkedIn partnered together to put together this creative infographic that uses the food pyramid as an analogy for creating a well-balanced blog.

6. The 3 Types of Content People Love to Share
Once you've started creating great content, the next step is to figure out how to get your content into the hands (or onto the screens) of the people you made it for.
That's where this infographic from Uberflip and BuzzSumo comes in.
There are 3 major types of content that data has proven get shared the most. Reference this when you feel like your content is top-notch, but not enough people are seeing it.
Check it out here!
Video Marketing Infographics


7. 31 Must Know Video Marketing Stats
If you follow digital marketing, or even just have a social media profile, you know that video is a content force to be reckoned with.
Videos are a great way for companies to tell their story and communicate their value clearly and effectively. In fact, statistics show that videos increase engagement and conversion rates, and brands are taking notice.
With social media platforms moving more and more towards video content with features like Instagram Stories and Facebook Live, 2017 was certainly the year for video marketing, and 2018 looks to continue the trend.
Hyperfine Media put together an awesome infographic with 31 video marketing statistics that might just blow your mind:

8. Video Marketing Trends in 2018
Now that you know how effective video marketing is in the digital space, you need to make sure you are keeping current with the latest trends.
Offeo put together this infographic on the latest trends in video marketing for 2018.
Get familiar with how people are consuming videos and how businesses can use video, and you'll be able to utilize the platform to it's fullest potential.
Influencer Marketing Infographics


9. Influencer Marketing 101
Influencer marketing blew up in 2016 and continued to grow in 2017. According to Tapinfluence, "influencer marketing is a type of marketing that focuses on using key leaders to drive your brand's message to the larger market."
This concept can be implemented in many ways, but it is most often done through social media channels. A simple share of your content by an influencer on their social media accounts could pay off exponentially with shares, visits to your website and ultimately leads for your business.
In this influencer infographic, Flying Point Digital gives some compelling facts that show that influencer marketing is here to stay.

10. Influencer Marketing Statistics
Now that you've heard what consumers and brands are saying about influencers and influencer marketing, it's time to look at the data. Does it really work?
The answer is, according to this infographic from Mediakix, absolutely! Once you see these statistics, it will be hard to say no to using influencer marketing as part of your overall digital marketing strategy.
11. Your 10-Step Roadmap for Influencer Marketing
Now that you've got all the statistics on how effective influencer marketing can be, it's time to start building your influencer campaigns.
Thankfully, Mediakix also made a ten step roadmap to get you going. From strategy to implementation to reporting, you can't go wrong if you follow this process.

Web Design Infographics


12. Why a Website Redesign Doesn't Always Work
When conversions and sales on your site aren't where they're supposed to be, a website redesign is often at the top of the list of ways to fix it.
A complete website overhaul is tempting because it has the illusion of being a fix-all for all of your digital problems.
Well that's not always the case. VWO's infographic on why a website redesign doesn't always solve your digital marketing problems explains it all. Great marketing is about much more than great design.
13. 2018 Web Design Trends
If you want to stay current on what's going to be happening in the upcoming year with web design and user experience, look no further than this 2018 trends infographic by DesignContest.
From cinemagraphs to expressive typography, this infographic contains the latest and greatest trends that will help marketers improve the user experience on their websites.
8 Web Design Trends for 2018 - An infographic by DesignContest

14. 8 [More!] Web & Graphic Design Trends That Will Rock 2018
DesignContest's predictions for 2018 not enough for you? Here are 8 more trends that Red Website Design predicts for the upcoming year in web and graphic design.
Professional Development Infographics


Learning the ins and outs of digital marketing methodologies and tactics is only part of what will make you successful as a marketer.
Success is about so much more than just knowledge, so we decided to conclude this list with the best infographics for personal productivity and development.
15. Work-Life Balance
Onepoll and Groupon teamed up to put together this awesome infographic with work-life balance statistics and tips.
Feeling stressed out about workload, productivity or just feel like there aren't enough hours in the day? You're not alone, but if you're feeling like this consistently, keep this infographic handy!
16. How to Become a Creative Genius in 5 Days
Creativity isn't something that's reserved just for the designers and artists of the world. In order to be a successful digital marketer, you need to keep your creative juices flowing as often as possible.
Becoming a creative genius will help you do things like create compelling content that connects with your audience, or think of new ways to reach out to those influencers you started campaigning to earlier.
Not sure how to become a creative genius? No worries - Zippi put together a step-by-step guide for becoming one in just 5 days. See the full infographic in our article here.
17. What You Need to Know to Be Productive at Work
Productivity is a huge buzzword these days. Everyone wants to figure out how they can be as productive as possible while they're working. Like the old saying goes, "Work smarter, not harder."
But how often do you think about your actual work space when you consider your own productivity? What if you could increase productivity by making a few small adjustments not to how you're working but the environment you are working in?
This infographic by Davitt Corporate Psychology gives super practical tips for making your workspace more productive.
18. Why, How and Where Time Gets Lost at Work
Once you've gotten your physical workspace optimized for productivity, it's time to look at what else is slowing you down.
There's only so much time in the day, and you want to make the most of it. Scoro's infographic on why, how and where time gets lost at work shows top time-wasting activities, as well as do's and don'ts of a productive work day.
Reference this if you are feeling like your weeks are flying by without getting much done.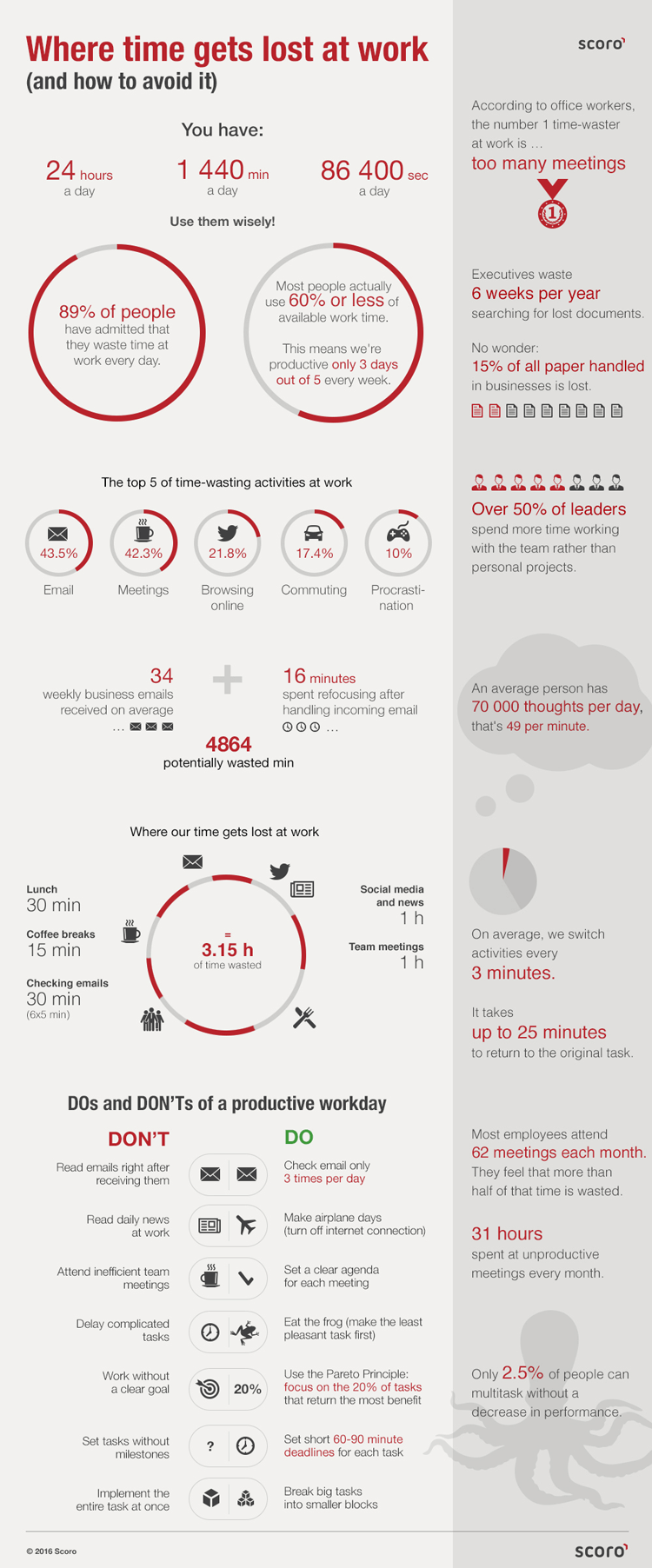 19. Vacations are a Must
I saved my favorite for last. I mean, who doesn't love vacation? But the interesting thing is that large percentages of Americans say that they take zero vacation days in a year. Zero.
It may seem as though these people are more dedicated to work than the rest of us, but the data shows that taking time off improves health and productivity.
This infographic from quill demonstrates just how little vacation most people take, and how we can all benefit from taking a break.