HubSpot vs WordPress for Business Websites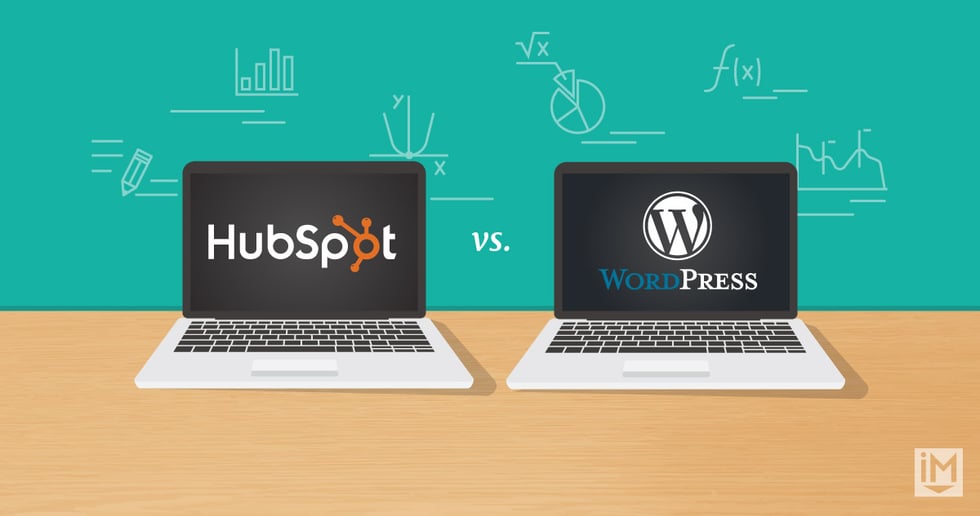 VP of Marketing, 10+ Years of Sales & Marketing Experience, 12+ Years of Development Experience, 14+ Years of Project Management Expertise
March 23rd, 2017 min read
When it comes to inbound marketing content management systems (CMS), there are two names that you likely hear -- HubSpot Marketing and WordPress.
Combined, these two platforms undoubtedly account for the highest market share of business websites on the internet today, but although HubSpot and WordPress might seem similar at first glance, they are in fact very different.
Deciding which one is right for your business website ultimately comes down to your budget and your inbound marketing objectives, but never fear!
By the end of this article, you should have no problem deciding which direction to take.
Before we get into some of the more detailed comparisons, let's get a quick overview of what the two platforms do.
What is HubSpot?
HubSpot is a company that makes inbound marketing software for businesses. When people refer to HubSpot, they are usually referring to HubSpot's marketing software -- an all-in-one solution that allows you to build landing pages, create SEO-friendly blog posts, launch email marketing campaigns, track analytics, and much more from one dashboard.
However, HubSpot also has a CRM, sales software, and an easy-to-use website builder.
When taking advantage of all the HubSpot tools available, you literally have everything you need for successful inbound marketing from end-to-end.
This might not sound like a big deal if you are already familiar with HubSpot, but when you see how much hassle is involved in putting all of those individual pieces together without HubSpot you will come to appreciate its convenience and versatility.
What is WordPress?
WordPress is a free website and blogging platform that allows you to get a website up and running with minimal investment. WordPress is the most popular content management system (CMS) available and accounts for 25% of websites on the entire internet. (Source)
It is supported by thousands of developers with custom plugins, themes, and other tools to help you accomplish all of your inbound marketing objectives. In fact, all of HubSpot's tools are designed to integrate with WordPress, as well.
Unlike HubSpot, however, in WordPress, you will have to configure all of the various functions yourself as they aren't built-in automatically.
Depending on how you look at it, this could be a good thing or a bad thing. If you like to get your hands dirty and tinker with everything on your website, it's a good thing. On the other hand, if you don't want to spend the time it takes to learn how to do everything on your own, it can be quite the hassle.
Of course, you could always pay a developer or agency to do the work for you, as well.
HubSpot vs WordPress
Now that you have a basic idea of the two platforms, let's dive deeper into the various functions you will be using on a regular basis with each one.
As I mentioned before, the two platforms are very different, so I'm going to focus on the areas HubSpot and WordPress have in common.
Blogging
Probably the greatest strength of WordPress is how quickly and easily you can start a blog with it. Once you install WordPress on your website, you'll find the "Posts" tab where you can jump right in and start creating new blog posts.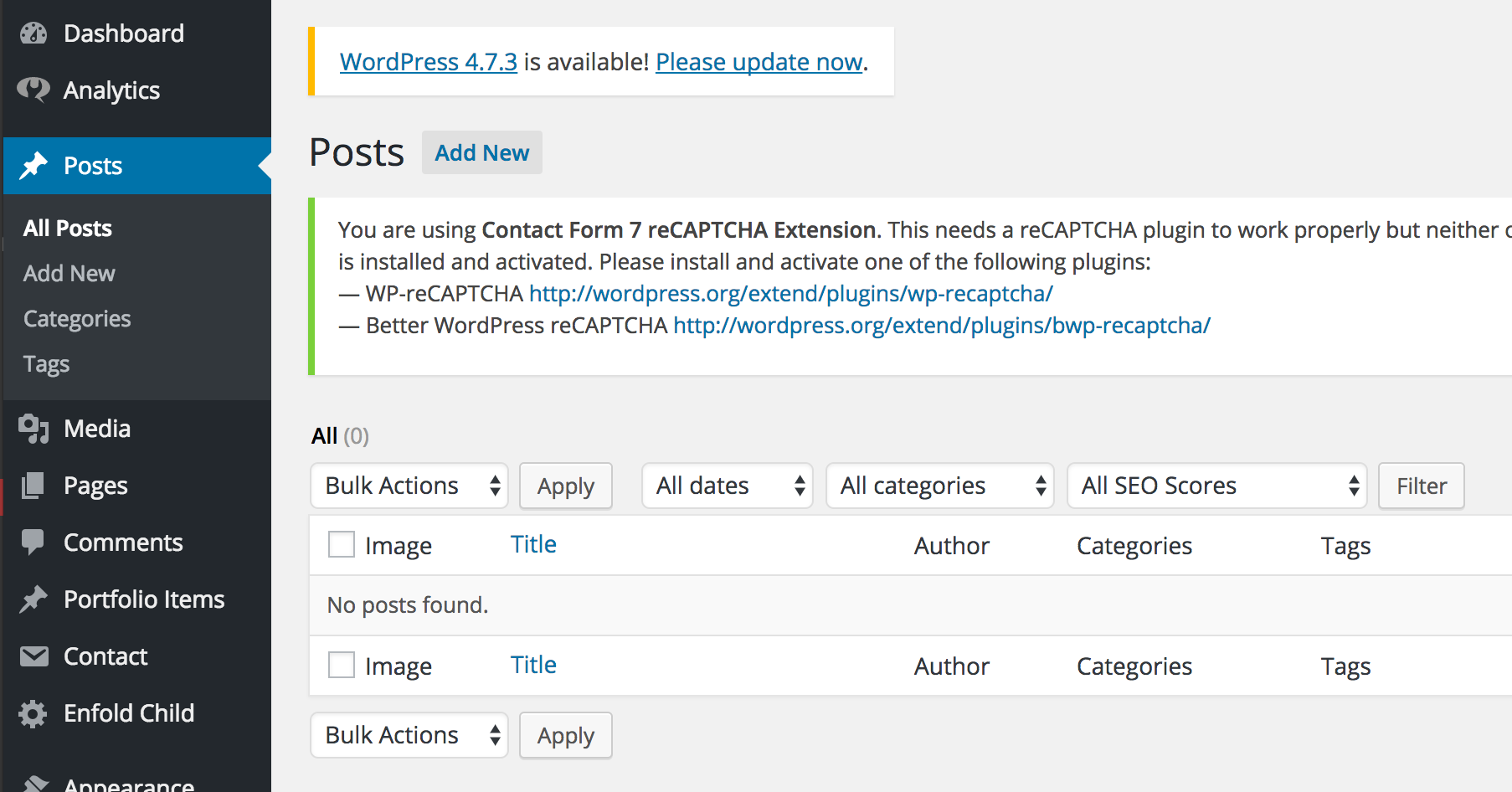 The format looks similar to most word processors, and if you have an idea of how a blog post should be formatted, you should be able to accomplish most of that formatting right out of the box with their bare-bones content editor.
The downside is that their blogging platform is very basic until you customize it yourself with various plugins.
Sure, you can create decent blog posts right away, with amazing copy, but you'll need some additional plugins to optimize your blogs for search engines, use more modern formatting styles, and add calls-to-action (CTA).
On the other hand, HubSpot's blogging software has everything you need from the start.
For example, HubSpot has SEO built-in, completely updated to comply with the latest Google algorithm changes. With WordPress, you'll need to install a plugin such as Yoast SEO and configure it to the latest SEO standards.
HubSpot's blog also syncs with everything else in your HubSpot marketing software, allowing you to easily add CTAs to your posts, display social sharing icons, include workflows, and much more.
Again, there are plugins for WordPress to accomplish all of these tasks, but they just require additional work and fine-tuning to get everything integrated properly with your email marketing service and everything else you're using.
In terms of straightforward blogging -- creating a blog post and publishing it -- both HubSpot and WordPress are easy to use, however, publishing high-quality blog posts that serve a strategic purpose in your inbound marketing game plan requires additional tools and configuration with WordPress than it does with HubSpot.
Building and Editing Your Website
Out of the box, HubSpot is significantly easier for customizing your website.
You get a true WYSIWYG (what-you-see-is-what-you-get) editor that allows you to make on-page changes without any coding -- but you can get more technical with code if you have the skill and desire.
HubSpot websites have analytics built-in and are automatically mobile-friendly. Plus, they're optimized for speed, reliability, and security.
The availability of these features on WordPress, on the other hand, depends more on the theme you use. If you know how to write code and build a website from scratch, you can upload your creation to WordPress -- otherwise, you'll be uploading a theme you download for free or purchase.
Now, most of the free WordPress themes don't allow you to do much customization without editing the code. Even then, they can be frustrating to work with -- hence why they're free. Fortunately, there are many paid themes that include a well-designed theme editor that are much easier to make your own.
In my experience, the easiest way to build a website on WordPress is to buy a premium theme with similar on-page editing functions as you would find in HubSpot. You'll want to make sure you research the theme you purchase, check out reviews, and make sure its developer is actually responding to comments/requests (so you can get in touch if need be).
Website Security and Hosting
Two of the more important aspects to consider with any website are security and hosting.
When it comes to WordPress, you'll be responsible for obtaining your own hosting solution and determining what level of security you'd like (if any).
One alternative is purchasing a 3rd party SSL (Secured Socket Layer) to secure your domain (that's when you see a green HTTPS:// in your address bar). Most companies opt to have a developer set this up, as it can be fairly complex, but companies like GoDaddy also offer support, so there are options.
Since WordPress is an open-source system, there will always be more security risks and you have to rely on the developer of your theme to stay updated (quickly!) with new changes WordPress releases.
Don't let that scare you away, though.
There are great hosting platforms, such as WP Engine (IMPACT used this in the past), who specialize in high-security WordPress hosting. They even alert you if they they find vulnerabilities in any plugins and deter you from installing those with known issues.
On the HubSpot side of things, most of the heavy lifting is done for you and since we've started working with it, I can honestly say I have never had a malware issue on a client's website.
With your HubSpot portal comes hosting and the option to enable a free SSL, or purchase your own and because there are no plugins, there are fewer vulnerabilities.
HubSpot also has third-party services in place to fend of Distributed Denial of Service (DDoS) attacks, which are designed to keep you out of your website, and the slew of other features that you can check out on their security page.
Landing Page Design
Now, this is where HubSpot starts to really pull away from WordPress.
By default, WordPress allows you to create web pages and blog posts, so, technically, you can craft one into a makeshift landing page, but it won't have nearly the right functionality ideal for effective lead generation.
Assuming you are using a premium theme for your WordPress website, your macgyvered landing page may be acceptable in appearance, however, to generate real leads, you're going to need a service like Lead Pages or Unbounce in which you can not only create landing pages, but A/B test and optimize their performance.
Now, those services are awesome and won't steer you wrong, but it really comes down to this question: do you want to deal with a bunch of third-party integrations (with an additional price tag) or do everything from one dashboard?
HubSpot has a high-quality landing page builder built right into its software, allowing you to create landing pages without any code and also A/B test depending on your chosen package.
Like the WordPress options, in HubSpot, you're able to easily customize landing pages based off of the default templates provided or by selecting a pre-built template from the HubSpot Marketplace.
The visual builder is a powerful tool that enables you to drag-and-drop prebuilt modules, or custom modules that you or a developer create, into a template and easily rearrange them based on your needs.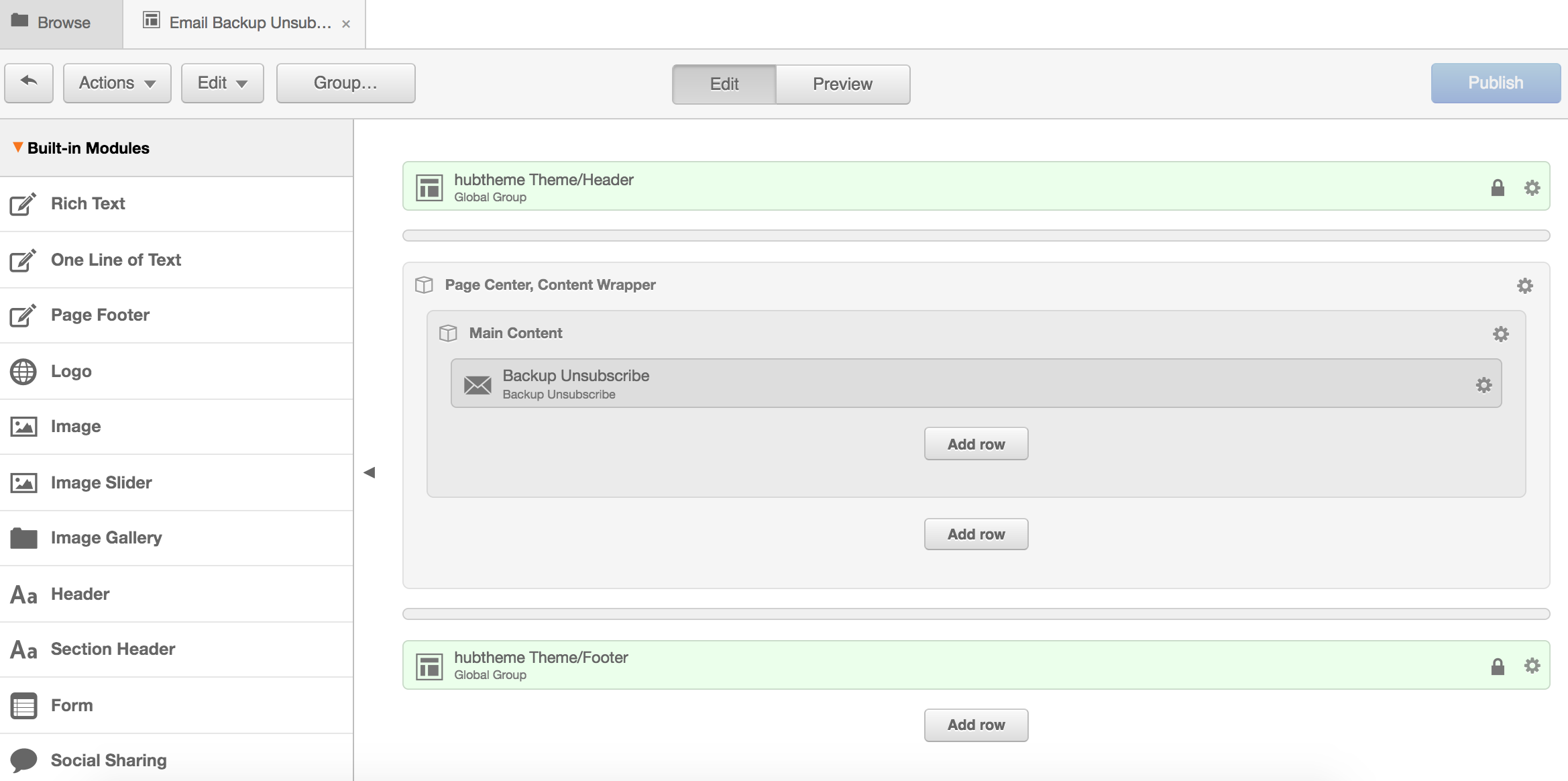 You can also take the HubSpot builder a step further by custom-coding your templates to achieve greater flexibility and originality. Unfortunately, for many companies that requires having a budget put aside for an expert to help collaborate on the website.
The other issue with third-party landing page services you'd use with WordPress is getting them to match your branding. The designs available are usually attractive and won't make your brand look bad, but aside from color, the overall style is difficult to replicate without hiring a designer to create custom templates for you.
While this may not be a dealbreaker, most marketing experts agree that it's best to maintain brand consistency whenever possible, which is much easier when you use HubSpot's Website platform and their landing pages.
...And Everything Else!
Unfortunately, the remaining features HubSpot provides aren't standard on WordPress. That includes:
Marketing automation
Email marketing
List creation & segmentation
Lead management
Salesforce sync
CRM
That doesn't mean you can't find a way to add them, but you will have to identify the most reliable tools, install them yourself, and deal with any of the related vulnerabilities.
With a WordPress site, its also likely you'll have to execute tasks (i.e. email marketing) on through each tool's individual website, meaning you end up bouncing back and forth between tons of different tabs in your browser.
Again, this might not be a deciding factor for you, but it's certainly something to keep in mnd.
Cost
At first glance, it appears that WordPress is the obvious winner in a price comparison. After all, it's free and HubSpot starts at $200 per month (learn how to get the best price here) -- but that's assuming you aren't doing anything other than blogging.
Once you start adding in all the plugins and tools required for an inbound marketing campaign, the costs start to jump significantly.
This is what we in the industry call "Frankenspot." In fact, HubSpot even shows you how to create your own Frankenspot if you so desire, suggesting all of the most cost-effective tools available to match its functionality. Here is what the final monetary costs look like:
"If you opt for the lower cost version of everything above and cut out 1) SSL and 2) integrated analytics and optimization, you can get your monthly costs below $200. On the other hand, if you opt for the upper range, you'll exceed $1000 per month. If you go straight down the middle (taking the average cost of each product and plugin), you'll arrive at $630 per month.

It's important to note that we purposefully did not list the highest end options here. For example, on the upper end of social media management you might consider Sprout Social's "Team" package at $500 / month. On the upper end of integrated analytics you could secure Kissmetrics Pro for $2000 / month."
So Which is Right For Me?
Overall, if you want your website to be the marketing hub for your business, HubSpot is the smarter investment. However, if you're on an extremely tight budget, there's nothing wrong with starting out with WordPress and upgrading to HubSpot later.
HubSpot actually offers several free tools for businesses in this situation. They allow you to get some of the benefits of HubSpot without paying a dime:
The best thing about those tools is that they can help your company start generating enough leads and revenue to afford the full HubSpot marketing platform.
Conclusion
HubSpot is the obvious choice for us without question, but that's not a knock on WordPress. I think WordPress is a fantastic platform and it serves an important role in the market.
Quite simply, there are millions of people who just want a little placeholder website or a simple blog, and have no desire for all of the marketing tools HubSpot provides.
However, we take our business seriously and we want to use the best tools available to leverage inbound marketing for our agency.
When you're leveraging a robust inbound marketing strategy, you're going to need all of the tools included in HubSpot anyway.
Cost becomes a triviality because the premium plugins and tools for WordPress all come with a premium price tag.
For us, it makes more sense to have everything in one dashboard, tightly integrated for our marketing and sales teams to work in unison. HubSpot makes inbound marketing easier, more effective, and it saves us so much time.
Ultimately, you'll have to decide which is right for your business.
While I highly doubt this debate will be settled anytime soon, we're putting our stake in the ground for HubSpot.