What a Great Inbound Marketing Website Looks Like
Talent Manager, 7+ Years of Logistics and New Hire Management

Published on October 22nd, 2013
For those of you that don't think inbound marketing can work for a local contractor, you're wrong.
Inbound marketing is a great way to expand the reach and exposure of the contractor. It starts with having a good inbound marketing website.
The days of a brochureware website are long gone. It's all about creating a website that captures the attention and fits the needs of your buyer personas. It's about using what you know to target them.
A great design isn't everything. You need to put all of the elements into place.
When you think of inbound marketing you probably don't immediately think of WordPress, you think of HubSpot. Now before you start talking about how there is no possible way, I want you to sit back and take a deep breath. All you have to do is incorporate the two. You can keep your website on WordPress while still utilizing HubSpot's marketing software.
Elements of an Effective Inbound Homepage
A company I want to highlight is Litchfield Builders, Inc; they're an award-winning residential and commercial general contracting company located in Hamden, Connecticut.
If you haven't checked out their new website you definitely should. Throughout the whole redesign process, the overall goal was to make the site very user friendly.
A website shouldn't just be about the company, it should be about creating an amazing user experience, keeping your visitors engaged and attracting them to your website.
Let's get started. It doesn't take just one element to create a superstar website. Think about it this way ... it doesn't just take one tool to build Rome or even your kitchen cabinets.
Here's what goes into a great homepage.
Value Proposition
The first question your visitors will ask upon landing on your website is "What do they do?" They are looking to see if your services are in line with their needs. If not, they will find a company that does. Your value proposition should quickly convey what you do.
With 5 to 8 seconds of landing on your homepage, your visitors should know what you do. Your value proposition isn't something that is only displayed on your website. It should be something that everyone in your company knows. They should know it like it's the back of their hand.
Once you've crafted your value proposition, here is a little tip, don't place your value proposition at the bottom of the page. Who is going to read it? Your visitor will most likely leave the page before they even reach it.
Place it above the fold. It won't be hard to miss there.
Visual Content
I'm not sure if you know this but visual content is huge. There are copious amounts of information and data available that highlight the impact of visuals.
If you're a local contractor or business, stock photography should be off limits when it comes to your website. Here is a nifty little fact about Litchfield Builders website, all of the photos on their site are from actual jobs they have worked on. There is not a single stock photo.
Be sure to checkout their portfolio for photos from residential and commercial jobs completed in the New Haven, Connecticut area.
Keyword Optimized
In regards to a website for a local contractor, keywords can make or break you. It's not as simple as making "general contracting company" your focus keyword.
The whole idea is to get found. It's about optimizing your website for each town within your service area. How else do you expect your audience and prospective customers to find your website?
Not sure what I'm referring to? Here are a few examples found throughout Litchfield Builders website:
General contracting company in New Haven, Connecticut
Commercial construction in New Haven, Connecticut
Custom millwork in New Haven
Connecticut custom millwork
Commercial and residential remodeling in New Haven, Connecticu
You need to localize your approach. The design of your website can effect your SEO it's important to optimize your website for on and off page SEO. Key elements you want to focus on when optimizing your site should include; page title, URL, meta description, focus keyword, and meta keywords.
Indexed Pages
This is a very important question; are you showing up in search results? Not only do you want to include terms your audience would be using to search for your company and services, you also want to ensure that you're pages are being indexed.
Still not sure? Here's a quick tip; go to Google and in the search box enter the following site:litchfieldbuilders.com. Now where it says litchfieldbuilders.com enter the url for your website. You will be on your way to identifying all of your indexed pages in no time. (Note when entering the site:URL into Google ensure that you aren't adding a space between the colon and the URL.)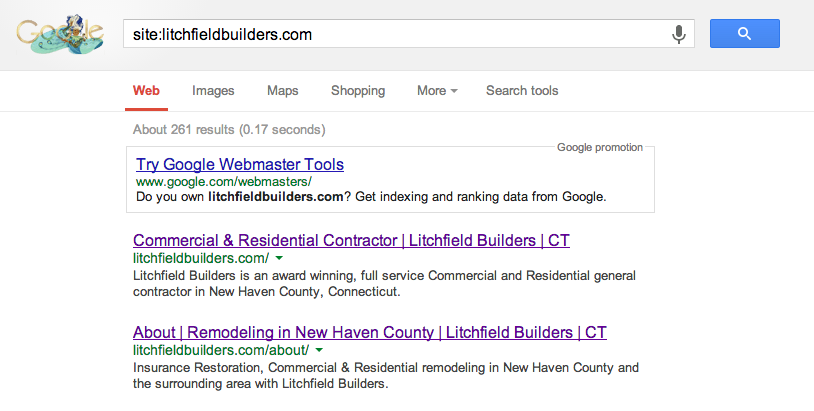 Lead Generation Enabled
You cannot have an inbound marketing website without any opportunities for lead generation. On their site, Litchfield Builders provides you with the option to subscribe to their blog, request a free consultation and / or download an ebook.
Not only should there be the opportunity to convert on the homepage but as a local contractor there should be a variety of opportunities present throughout the entire website. What I'm referring to is subpages.
You should create subpages throughout your site, which would be landing pages that dive deeper into the services your company provides. Once those pages are built, don't forget to add a lead capture form.
One thing I want to talk about is that they've added to their lead capture forms. Your lead capture forms provide you with the opportunity to further qualify your leads. I love that they've added city and goal completion date.
Customer Testimonials
People love customer proof. That's where customer testimonials come in handy. Don't just place them on a page hidden within your website. Add them to your homepage.
Make them easy to find.
If your company has positive reviews from your previous or current customers, you want those to be on display. Let your potential customers know that they should be confident in choosing you.
There's no better resource than a company's clients. In a study by the New York Times, it found that 65% of new business actually comes from referrals.
Mobile Optimized
More and more people are accessing the Internet and visiting websites on their mobile devices than ever before. The results from the survey conducted by Get Satisfaction shouldn't be a surprise. They concluded that "80.5% of website visitors are accessing websites through mobile phones."
That is a significant amount of visitors. Therefore, it's extremely important to have a website that is optimized for mobile.
Here is a look at Litchfield Builders mobile site:
The overall emphasis should be placed on creating an overall user experience that is beneficial to your audience while they're viewing your site on mobile.
Your overall focus should be on reducing load time, making it easy to navigate, and your content should adapt to fit the needs and interests of your audience that is accessing your site on mobile. It's also important to note that when developing your mobile site, you take into consideration spacing. Just like your site should be visually pleasing while being viewed on a desktop that theory still holds true when on mobile.