4 Free Apps That Will Make You a Content Rockstar
Director of Web & Interactive Content, Speaker, Host of 'Content Lab' Podcast

Published on November 6th, 2017
Leaving aside the fact that writing content is the foundation of inbound marketing, tell me you don't feel an immense sense of pride when you hit "publish" on a blog post, eBook, or whitepaper you're really proud of -- no matter how hard it was to write.
Even with the rush of writer's high, content creation remains a seemingly insurmountable challenge to some.
On top of that, sometimes it can feel like app developers are positively tripping over themselves to architect beautiful working experiences for professionals in the graphic and web design fields with tools and applications that are sleek and sexy, designed to inspire creativity and productivity.
But us writers, editors, and content creators are left sitting on the curb to fend for ourselves. With only the whimsical, romantic notions of the antique typewriter we'll never buy to keep us company.
Well, there's good news.
There are actually a lot of wonderful apps and tools out there that can make the act of writing more enjoyable and empower you to be a better writer.
So today, I'm taking a break from my usual role of writing and creating content processes here under the IMPACT roof to share four of my favorite writing apps that have completely changed the way I write -- for work and for myself.
I have a confession to make: I absolutely hated writing when I was younger.
In fact, one time when I was eighth grade, I turned in an essay where the last paragraph was the same sentence copied and pasted over and over again, just so I could meet the minimum word count requirement without having to put more effort into it. (My teacher didn't appreciate my sense of humor.)
Obviously, I've come around since then.
But my change of heart only came about because eventually I realized that (a) I was good at writing, and (b) it wasn't the act of writing I despised so much, but rather I hated the cluttered and distracting writing experience of Microsoft Word.
Enter stage left, Bear.
Bear (available only for iPhone, iPad, and Mac) is an app that's all about empowering users to "write beautifully." And it does that so very well.
It's gotten to the point where everything I write -- IMPACT blogs, content projects for clients, freelance projects, etc. -- always passes through an initial rough drafting stage within Bear.
In addition to comprehensive and lengthy content creation, Bear can also be used as an Evernote-esque notes application, making it quite versatile.
Bear is free, but if you splurge on the paid version ($1.49 per month or $14.99 per year), you can enjoy custom themes, syncing across multiple devices, and exporting capabilities.
Whether you're a seasoned content creator or you're a new kid on the inbound block, you undoubtedly know how hard it is to write and edit your own work -- and not just because you are too close to your writing to gauge its quality.
Thankfully, someone created Hemingway.
In addition to being one of my favorite authors -- as well as one of the best characters in Woody Allen's Midnight in Paris -- Hemingway forces you to evaluate the readability of your work.
It tells you what grade level your work reads at, and it scans your work for sentence complexity, passive voice, and overuse of adverbs.
While you have the option to write directly in the Hemingway app itself, I find these kinds of mark-ups to be very distracting while I am trying to form my ideas for the first time.
Instead, I usually type of my first draft in Bear and then copy it over to Hemingway, when I'm ready to switch my brain over to editing mode. (But how you choose to use this app is entirely up to you!)
You can use Hemingway for free through your web browser at www.hemingwayapp.com, or you can download the desktop version for $9.99.
One of the most game-changing editing lessons I have ever learned is not to edit for everything all at once. Rather, you should edit for style, grammar, and narrative progression separately, in individual editing phases.
That's why after I put my work through the readability test of Hemingway, I drop my work into the text box on www.wordcounttools.com.
Not only does this website tell you how many words your composition has overall, it also targets one of my biggest writing "quirks" -- redundancy.
(Seriously, I don't know what my problem is, but I am incapable of going a single column, essay, or blog post without repeating certain words or phrases.)
Below the area where you paste copy, you'll see a keyword density box, which counts how many times non-"grammar words" appear in your work.
I know, it seems almost stupidly simple.
But as someone who spends a good portion of my day editing the work of others, trust me when I say it's likely that more than a few of you reading this post should also be using this tool.
I used to spend so much time at work trying to find the perfect work playlist on Spotify to keep me on track. Music is supposed to help spark productivity and creativity, right?
Wrong. Well, for me, anyway.
I don't know whether I'm defective or something, but most of the time I find myself distracted by music.
Either I get wrapped up in the song itself -- even if it's only instrumental -- or, when one song ends, I don't like what comes up next, so I break from my work to spend 20 minutes trying to curate a new ideal soundtrack.
Noisli is a stunning, minimalist (and free!) background noise generator. Or, as they like to say, Noisli is "your productivity companion."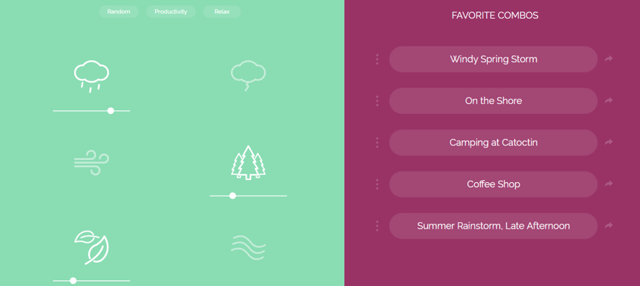 Even though there are multiple studies showing the positive effects of ambient noise on productivity, Noisli confused me when I took it for a test drive a couple years ago, during a particularly challenging copywriting project.
At first, listening to noise while working seemed… strange. Not to mention completely boring. Now? I'm a total convert, and it's pretty much all I listen to when I'm trying to get sh*t done.

With my free Noisli account, I've created and saved custom blends of sounds -- which you control using the soundboard shown on the left -- that can set the tone for my entire working day.
Sound options include rain, thunderstorm, wind, forest, leaves, water stream, seaside, water, bonfire, summer night, fan, train, coffee shop, white noise, pink noise, and brown noise.
As my Creator's Block co-host (and long-time work pal) Jessie-Lee knows, my favorite Noisli blend is one I call "rainy trainy." It's a personalized symphony of thunder, rain, train, and fan sounds. There's also a splash of coffee shop, for good measure.
I created this soothing blend because I love traveling by train and have been doing so for years -- in my 20s, when I would travel home to Washington, D.C., while living in Boston, and now, when I travel to and from my home in Annapolis, Maryland, to IMPACT's home office in Connecticut.
Fun fact: You can also share blends of sounds with other people.
Noisli is available for free through the website. There is also a free Chrome extension and iOS app available for $1.99.

The Best Writing Hack Is Honesty
Even though all four of these apps have revolutionized the way I think about and approach my work, the best piece of advice I can give you about how to boost your content creation capabilities is this:
Have an open and brutally honest discussion with yourself about what specifically you don't like about the writing process.
No app or program can tell you what your problem is or fix a writing roadblock you can't identify; they can only help you once you have some idea of what pain point you're trying to address.
The answers will vary drastically from person to person, as they should. For instance, while my struggles were rooted in distraction and focus, yours may be founded in writer's block, which is an entirely different beast.
So, while I think each of you will like at least one of these apps, I hope you'll also do yourselves a favor and figure out what part of your own personal writing process really needs improving.