What is Account-based Marketing Anyway?

Account-based marketing is a hot topic that has generated a lot of buzz in the inbound marketing community. A lot of marketers, including myself, have been doing research on how valuable this methodology can be to our campaigns and strategies.
Although the term may seem like a new topic, it's actually a marketing and sales strategy that has been around for a few years now.
It's my goal in this blog to break down account-based marketing (ABM), how we can apply it, and its future in inbound marketing.
What is Account-based Marketing?
This is the question a lot of us are asking and leading ABM company, Terminus answers it best:
"Account-based Marketing: A focused approach to B2B marketing in which marketing and sales teams work together to target best-fit accounts and turn them into customers."
What this means is essentially taking your traditional sales funnel and flipping it upside down. I know, it sounds scary doesn't it?
Looking at the funnel like this, we narrow the focus of our marketing efforts to who our ideal accounts are.
In other words, we pick definitive companies, people, etc. to expose to our marketing materials, rather than waiting for people to find them on their own, hopefully fit our qualifications, and choose to work with us.
When we narrow down our database and prioritize only accounts we truly want, we can dedicate more time and energy on expanding our reach to other decision makers within that organization.
From there, we can then target them directly with more personalized, inbound marketing efforts; strategically placing ads, content, emails, etc. in front of those who will actually be able to take action and purchase from you.
Below you will see how the inbound marketing and account-based marketing funnels compare and the key differences between how you would approach stage.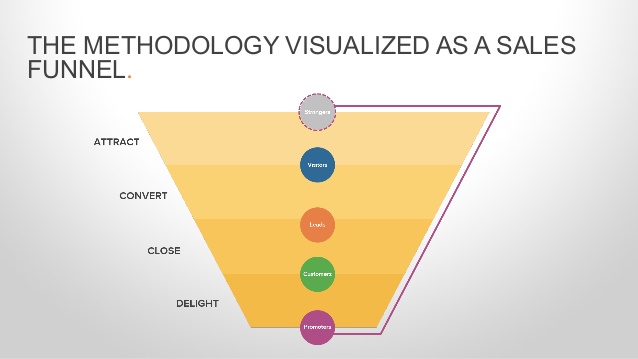 In summary, account-based marketing uses a laser-focused approach to target specific organizations to build out future opportunities.
Future of Account-based Marketing and HubSpot
If you are in the HubSpot Community, you may have heard about the company's recent investment in the ABM software leader mentioned above, Terminus.
As a fundamental staple of marketing automation software, why would ABM be a focus for HubSpot? Simply because, in an increasingly-commoditized B2B marketplace, strategy and tactics could be more successful when marketing to a specific organization and decision maker, rather casting a wide, vague net. .
Every industry is different and we all know there is no cookie cutter solution for everyone. There may be similarities in tactics, but strategy and approach can be so unique for any industry.
When implementing account-based marketing through a powerful software like HubSpot, the opportunity to approach prospective sales or clients is promising.
In a recent press release from HubSpot, Chief Strategy Officer, Bradford Coffey mentions, "Terminus is the clear leader in ABM, but they also really get the philosophy of inbound. They understand that account-based marketing should be about precision and personalization not brute force. That is the kind of account-based marketing we want to see spread in the industry."
It is not clear yet how the two softwares will integrate on a technical level, or how HubSpot features will sync up with Terminus, but knowing how strong each software is will make it more than likely a success.
How to Approach Account-based Marketing as a Digital Marketer
Whether you're considering Terminus or not, ABM is something to strongly consider for sales and marketing.
The first thing you want to address is if account-based marketing is right for you.
If we are looking at the B2C level, this strategy will most likely not be the right approach to targeting new business or customers. This is simply because the sales cycle in most B2C spaces is shorter and there is really only one decision maker.
If you are in the B2B marketplace, targeting large scale accounts with typically longer sales cycles, however, then ABM is a good fit for you.
From here, let's look at each stage of the account-based marketing funnel:
Identify: Work with your team to identify who your ideal account would be.
This could be similar to your buyer persona in a way but narrowed down to a specific set of organizations. Research theses accounts by working to find out who in the company has already converted into a lead and what position they hold. Are they a decision maker or someone who and influence a decision maker?
Expand: Take your existing contacts and expand that internal network to uncover the account's decision makers.
This could be reaching out that lead and trying to connect with their team and decision maker. Share relevant content they personally would find valuable. For example, send them a webinar invite that speaks to their organization's specific pain points and goals.
It's subtle, personalized content like this that will go a long way within an organization and could eventually make their way up the account's ladder.
Engage: Once you have an expanded your network within the account, it's time to engage them with even more valuable content.
Maybe this is the time to begin retargeting them with more middle-of-the-funnel or even bottom-of-the-funnel offers.
If you have networked with the decision maker, create a very personalized HubSpot email sequence that touches on their pain points that your product solves. Once you open up that human conversation, your sales team will have an extremely targeted, potentially ready to close lead right on their doorstep.
Advocate: In this stage, you want the community within the account to start buzzing about your product or offering.
You want them so invested and "bought in," they openly support and recommend what you have provided them. This can eventually lead to various upsell opportunities and even create more referrals for you to target.
Conclusion
If you seem to be struggling with the traditional inbound sales funnel, where top-of-the-funnel leads just don't seem to be moving, then an ABM strategy might be just what you need.
Tailored to B2B industries with longer sales cycles, targeting single accounts it brings new precise to inbound.
If you're a HubSpot user, I would suggest keeping an eye out for more information on the Terminus integration in the future and weighing the pros and cons of using an Account-based marketing strategy within your sales and marketing efforts.
Foster a Culture of Sales Enablement on Your Team
Fill out the form below to get your free copy of The Ultimate Inbound Marketing and Sales Playbook