8 Pricing Page Examples That Stand Apart From The Rest

December 2nd, 2015 min read
Pricing Page Examples
Detectify
Zendesk
TunnelBear
Wistia
TicketLeap
Parse
Heroku
Como
It's not often that people talk about pricing pages, but when it comes to important pages on your website, it often takes the cake.
Just like any other sales pitch, all of your hard work getting a potential consumer to your pricing page can be for nothing if you don't nail your presentation.
If you are looking for inspiration for your website's pricing page, you are in the right place. In this article, I share some pricing pages examples that really stand apart from the rest.
When it comes to winning your consumers' business, you have to have the right price, but you also have to communicate its value effectively. This is especially true with "freemium" pricing models; miss out on communicating the value of your paid plans and forever be stuck in the "free zone."
So, cue the great pricing pages (in no particular order).
Why Detectify's Pricing Page Rocks:
Detectify nails the scalable nature of their pricing. How? By adding a slider that scales its price with your needs and reassuring copy that lets you know how your plan can grow or shrink as needed.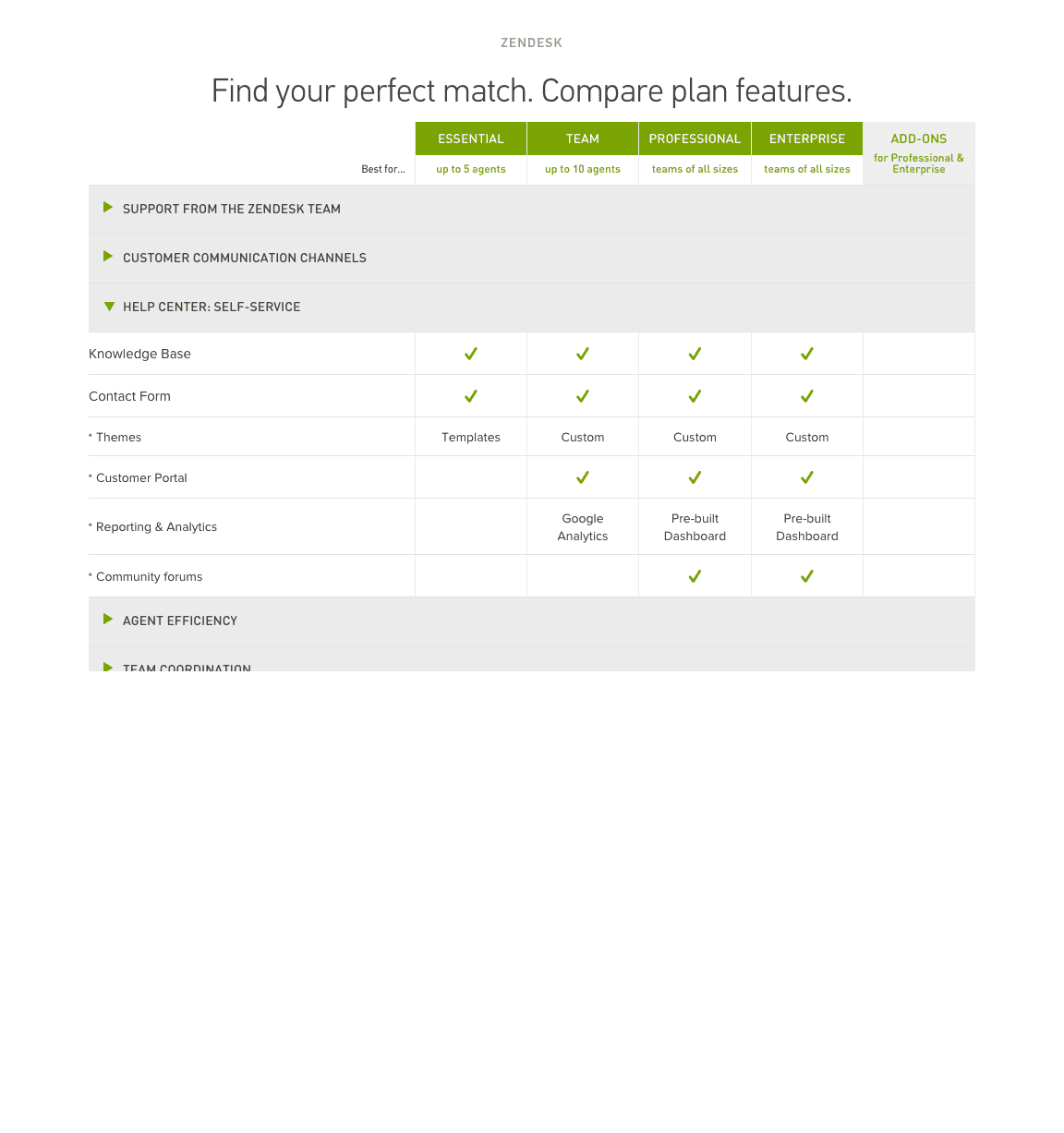 Why Zendesk's Pricing Page Rocks:
When it comes to pricing - the simpler, the better, but when sometimes you need to include a lot of information. Zendesk pulls this off masterfully by adding drop-down options to its plan comparison. Select what category or categories matter most to you and see how the plans stack up.
Why TunnelBear's Pricing Page Rocks:
It's got a bear with lasers shooting out of its eyes… need I say more? Seriously though, TunnelBear wins it with personality. Buying a service can be a difficult decision, but TunnelBear's little quips and graphics make it a bit easier.
Note: They take bitcoin and jars of honey as forms of payment.

Why Wistia's Pricing Page Rocks:
This may be my favorite pricing page and it's not just because of its ease-of-use or its beautiful layout. It's because Wistia understands conversion. Not only does the way it compares plans make it easy to see the added benefit of the increasing tiers, but the call-to-action below the pricing gives the viewer a low pressure fallback.

Why TicketLeap's Pricing Page Rocks:
TicketLeap's pricing model is, well, wide ranging, but its pricing page made easy to grasp. The slider allows you to see how ticket price effects how much you make and how much TicketLeap takes.

Why Parse's Pricing Page Rocks:
Not only is Parse's pricing page beautiful, it makes it extremely easy for you to tailor pricing to your exact needs. On top of that, it shows how you receive the same level of service regardless of how much or how little you use Parse.

Why Heroku's Pricing Page Rocks:
Similarly to Parse, Heroku allows you to customize a plan that fits your exact usage. Heroku's pricing page has a ton going on, but all the information is laid out in a simple manner and provides a built in calculator so the consumer can keep their focus on the value.
Why Como's Pricing Page Rocks:
Como not only motivates visitors to pay for the whole year all at once, but it does so with some great copy. By using low-friction phrases like "Choose Your Mobile Success Plan" and "Let's Go!," Como positively reinforces purchasing its product as a great decision.