10 Most Effective Re-engagement Email Examples You'll Want to Steal

March 15th, 2017 min read
Did you know that 25% of your email list will die off each year?
Holy depreciation.
What's important to note is that even if your subscribers have gone inactive but remain subscribed, they could be seriously hurting your email engagement rates (even putting you in danger of being flagged as SPAM.)Looking for a creative way to rekindle the flame with your seemingly gone but not forgotten email subscribers?
We've rounded up 10 examples of noteworthy re-engagement emails campaigns to inspire your efforts and help you win back some of the fallen ones.
Best Examples of Re-engagement Email Campaigns
Sidekick (Now HubSpot Sales Tools)
RunKeeper
Pinkberry
Chain Reaction Cycles
Crocs
Piperlime
Habitat
Earbits
GoToTraining
Struck Axiom
1. Sidekick (Now HubSpot Sales Tools)
What's not to love about this timely re-engagement email from the Sidekick team?
Not only is the email playful, in that it leverages the holiday theme, but it's both clear and concise. (Wondering how effective this really was? I just opened and clicked the latest email from Sidekick. So there's that.)
RunKeeper takes a friendly, solution-based approach to helping customers get reinvolved.
This gentle reminder is less focused on calling the subscriber out and more focused on helping them move things a long.
Nothing says "come back" like a free froyo, am I right?
By incentivizing your recipients with good reason to re-engage, your message will instantly feel more persuasive.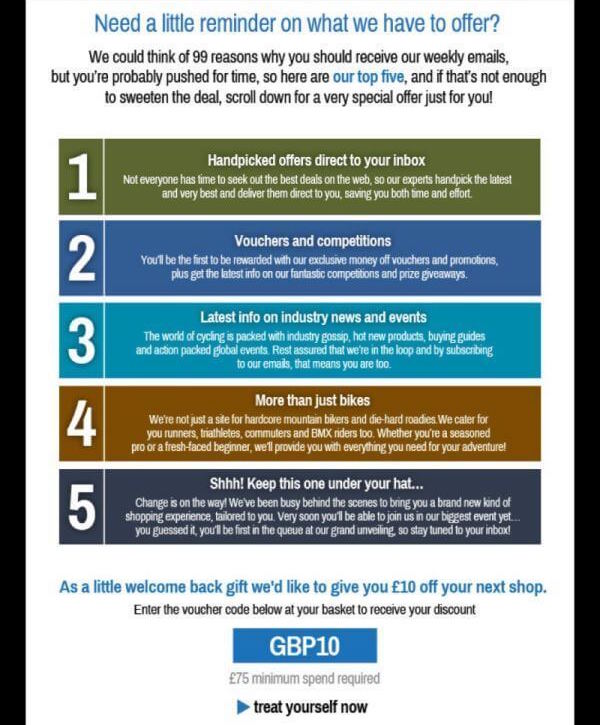 Chain Reaction Cycles is serious about reengaging their subscribers. So serious, in fact, that they're don't just give you one reason to come back, they give you 5 (and a coupon code.)
By clearly defining the benefits of keeping pace with their updates, people will be more apt to remember why they subscribed in the first place.
Everything about this copy is simple and effective.
Not only are they offering up an incentive, but the microcopy (i.e. "sniff. sniff) also works to humanize their brand, and persuade subscribers to keep in touch.
Not to mention, they snuck a little message in at the bottom regarding their shoe donations through Crocs Cares, you know, in case you needed another reminder that they're one of the "good guys."
First of all, we love the bold color choice. Nothing says "pay attention to me" quite like hot magenta.
Second of all, we love the breakup-style approach. Sure, it's been used a lot in re-engagement campaigns, but Piperlime's playful copy under each point makes for a unique spin on an old trick.
If you can't engage 'em, give 'em another option.
Looking for a creative way to keep their email subscribers "in the know," Habitat encourages them to connect on Facebook to keep up with their latest updates.
We weren't kidding when we said the breakup-style approach was popular, but needless to say, Earbits did it justice.
First, we love that they included first name personalization. Not only does it work to catch the attention of the recipient, but it helps them to feel more connected to the brand, and less like another face in the crowd (even if we all know it's automated.)
We also love that they included an interactive media element into the mix to engage the recipient. While we're not sure what the playlist entailed (we found this example via Pinterest), we're sure it's something good.
(I'd like to imagine the soulful sounds of "Let's Stay Together" by Al Green.)
Again, love the first name personalization.
However, in the particular case, we're loving the bold call-to-action even more. Between the stand out purple and the actionable button text, we think GoToMeeting will have no trouble coaxing back some subscribers.
Just wrapped up a website redesign?
What better way to show off your new look than to invite inactive subscribers to check out what you've been up to?
Also, the "we built it for you" approach really makes this an offer that is hard to resist.
("For me? You shouldn't have.")
Send remarkable emails that people love getting.
Fill out the form below to access our free guide.