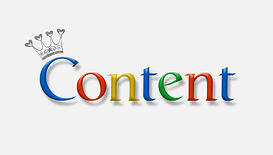 Your marketing can make or break you, especially when it involves content marketing.
Before publishing your next piece of content, spend the 10 extra minutes looking over your content.
You should always take another look before hitting that publish button.
Whether you've made some of these mistakes or not, here are the 5 worst content marketing mistakes you could be making. They could potentially be hindering your marketing efforts.
5 Content Marketing Mistakes, You Might Be Making
1. Not Knowing Your Audience
This is one of the biggest mistakes in regards to content marketing. By not taking the time to research and understand your audience, how do you know what topic areas grab their attention? Most likely you have no idea. A great way to learn more about your audience is by not only developing buyer personas but also reader personas. Not all of your readers are going to be your buyers. However, the topics within your blog should depend on the goals you want to achieve through your blog. For most companies, they see their blog as an opportunity to educate and nurture prospects and hopefully pushing them down the sales funnel.
Ask yourself these questions about your readers:



What is their age range?



What is their financial status?


Their education level?


What are their hobbies?


What are their pain points?


Don't just ask yourself these questions, ask everyone on your marketing and content marketing team. They might have different insights from those you might have about your readers.
2. Failing to Provide Quality
It is not a contest to see who can write the longest ebook, it is about providing your readers and leads with quality information. To keep your content current and fresh, it is important to publish new content frequently and consistently. This is extremely important when talking about blogging. As a company you should develop a blogging schedule, whether you blog three times a day or three times a week, keep it consistent. That is an easy way to lose readers. For example if your routinely schedule a blog article at the same time everyday, your readers might enjoy reading it while they eat breakfast or read them during their lunch break. When you don't post an blog articles for a significant amount of time, those readers will stop coming to your site. Only post as often as you can. It is important that you publish quality content. If you can only post twice a week, that is ok. Don't force yourself to write something. When you start putting out junk, you start losing readers, leads and ultimately customers.
3. Not Proof Reading or Editing
For all of you grammer nazi's out there, this is probably one of your biggest pet peeves. How often do you read a blog article and the person or company doesn't even know the difference between your and you're? Little mistakes like this tend to send readers running for the hills. Something you should always do before publishing your content is to proof read it and make an necessary changes.
Common grammar mistakes:



Who and whom



Which and that


Lay and lie


Continual and continuous


Adding words twice


Affect and effect


There / their/ They're


It's / its


Then / than


Improper use of the apostrophe


Fewer / less


Literally


Use these three steps to proofread your copy:


Print it.


Read it aloud.


Read it to others.


4. Failing to Reuse and Repurpose
If your company has been developing content for a while now, you've most likely created a ton of content that covers a wide variety of topics. As an inbound marketing agency, we have content on every topic from social media profiles to sales and marketing alignment. The best part about all of that content, is that you can use it over and over again.
Ideas for reusing and repurposing content:


If you have a report, it can be broken up into several blog articles.


Create a video or slide show presentation out of your how-to articles.


Have your audio and video materials transcribed into written format.


Build on existing content by expanding certain points, introducing new ideas and more.


Share older popular content with new members of your audience.


No one wants to reinvent the wheel, by creating new content every time. A great way to promote your Ebooks is by providing your readers with an excerpt in one of your blog articles. Just don't forget to add a call to action at the bottom of the blog article telling your readers to download the full Ebook.
Don't let your hard work just fade away. Keep your content working for you instead by repurposing it.
5. Missing a Call to Action
When it comes to content marketing, many marketers forget to add call to actions to various places across their marketing channels. Did you know that call to actions are considered the gateway into your offers? There is no better way to bring people to other parts of your site.
If you don't tell your visitors or prospects about your services or products, how are they going to know that you offer them? They most likely won't. Which is why you should add call to actions that send them to those pages or information.
Each piece of content should have a purpose and a call-to-action. Whether it's to get a quote for your landscaping services or an opportunity to get a free checklist, it doesn't matter. Content should always have a purpose and you should know what that purpose is.
Places you're forgetting to add a call to action:



On your blog



In your email messages


On your Facebook page


On every page of your website


Within your Ebooks and webinars


In presentations


Within your email signature