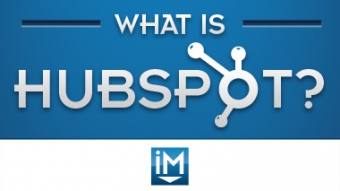 What is HubSpot?
HubSpot is an all-in-one inbound marketing software that helps businesses generate inbound leads through SEO, blogging, social media, marketing automation, and marketing analytics. This software provides marketers all of the tools needed to drive more traffic, convert more website visitors to leads, and turn those leads into sales.
IMPACT utilizes HubSpot in combination with our inbound marketing services to be more efficient and effective, helping us deliver more services and greater results in less time and cost for our clients.
IMPACT is a certified partner of HubSpot, meaning we are experts at using the software to help our clients generate real results.
How HubSpot Works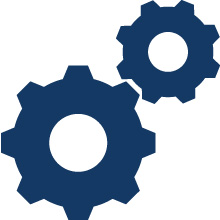 HubSpot is Software as a Service (SaaS) and runs completely in the cloud similar to Gmail and Salesforce.com. There are two popular ways to use HubSpot:
Use HubSpot as a Content Management System
The first option is to build your website using their content management system (CMS). Other popular CMS's include Wordpress or Joomla, and HubSpot's CMS feature offers many of the same features. When you build your website on their CMS, you'll have everything you need to improve your marketing in one place. We explain the additional features of the software below.
Place the HubSpot tracking code on your website
The second way to use HubSpot is to place the HubSpot tracking code on your website, similar to how you would place the Google Analytics tracking code on a website. This way, if you have a dynamic ecommerce solution or you simply don't want to move your website, you can still take advantage of the other great HubSpot tools listed below. We recommend that our inbound marketing clients use both HubSpot and Google Analytics tracking codes.
What is included in the Software?
As mentioned, HubSpot is an all-in-one software loaded with tons of marketing power. We'll break down the features of the software (at a very high level) and explain how we use it to be a better agency for our clients. There is so much included in this software that it would be impossible to cover it all in one post, so we'll highlight the most popular features.
HubSpot uses a horizontal navigation bar with dropdowns for users to access all of the features and tools. This navigation bar is similar to any website with a horizontal navigation system. The navigation bar coincides with the HubSpot methodology – Create, Optimize, Promote, Convert, and Analyze. It begins with a link to the dashboard and ends with a link to the HubSpot Marketplace.
Dashboard

When you log into a HubSpot account, the first thing you'll see is the dashboard. What we love about the dashboard is it gives you exactly what you need to know as soon as you log in. The dashboard graph displays the following:
Comparison of current month's traffic vs. previous month's traffic.
Comparison of current month's leads vs. last month's leads.
Traffic to lead conversion rate.
Beyond the graph, the dashboard displays the critical stats on your lead generating landing pages and traffic driving blog articles.
Create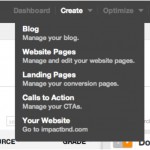 The create section of Hubspot features the following:
Blog – If using HubSpot's blogging platform, this is where users can create and publish new blog posts. The software does not write articles for you, that is a service provided by IMPACT. However, it provides the tools to quickly and easily publish blog articles that drive traffic.
Website Pages

If using the HubSpot CMS, this is the section where website pages can be created and modified. Website Management is a service provided by IMPACT in our Inbound Marketing Partnership.
Landing Pages – Landing Pages are a critical part of an inbound marketing program. The HubSpot software provides the ability to quickly create fully customizable landing pages featuring fields for users to fill out. IMPACT uses the simplest forms to ensure the highest conversion rate.
Calls-to-Action – HubSpot has a call to action generator built into the software. However, the designers at IMPACT usually create custom CTA graphics.
Optimize
The optimize tab features:
Keywords Tool

HubSpots Keyword Tool provides the power to find out what keywords client's are ranking for, what keywords their competitors are ranking for, and generates lists of keyword alternatives. The SEO experts at IMPACT use this tool to perform a thorough keyword analysis and identify opportunities to drive more traffic to your website.
Page Grader

The HubSpot Page Grader tool automatically performs an SEO analysis on all pages of your website. Using this tool, the SEO experts at IMPACT identify opportunities for improvement and ensure your site is completely prepared to succeed in the search engines.
Link Grader

When it comes to your SEO ranking, the most important factor is links into your site. This tool allows us here at IMPACT to provide clients with the valuable link analysis and also identify opportunities to build more links to your website.
Promote
There are a number of tools available to help promote your brand:
Social Media Prospects – HubSpot's Social Media Prospects tool identifies social media users that could be expressing a need for your industry or brand. IMPACT's social media experts use this tool to identify lead opportunities and engage with social media users.
E-Mail Manager – HubSpot's E-mail Manager provides the ability to create and send customized content via e-mail, similar to a Constant Contact or iContact. IMPACT uses this tool to create and send customized and routine HTML e-mail marketing messages.
Convert
These services offer various forms of lead conversion techniques:
Prospects – The prospects tool featured on HubSpot uses IP addresses to help monitor which companies are viewing your site. IMPACT will help establish the importance of the visitors and determine the next step for you.
Landing PagesHubSpot's Landing Page provides statistics involving your landing pages, including which ones are doing well and which ones have the highest level of conversion. Using this information, IMPACT can indentify opportunities to generate more leads.
LeadsHubSpots Leads Manager collects information on all website visitors that complete a fillable form and provides statistics on their website activity. This includes how many visits they have made to your website, what pages they visited, what forms they have completed, and how they found your website in the first place. IMPACT uses this tool to determine the most qualified leads.
List ManagerHubSpot's List Manager Tool provides the ability to segment your leads. By segmenting leads, IMPACT can create better targeted marketing messages to your leads.
Lead NurturingHubSpot's Lead Nurturing tool provides the ability to send a series of targeted e-mails to users after they complete a form on a website. IMPACT creates this series of e-mails, also known as a lead nurturing campaign, to help work the leads down the sales funnel.
Analyze
HubSpot offers several analytical tools:
Blog AnalyticsConsidering your company will be spending valuable time blogging, it's beneficial to have insight into the results of your blog at your disposal. HubSpot's Blog Analytics tool identifies which posts were most effective and how others can be improved. The IMPACT inbound Marketing Team will manage your blog and make any necessary adjustments.
Reach – HubSpot's Reach Tool offers insight into the size of your marketing reach over an extended period of time. Has it grown? IMPACT will work with you to analyze the results and implement any necessary changes.
CompetitorsUnderstanding what is working for your competitors is a critical step in the success of any marketing program. Hubspot's Competitor's Toolbreaks down the statistics of your competitors, using metrics such as Alexa rank, follower count, and marketing grade. The IMPACT Inbound Marketing Team manages this tool and ensures steps are taken to surpass the competition.
SourcesThe HubSpot Sources tool provides insight into where your visits and leads are coming from in order to determine what has been working and what needs improvement. IMPACT uses this information to measure the growth of website traffic.
Visits By Page – Curious as to which pages on your site garner the most views? Using HubSpot's Visits By Page tool, IMPACT will have this information at its disposal and will help you analyze the results.
Marketplace
HubSpot's App Marketplacecontains featured applications that extend the core capabilities of HubSpot and further boost your marketing efforts.
Is HubSpot right for me?
If your business needs leads, then yes, HubSpot would certainly be a great tool to improve your marketing efforts. Clients that have seen success using HubSpot's software include attorneys, consultants, contractors, fitness centers, manufacturers, medical providers, schools and universities, software developers, service providers, staffing agencies, and more.
Should You Hire an Inbound Marketing Agency to Run HubSpot for Your Business?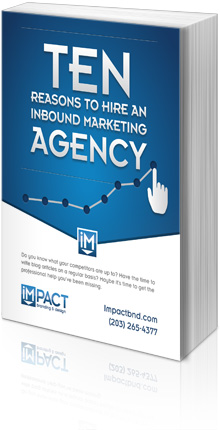 Answering this question is quite simple really. Ask yourself if you have the time and resources to fully immerse yourself into an inbound marketing campaign and all that goes along with it.
Do you have the time to generate blog posts and ideas with enough frequency for it to be a success? Do you have the tools necessary to help with lead generation and other analytical tools?
Are you well versed in the various social media platforms, and will you be able to engage with potential consumers in a frequent manner through them?
These are all questions you must ask yourself when determining if you should hire an inbound marketing agency. If you've answered no to many or all of these questions, then it sounds like you should strongly consider doing so.
By doing this, you'll be free of the burden of constantly having to worry about engaging and staying current with these services. Let a team of "digital natives" handle all of these online tasks for you, and you will undoubtedly realize the value in having a website that is maximized for its potential.
For more info on hiring an inbound marketing agency, download our free "10 Reasons to Hire an Inbound Marketing Agency" ebook.
How much does HubSpot cost?
This is all depends on the type of package your company wants. What are the goals of your company? How big of a company do you own? These are all important factors in determining which package best suits your needs.
The HubSpot software comes in three levels – Basic, Professional, and Enterprise. Depending on which level fits your need, the cost would start between $300-$1000 per-month. View HubSpot's pricing chart. (http://www.hubspot.com/pricing)
How to I get started?
Contact IMPACT to get started by requesting a consultation. We'll take the time to learn your goals and understand your challenges. Together, we'll identify an inbound marketing strategy developed to achieve your goals and realize a return on investment. We'll also speak in greater detail on how IMPACT will use the HubSpot software for your business. Schedule your free marketing analysis now.
Need Help?
If the inbound marketing process is something you are interested in but don't know how to get started, contact us today to schedule your free marketing analysis.