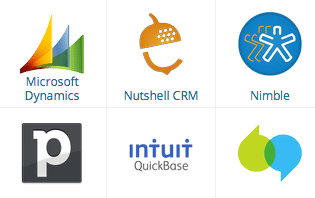 Are you effectively managing your contacts and leads?
One of the best ways for you to manage your leads is by integrating your marketing software (like HubSpot) with your customer relationship management system.
HubSpot makes keeping track of ALL that information so much easier. Allowing various CRM systems to integrate with the HubSpot platform, which in the end allows the two systems to talk to each other.
Thinking about integrating HubSpot with your customer relationship management software? We've identified the key benefits associated with the integration.
Benefits of Integrating Your CRM With HubSpot
There are several benefits for integrating your customer relationship management software with HubSpot. The two teams within your company that this will effect the most is sales and marketing. With the integration your sales team will be able to access and use HubSpot's contact intelligence on workable leads within your CRM, without logging into HubSpot. And what marketing team wouldn't love to analyze which marketing campaigns are the most effective at generating customers? Allowing your team to measure which campaigns are generating an ROI and which ones aren't as effective. A great way for you to measure and see how your customers came to your site and the steps it took for them to become a customer would be closed loop reporting.
Automated Lead Entry
Who wants to manually enter lead after lead into their CRM? Probably no one. Let's be honest, who actually has the time to enter in every lead your company receives. Especially as a larger company that receives anywhere from hundreds to thousands of leads a month. Think about how much time you would be saving, by integrating your CRM with HubSpot. Automated lead entry makes your life so much easier.
You no longer have to export a huge file of contacts into your marketing software and your CRM. With the integration of your CRM and HubSpot, lead entry is now automated. This not saves time, but it also ensures that no Leads slip through the cracks.
Other CRM integration features include:
All of the contact properties your lead provides through form fills
First conversion event and date
Last conversion event and date
Lead Intelligence
Lead intelligence is all about the information you need to help sell your product or service. Every time prospects interact with your website whether they just view a page, download your recent Whitepaper, or perform any other action on your site, HubSpot is able to provide you with that information, helping you convert that prospect into a customer.
How lead intelligence works inside your CRM with HubSpot:
Leads convert by either filling out a lead capture form on your website or by importing leads into HubSpot.
Lead data is stored in both HubSpot and the CRM system, including detailed lead intelligence gathered by the HubSpot software. Detailed lead intelligence includes the pages your leads viewed, conversion forms completed, social media details, any email marketing communication, and identifies when leads revisit your site.
By integrating the two software, it will automatically remove any leads that are already in the CRM system. Duplicate leads can be identified based on each lead's distinct HubSpot ID and their email.
Leads are then assigned to the appropriate sales reps based on various lead assignment rules.
When the sales team closes a deal, that customers lead status as an opportunity is closed. And the integration then passes the customers information in the contact fields in HubSpot and recording the contact as a customer, closing the loop.
Closed Loop Reporting
As one of marketings most important and powerful tools, closed loop reporting is a great benefit, upon integrating your CRM and marketing software. For those of you wondering what closed loop reporting is, it is a marketing tool that relies on data and insights about the engagement and interaction between your company and each contact. By being able to close the loop, it helps marketing understand their best and worst lead sources. In the future, you can strategically plan your marketing efforts and campaigns by focusing on your best lead sources, the ones with the best conversion rate to customer.
Closed loop reporting will help you:
Focus on the right channels and offers
Gain insights about your target audience
Unfortunately not every CRM out there will be able to integrate with HubSpot.
Here are the top 12 CRM's that you can integrate with HubSpot.
12 CRM's That Can be Integrated With HubSpot