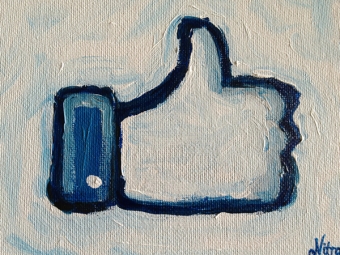 Last weekend was pretty chilly here in Connecticut, and I just so happened to be perusing Facebook checking out the latest happenings in the lives of my friends small children, dogs, and fiery political opinions when I came across a post from Old Navy promoting their flannel button-up shirts.
Boy did those look nice, warm, and comfortable, even if they did look like something straight out of a Pearl Jam video.
The point? Old Navy profited directly from me following them on Facebook, as I later visited my local mall to pick up a few of these flannels for myself.
You're probably thinking, "well...how can I get this sort of engagement from my Facebook following?" The first step is understanding what your Facebook following is doing, and what will make them take action.
Using data from an infographic created by Get Satisfaction and design company Column Five, we'll share with you some valuable insight into the psychology of your Facebook following.
Interested in learning more about maintaining a profitable social media presence? Contact IMPACT and learn how we can help!
Your Facebook Following

What are the top reasons people follow your brand?
If there's anything we can learn from this chart, it's that your Facebook following loves seeing offers and deals shared on their news feed. (Just look at me as an example, that Old Navy deal really roped me in!)
Nothing will keep your following and keep them engaging better than some offers and deals they feel are exclusive to them.
Your following will also respond to interesting and entertaining content, so don't make your entire Facebook presence about making a sale. Your following will appreciate the personality and feeling of getting to know yo u better.
What happens when people follow a brand?
Well...according to this research, over 40% will consider your product or service once they're in the market for it. If this doesn't add value to growing your social media following, I'm not sure anything else will.
Actually, perhaps this next stat will. Over 42% of these people will buy your product or service.
As you can see, there's a measurable value in staying visible and engaged with your Facebook and social media following.
After all, according to this study, over 97% of respondents answered that an online experience influenced whether they bought a product or service from a specific brand.
Grow Your Facebook Following
Looking to build a more effective, profitable social media strategy? Contact IMPACT and learn how we can help!