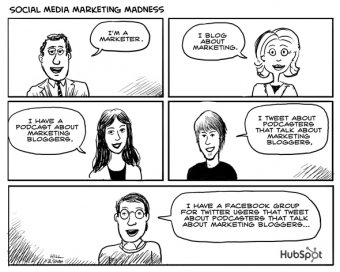 LIKE this, Pin that, Re-tweet this, +1 that. Social Media these days is looked at as just the newest craze and people use it to document every second of their lives, which is a little much if you ask me. But that's on a personal level, business level is a
whole different ball game. With so many social media sites out there, where do you begin? What's the difference between Facebook and the rest of the social media platforms?
---
---
Social Media Marketing is an outstanding tool for promoting your business. It's a great way to market your services, products, and help boost your brand. Not only that, it gives your customers easy access to anything your business has to offer (instead of waiting for that crumbled up postcard in the mail). At IMPACT, we often find that some businesses have a hard time diving into the sea of social media. Let me break down each tool and I know you'll want to get your feet wet.
Facebook
What makes it unique
I think it's safe to say that Facebook is the most common among all the social media marketing tools out there. Facebook uses the social graph and activities to target demographics and people, making Facebook Advertising incredibly awesome. Think about it, any product/service you advertise on Facebook basically gets put into the hands of the exact person who wants or needs it. While it's mainly a B2C platform, every fan who has LIKED your page is truly interested in what you have to offer.
Downsides & Limitations
It's not all about you. I know, hard to believe but it's not. Of course it's extremely important and necessary to share your products, offers, services or what have you, BUT you also need to prove that you are en expert in your field. People aren't going to automatically trust you. You need to build that trust, and doing things like sharing valuable content, news articles, and information on the latest and greatest technology that's going on in your industry will prove that your fan base can trust what you say.
How to use Facebook for Marketing
Facebook is definitely the easiest and most user friendly of them all. Build your fan base, share your page with friends and family, post your Facebook link anywhere you can, and give incentives for people to like your page. Maybe you're giving out a $20 giftcard once you reach 10,000 fans. People love challenges and we find that techniques like this work well.
Share valuable content and interact. Do not forget to INTERACT! This is very important. People love to see that there is a real person behind your brand. If you don't show your face, people get weary if it's really you or not. And for all you busy CEO's out there, it doesn't have to be you posting either. Have someone in the office do the job. Make sure you keep that Facebook page active, interesting, and never stop engaging!!
Having trouble developing a Facebook marketing strategy? Give us a call at IMPACT and learn how we can help!
Twitter
What makes it unique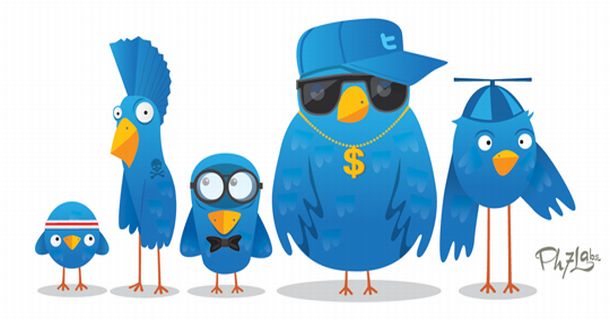 Twitter is quick, frequent and has the smartest of the audiences. With 140 million registered users, twitter is a sea of information waiting to be read, followed, and re-tweeted.
Twitter also transformes your lengthy blog articles to small snippets of information. This is great for grabbing people's attention quickly, driving more people to your blog, then BOOM, new blog subscribers. Easy as that. Hash tags are also a unique twitter attribute. They're great for search purposes when your looking for people to follow and also to see what people are tweeting.
Downsides & Limitations
Twitter has been at the top of the micro blogging platforms since 2006 and generates 175 million tweets daily. While it's a great way to share quick thoughts and generate traffic to your website and offers, there are also limitations that come with it. Building relationships with followers is nearly impossible to do. People follow you because that like what you have to say, they don't always care about your business as a whole. BUT, there's ways around that.
Choose what you tweet wisely and follow people that have an interest in you and your business. At IMPACT, we really focus on finding followers who we know will really benefit from our clients products/services or even people who we know will share our content. Check out how we built a valuable twitter following for IMPACT.
How to use Twitter for Marketing
Twitter (like basically all of these social media marketing tools) is great for directing people to your website to generate leads. But you need to have content that is enticing enough for people to stop and read yours. People are normally scrolling through quickly and only clicking the ones that stand out the most. Make sure when you're constructing your tweets, each one hash tags for searching purposes and a link that is directing your viewers where you want them to go. Wether it's to your contact page, or a coupon your offering, make twitter useful by getting people to your website.
Twitter marketing have you confused? Contact IMPACT today to schedule your free consultation and we'll help you develop an effective social media plan.
LinkedIn
What makes it unique
LinkedIn is definitely different from the rest of the social media outlets out there for business. Instead of just connecting with individuals themselves such as clients or customers, you can connect with other business as a whole. LinkeIn carries a feature that most social media platforms don't, you can see who views your profile! And it's not like those silly Facebook apps that everyone clicks at one point in time. This one really works!
Downsides & Limitations
There is a lot less conversation happening on a LinkedIn page then there is on other social media marketing profiles. One way around this is to join groups or communities where you can ask questions and engage in conversations. Take a look at our Client Community page for a better idea.
How to use LinkedIn for Marketing
Stream all your social media profiles to this one page. Everything from Twitter, Facebook and your blog can stream right to LinkedIn, making it the home of where all your social media will live. It doesn't get much easier than that.
Also, utilize that recommendations tool. You can acuire new business by having your loyal customers write you a recommendation and spread the word. You can also use LinkedIn to search for new employees. A LinkedIn profile is basically like an online resume where you can list your experience, schooling, interests and more. What better way to find qualified employees?! Look at our company page to get an idea of what yours may look like.
Not sure how to get started with LinkedIn? Contact IMPACT today and we can get you started!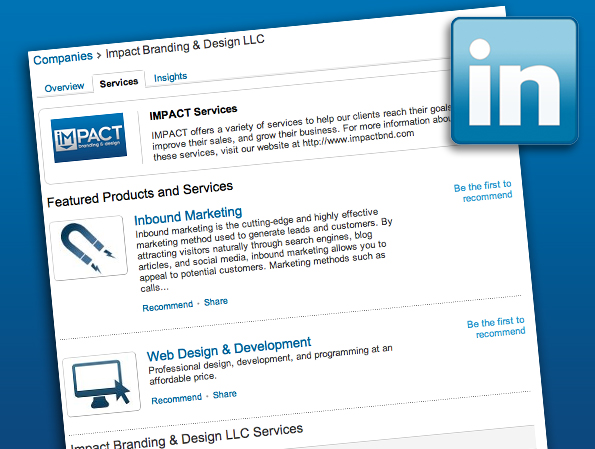 Google+
What makes it unique
Many are saying that Google+ is the up-and-coming Facebook. With 250 Million registered users already to date, I may not disagree! Do you have a lot of different types of people you want to reach out to? From employees and customers to your CEO and General Manager? Well, this is where Google+ Circles comes in handy!
With Circles, you can separate your followers into different groups so when you're making an announcement or just posting your lastest press release, you can choose who you want to share this information with! AWESOME! No other Social Media Marketing tools can really do that. Another unique feature with Google+ is the "Hangout." Here, you can video chat with up to 10 people at once. Now everyone can make it to the business meetings, virtually. No excuses!
Downsides & Limitations
Word on the street is that small business owners are getting worried that their website wont be of use if everyone can visit their Google+ page and get everything they need to know. Well, we can't really argue this because you never know what the future holds on the internet.
Google+ also lacks some privacy. Unlike most social media marketing platforms, theres no "request" button for Google+. You basically just add the page to your circles and you have access to their feed at all times. Although you have a business and your posting information for everyone to see, I think we all still like to have a sense of protection.
How to use Google+ for Marketing
Use killer images, make your profile OPEN to search, and use your Circles wisely. Google+ gives you many areas to use images. Whether you choose the tiled images or the one to span across the top of your page, choose the best one you have. After all, it is the first thing someone sees when they click on your page.
Also, don't forget to add some albums. Even if your company photos aren't your best ones yet, get them on there. Any photos look better then none. You can always schedule re-takes later. Since Google is king in the search world, you NEED to make sure your profile is open to search. If not, no one will find it and all the time you put into making your page wont count. Lastly, use your circles wisely. Circles is probably Google+'s best selling point right now so you really need to use this feature at its fullest. And it's going to make your life a lot easier when you're sharing content.
Aren't familiar with Google+ and how to incorporate it into your marketing strategy? Schedule your free consultation with IMPACT and learn how we can help!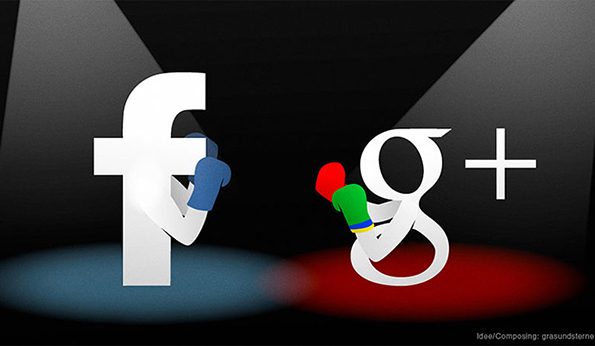 YouTube
What makes it unique -most popular video
Imagine this; You upload a hysterical video of your grandmother singing Karaoke on her 80th birthday. The video was so funny that thousands of people shared and viewed it. All of a sudden your video is viral and you become the topic of conversation among households everywhere! This can, and does happen! Look at Justin Bieber, Rebecca Black, and The Star Wars Kid (which we watch in the office very often). Youtube gives everyone and anyone the opportunity to go viral with their content.
Downsides & Limitations
I would say one of the only downfalls of using youtube for your business is that you can't exactly target your audience as well as you can on other social media marketing tools. Getting people to watch your channel and subscribe is one thing, but maybe not everyone watching will be interested in every video. Yes, it's up to them to pick through and see which ones are interesting to them, but it also raises the chance of people getting bored. Just keep uploading fresh videos and your subscribers will love you.
How to use Youtube for Marketing
Youtube for your business is a great way to get your face out there. People do business with people, and you can utilize youtube for presentations, webinars, testimonials, and really any announcements you need to make to your audience. It also give you a break from already producing content for people to read. Videos can be a lot more engaging and sharable as well.
Having trouble developing a plan for video marketing? Give us a call at IMPACT and we'll get you started!
Pinterest
What makes it unique - viral visual content
As one of the new members to the social media marketing tools, Pinterest is climbing the totem pole very quickly. At 30 million viewers to date, its kind of hard to not be found. Visual content rules all on Pinterest. If it's not appealing, it wont be re-pinned. From pictures to infographics and tutorials, it's full of all things appealing to the eyes.
Downsides & Limitations
Although Pinterest is great for showing your businesses culture and personality, it creates the feeling of a catalog rather then having a social experience. Yes, you can get a lot of re-pins, but do they really care about your business or just the nice picture you posted? While most of the top aspiring Pinterest users are young girls with a dream wedding and style board, it's hard to tell what your followers are looking for. This is why you need to be smart in what your pinning, link all images back to your website and make sure you're posting content that people will truly want to share.
How to use Pinterest for Marketing
Pinterest is divided up into boards. Each board having a category and the images you choose to pin down. Boards are important because it's how people are going to find certain images they're looking for. For example, check out our boards. We have 14 different categories, making it simple for our followers to find what they're looking for. Pinterest is great for showing the personality and culture of your brand, and again getting offers and content out and into the search engines!
Not sure how to use Pinterest for your business? Contact IMPACT to schedule your free consultation and we'll help you get started!


(Christina Martinez is among 1 of the 11 most popular Pinterest users with over 1 million followers!)
Get Started on your Social Media Marketing
I think I've done enough rambling about how important social media marketing is for your business. Now it's time for you to put it to use.