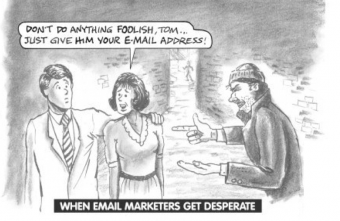 "Steps to Create Marketing Emails that Drive Results" is an excerpt from IMPACT's popular Ebook, "The Fast Track to Powerful Emails." For more expert tips on optimizing your email marketing template, be sure to check out the full Ebook.
Now here comes the fun part: writing the emails! When writing your emails, there are a number of elements that should be included that can make or break your email marketing campaign.
5 Steps to Create Marketing Emails
STEP 1: Permission bases / SEGMENTED email marketing list
The first and most important element that we have to begin with is permission. As long as you have permission to send to that email, then you can go ahead and send it. However, if you have come across some random email address that someone did not give you willingly, you should not use it. For one, you'll look like a pesky spammer. But even worse, if you "spam" too many people on a particular ISP, that ISP will go right ahead and block your emails from reaching anyone on their ISP. Now that's a huge blow to business.
Also, you want to ensure that you are sending your email to a segmented list. Perhaps your running a promotion that applies to just 35% of your email marketing list (say residential customers), but the rest of your mailing list (your commercial customers), don't need the aforementioned promotion. It's essential that you segment your list so you're sending the most accurate emails to the most accurate audience to get the best results.
STEP 2: Build an HTML Email Template
If you really want to make your email pop, you should consider using an email marketing template. Not only does this make your business look more professional, but it's a huge time saver. Email templates ensure that some of the most critical features of creating a marketing email are not missed. Some of these features include your logo / branding, physical address, an unsubscribe link (for CAN-SPAM compliance), and social media share links.
Are you currently using an HTML Template? Do you want one? Contact IMPACT and learn how we can help!
STEP 3: Choose a Powerful & Personal Subject Line
Without a subject line, your leads won't have a clue what your email is about. But there are other things to consider too, like the length and the content of your subject line. Keep it short, keep it simple, but make sure it highlights what's in the email. If you are giving away an eBook, briefly say what the eBook is about (i.e. email marketing eBook) and don't go too into detail. That's what your email and blog/website are for.
It's also important to make sure you personalize your email marketing message. Use dynamic tags to include their first name to make it more attractive.
STEP 4: Ensure your Email Marketing Message has Attractive Body Content
You want to have an appropriate opening and closing, and a great email marketing software program like HubSpot, that will input your lead's first name in the "Hello" line and interject it throughout the content of the email.
The body of the email also has to be catchy. Don't use your emails as a way to throw a ton of facts and important information at your leads – that's what your website is for. Keep it short, keep it catchy, and provide links to any additional resources that they may be interested in. The longer your email is, the more likely it'll end up in the "Deleted" email folder.
TIP: Include links to your landing pages and to your blog for further information.
STEP 5: Always Include Calls-to-Action into your Email Marketing Messages
Your call-to-action has to be clear. You need to have a clear and very visual purpose when you create an email. Repeat the call-to-action several times, and make sure that it is visible in the preview pane of an email inbox. The call-to-action should also be placed at least once above the fold of the email.
Continue reading the full Ebook...
Optimize your Email Marketing Template
Interested in learning more about mastering your email marketing campaign? Give us a call at IMPACT and learn how we can help!