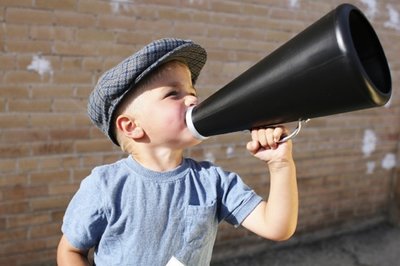 Since the dawn of social media, brands have been trying to engage and interact with prospects, leads and customers in a way that makes them appear human.
One way that companies and brands can achieve that type of relationship is with a two-way conversation.
Companies don't want to be seen as power hunger. Instead, companies want to engage and interact by educating and personalizing their consumers online experience.
Social media is an important aspect of any brand. According to HubSpot, social media produces almost double the marketing leads of traditional outbound methods.
Learn why your company should be having a two-way conversation with consumers through social media.
Benefits of a Two-Way Conversation
Displays a Human Quality
Unlike a one-way conversation, where companies dominate the conversation and don't really engage, a two way conversation allows companies to interact and engage with consumers in a direct and responsive way.
You shouldn't be constantly talking about YOU. Not only does that get old fast, but you cannot engage or interact if it's all about you. When you're posting on social media, think of the 70-20-10 rule.
The 70-20-10 rule stands for:



70% of your posts should be adding value and brand building.



20% of your posts should be sharing other peoples ideas or Facebook posts. Consider tagging businesses in your posts and even sharing their posts.


10% of your posts should be promotional where you're endorsing products or upcoming events.


No one wants to be a robot. Being human is an easy way for companies to connect with their consumers.
Makes a Company More Personal
Personalization and personality are key when it comes to your company. Many say that two-way conversations embody the marketing strategy of personification. It's essential to be yourself. Remember to display the culture of your company through your social media posts, photos and design work.
There are two ways that you can make your brand more personal through developing a two-way conversation on social media.
1. Be Part of the Conversation
You don't want your company to do all of the talking. Everyday consumers are liking and sharing your content, asking questions, leaving comments, and unfortunately sometimes complaining. You shouldn't ignore any engagement on your social media profiles no matter how negative they might be. How else do you expect to repair your relationship.
To develop a relationship remember to:



Respond to comments



Answer questions


Retweet


Respond and answer complaints


Don't wait over a week to engage with these people. Unfortunately, for you in this fast pace world you may no longer be on their mind. You don't want to miss the opportunity to develop a lasting relationship with your consumers.
P.S ... You don't want to ignore the people who take the time to tweet to your company. Check out this awesome example from Whole Foods Market.
[display_fullsize]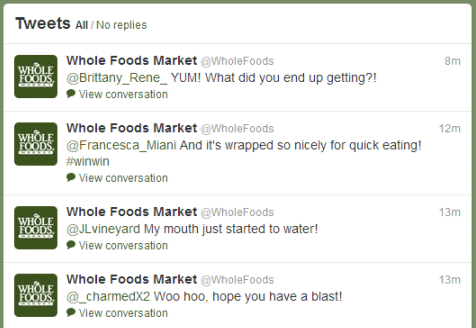 [/display_fullsize]

[display_mobile]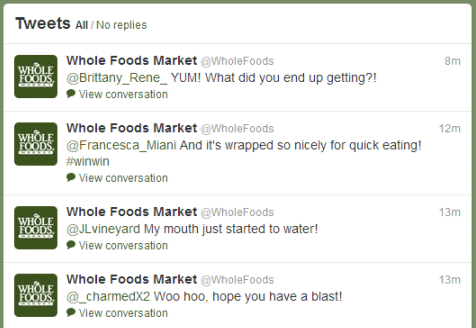 [/display_mobile]




Not only should you engage with your consumers, but don't forget about other companies. This is a great way to create a relationship with industry thought leaders and big brands. Check out this great example between Old Spice and Taco Bell.
[display_fullsize]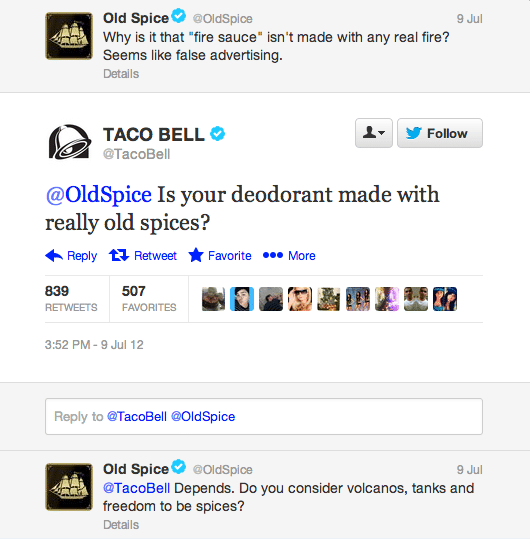 [/display_fullsize]

[display_mobile]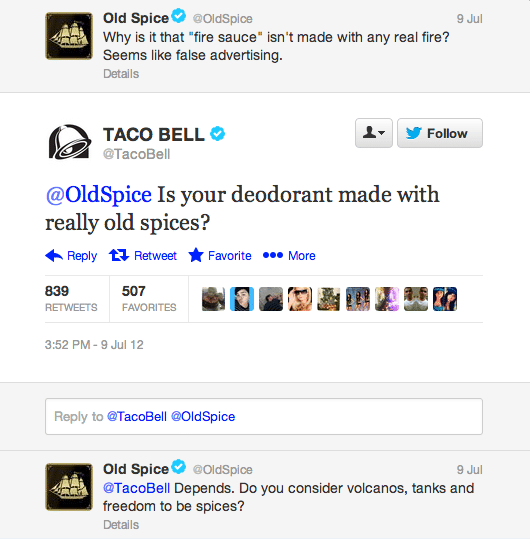 [/display_mobile]



2. Include Humor
I'm not sure about you but a laugh is always appreciated. However it's important to remember that humor isn't something that should be forced. No one wants to be that "comedian" who just told a joke and there's that moment of awkward silence where you think you can hear crickets.
Oreo has done a great job of incorporating humor through out their social media marketing campaigns.
[display_fullsize]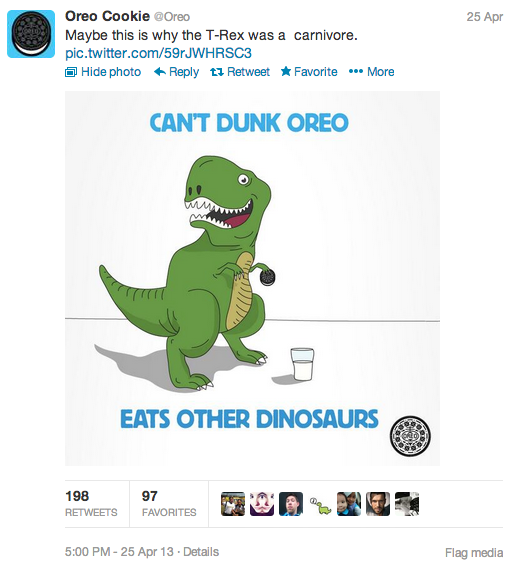 [/display_fullsize]

[display_mobile]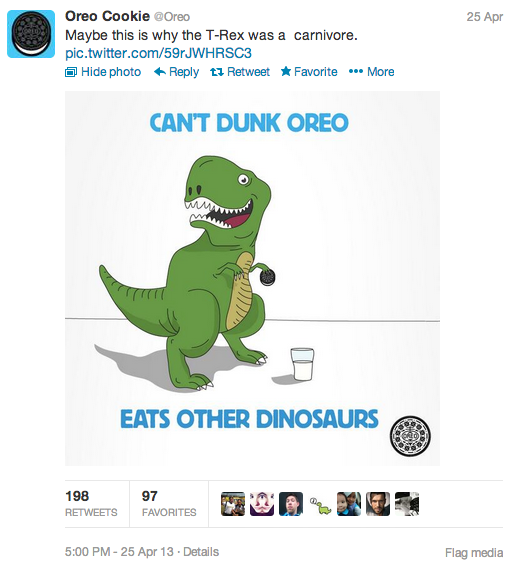 [/display_mobile]
Develops a Connection
If you don't know this already, social media is a great platform for companies and consumers to develop a connection. Social media is no longer about broadcasting your likes or dislikes.
Social media is a platform where people want to engage and interact with individuals and companies who share the same interests and passion. They need to develop a meaningful conversation. In order for your company to develop a lasting relationship and connection you need to be yourself.
Knowledge leads to passion, passion leads to communication. And knowledge is one of the key factors that will set your company apart from your competitors.
Promotes Activity
No one wants to be that one person who never has anything valuable to contribute. The same goes for companies on social media. Just having a profile isn't enough. You need to routinely update and interact on your profile.
The best way to look like you've gone out of business is to let any of your social media profiles go dark. In order to maximize the effectiveness of your social media marketing campaigns, you need to post updates on a regular basis. We recommend at least one update per day on each platform. If you need help, consider building a social media schedule for your updates and stick to it.