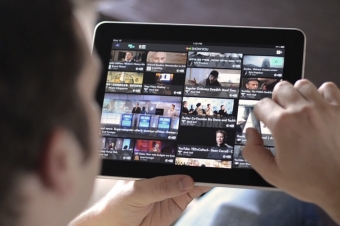 More people are watching online video marketing than ever before.
At the beginning of the year, HubSpot projected that 53.5% of the population and 70.8% of Internet users would watch online video in 2012. As you could imagine, the demand for online video has never been higher.
There's a few reasons for this. First, it's never been easier to find and watch online video, as all it takes is a few finger swipes of your smartphone, and you're live. You can also attribute the huge jump in online video to the fact that with Internet usage up due to mobile phones, and so much content out there, it's the videos that are standing out.
So now you're probably scrambling for the cameras, right? Probably not. Why is that?
In most cases, it's either because of inexperience or fear of the camera itself that keeps companies away from recording online video marketing. That's why we've put together this checklist of things to ensure you're recording videos like a pro in no time, and as a result, generating more traffic and leads from your website.
Looking to create killer online video marketing? Give us a call at IMPACT and learn how we can help!
Why Video?
Hmm...still not totally convinced yet that online video marketing has far reaching effects?
Consider these stats from Video Brewery:


100 million Internet users watch online video every day


90% of online shoppers say that they find video helpful in making shopping or buying decisions


Visitors are 64% more likely to buy a product online after watching a video


59% of senior executives would rather watch a video than read text


Most impressive, however, is that according to Dr. James McQuivey of Forrester Research, a one minute online video is equivalent to about 1.8 million words of text. That's equal to about 3,600 pages of typed text, which means if you typed one page an hour, it would take you about 150 days to equal the value of a one minute online video.
Sounds like it's much easier, and more importantly, much more effective to record an online video than it would be to write for 150 days straight. Agreed?
Filming Tips
So now that you've seen the importance of online video marketing, it's time to brush up on some tips to ensure your videos are top notch.
A great online video means mastering the five basics of recording, which are as follows:


Framing


Clarity


Lighting


Background


Audio


We've included tips for mastering these below.
Framing
Framing is critical as it will make all the difference between a professional video and one that looks like a high school English project.
You'll first want to make sure that the subject is centered. This also means including enough headroom at the top of frame so the subject doesn't look like they're about to be crushed. Let the video and the subject breathe.
If you're recording a weekly segment or filming videos in the same place, be sure the placement of the camera is consistent. Having one video filmed in the center of the table facing the windows one week, and later filming it at the head of the table facing the wall is both lazy and will come off as unprofessional. By always filming in the same place with the same camera placement, you'll create a feeling of uniformity that will keep your viewers coming back.
Clarity
Here's where the mastery of your camera plays a huge role. Adjusting the lens to the right setting will ensure your video will be free of any blurriness. This will take some toying around with to get perfect, but it's certainly worth the time. Nothing screams amateur like a blurry online video. And we know you're not an amateur!
If you just can't seem to get the clarity right, even after playing with the lens, try moving the camera back a little (just be sure you reframe the subject after the change in position.)
Lighting
Please do not confuse this with recording with windows as your backdrop, that's a definite no-no! Instead, record in a room that has great and balanced lighting.
Perform a series for short filming tests in order to ensure that there's no harsh glare on your subject or on the camera lens itself. Good lighting also prevents shadows, blurriness, and having an uncomfortable subject, as if it's too bright or dark, you'll certainly be able to tell from the look on their face.
Background
Remember how I said nothing is worse than looking like an amateur? Well, another sure fire way of coming across as one is by not taking notice of excess material in the foreground or background of the frame.
Are there chairs in the background? Any loose papers, pens, or other materials in the frame?
Consistency is key for online videos, so make sure each video looks the same.
The only thing that should be in the frame is your subject as well as any planned props, i.e. laptop, notepad, etc.
Audio
So here's the harsh reality; not everyone at your company is cut out to film an online video. Some people project their voices much better than others, these are the people you want your videos to center on.
Good audio means speaking loud enough to be heard (no shouting!), speaking clearly, and also speaking slowly. We all have a tendency to speak rather quickly in our everyday dialogue, so just be aware of this and try to slow it down when on camera.
Another audio no-no is recording in empty rooms or rooms with tile floors. The echo will be very pronounced and quite annoying and frustrating for the viewers.
Mastering your Online Video Marketing
Interested in learning more about how you can create effective online videos? Contact IMPACT and learn how we can get you started!
*Image courtesy of Gigaom.com