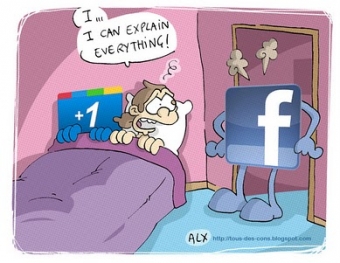 So what's your company's status on Google+? It's one of the more misunderstood of all the social networks, and because of this, Google+ has become a sort of an untapped resource for lead generation. After all, the whole purpose of having a social media marketing campaign is to generate more qualified leads, right?
So the question many business owners and marketers pose it this; can we actually generate leads using Google+?
The most simple way to generate leads on Google+ is to post organic links that produce traffic for your site. But there are some grey areas as to what you should post, and what you should keep on your website. In this post you will learn the best ways to do just this, as well as many other easy tricks that can really improve your lead generation on Google+.
If you're interested in learning more about turning lead generation tips into actual results, check out our free ebook "How an Inbound Marketing Agency Does Lead Generation."
Give Your Circles Awesome Content
The very first thing you do on your Google+ is share relevant content with your followers. Give them something that they want; something that compels them to click on it and visit your site. Whether it be industry related, company related, or just about what you and your coworkers did this weekend, if it's something that they want, they will click and visit your site.
Use landing page data to see which offers are getting the most attention, and which leads are more likely to convert. Sort your offers based on the leads that click on them, and give yourself a clear-cut marketing plan for future posts. So for those weird times when you are having a top-of-the-funnel drought, you can post offers that directly appeal to non sales-ready leads.
Post More (or Less) and at the Right Times
If your social media automation is posting 6 times within an hour and not at all for the rest of the day, then that's a problem. Stagger your posts throughout the day (just like Facebook & Twitter) so that you don't overwhelm your followers.
Do a little digging. Find out when your buyer personas are even on Google+ so that your post don't go unseen. You don't want try and reel in leads in California by posting on the east coast at 7 a.m. That's 4 a.m. in California, so your leads probably won't see your posts. It's necessary to test and see when you get the most interaction on Google+, and to plan a posting schedule around these results.
Robots Hate Lead Generation
While you want to advertise and let your followers to know about new products or deals, don't do this all the time. Being too salesy on Google+ makes leads ignore your posts, because they are constantly being pressured into buying something. By selling all the time, you can eventually eliminate all interactions on Google+, and make your entire profile ignored by the leads you need.
Add flair. Be yourself. Comedy is GOOD. Talk about the new office pet (Hi Clyde) or the benefit concert your company went to. These things are interesting on social media platforms, so they will always be more attractive to leads.
Interact with your followers. When you post and link to a lead's profile, you immediately establish a connection and make them more likely to visit your site. Instant lead generation! This also lets your post be seen by a greater number of people.
Be Visually Awesome
Pshh who likes reading? Pictures are always a good quick post for Google+. They are easy to see, and also much more likely to be picked out over a lot of posts. Link a cool picture to the blog post you just wrote (make it relevant of course) and see how many more clicks you get on that post than on another one that you just wrote about. With Google+ adding pictures to posts is extremely easy, so why not do it all the time?
What suggestions do you have for another struggling Google+ User?
*Image courtesy of tous-des-cons.blogspot.com