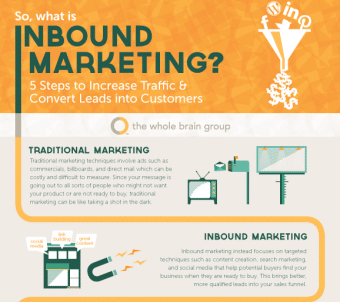 As I was doing my daily blog perusing this week, I came across a great inbound marketing infographic shared by HubSpot on the five steps for increasing traffic and converting leads into customers.
Created by The Whole Brain Group, the infographic begins with a comparison of the traditional outbound methods of marketing to the new, digital age of inbound marketing. Many of the old methods business owners and marketers relied on to generate customers for business have lost relevancy and effectiveness in the Internet age.
Enter inbound marketing; a method of unsolicited marketing that focuses on attracting more relevant, qualified traffic and leads to your website.
Following that is the five steps for increasing your website traffic as well as converting your leads into sales:


Create compelling content for all levels of the buying cycle


Get found by people who need your products and services


Convert visitors to leads and nurture the relationship


Convert qualified leads to customers


Analyze and adjust your marketing tactics


Check out this great infographic for some helpful tips on how you can either make adjustments to your current campaign, or get started in adopting inbound marketing in order to transform your marketing strategy.
Interested in learning more about if inbound marketing is right for your company? Check out our free ebook, "The Beginners Guide to Inbound Marketing" and learn more about how you can transform your marketing campaign.
Inbound Marketing Infographic
What Next?
Well...looks like you've got some work to do! The first step is identifying how these tips can be applied to your company and current marketing campaign.
Next...how can you manage to get all of this work done? What resources do you need to make it happen?
The most important thing is recognizing that improvements can be made to your current marketing, and identifying where adjustments can be made and how to make them. This infographic serves as a blueprint for the adjustments to be made and how to make them, it's now up to you to determine how to ensure you're practicing these tips in order to achieve your company goals.
Interested in learning more about inbound marketing? Contact IMPACT and schedule a free marketing assessment with one of our professionals, and learn more about how your current marketing is performing and how you can make improvements.