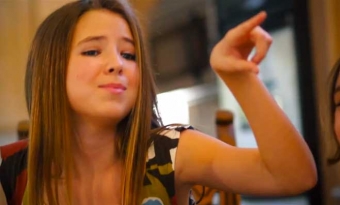 When it comes to our content and videos, we all have aspirations of going viral. We all want that video that has 6 million views, or that post that's be shared hundreds of times on Facebook.
But once again, pop culture has shown us that in order to go viral, nothing is more effective than 12-year-olds singing/rapping about days of the week or holidays. First, there was Rebecca Black and the infamous "Friday" video. Now, just in time for your turkey and mashed potatoes (yeah!), yet another viral video will be broadcast over the airwaves a couple million times.
Yup. The most recent in viral recording history is Nicole Westbrook's aptly titled, "It's Thanksgiving."
Just in case you were dying to hear it (and perhaps play it for the folks during dinner later) we've done you the good fortune of embedding the video right here in the post for your viewing (and listening) pleasure!
The Tricks for Going Viral
So let's break down the genius of Nicole Westbrook here (or whoever penned this brilliant tune.)
As silly and annoying as this song and video may be for some people, it actually contains everything you need to know about going viral within it.


First, you need to be topical. Meaning, what's something that's big in the news right now? A certain celebrity? A sports team? A holiday? Whatever you're developing needs to be topical and relevant in the current news cycle in order for it to have legs and go viral. The window for going viral is small, as the news is always changing so rapidly, so it's important to pick your story and go with it. In Westbrook's case, they played off the holiday, waited to release it until the appropriate time, and now they've got a viral video on their hands.


Next, have a sense of humor. While I'm sure this video is a big step in the career of this 12-year-old, there's absolutely no way they weren't chuckling when she picked up a drumstick and started singing into it. And I don't mean the tool of percussion, I'm talking the actual turkey drumstick. Yeah, that actually happened. And you know what? People think it's silly, stupid, and hilarious. So silly, in fact, that it's well on it's way to garnering over 10 million views before the holiday even arrives.


Something catchy, cute, or cartoonish. The three C's as I like to call them. This video arguably contains all three. Of course the tune itself, while annoying, is undoubtedly going to get stuck in your head at some point. For this I apologize. And having a bunch of adorable 12-year-olds singing about having no school is definitely a draw to parents and other young kids.


So while you find yourself singing along to this annoyingly, catchy tune this holiday, keep in mind that there's always a lesson to be learned. Hang on to Westbrook's video as a reminder of what is possible when you follow the basic principles.