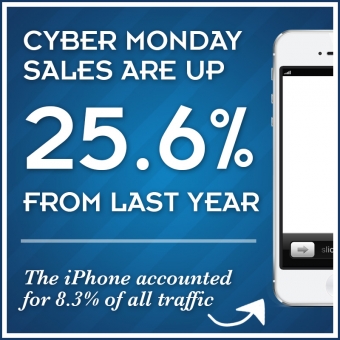 So how silly do all those Black Friday shoppers feel after trampling each other in sub-degree temperatures for the last Nintendo Wii?
The reports are in, and Cyber Monday shoppers broke records of their own, all from the comfort of their couch, chair, or any other heated room you could think of. According to IBM's Digital Analytics Benchmark, there was a 25.6% increase in online sales from this same time period last year.
And to think, the only crowding anyone had to deal with was in regards to bandwidth, rather than undersized entrance areas at your local big box stores.
The MVP of the day, however, was mobile shopping. According to the same report, 21% of online shoppers found their sales and goodies today using some sort of mobile device, with the iPhone outperforming all other devices as the main source of purchase. In fact, the iPhone drove more retail shopping than other device, with traffic reaching 8.3%, compared to 6.7% for the iPad, and 5.9% for the Android.
if this doesn't paint the picture of importance of ensuring your website is optimized for mobile, then certainly, not much else will. More and more buying decisions are happening via mobile devices like the ones mentioned earlier.
Are shoppers getting lazier? On the surface, it may seem so. However, with social media and the Internet being what it is these days, it's become much quicker to find a deal and make a purchase with your mobile device than any other form of shopping.
It's for this reason alone that if your website isn't optimized for mobile, it certainly needs to be.