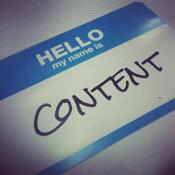 So you've heard all the rage about content marketing and its importance to an effective inbound marketing campaign, but now you're sitting and wondering, "okay, where do I start?"
Great question! By laying out several of the best practices regarding content marketing, we will help you in your quest to get started in creating quality, relevant content.
Blog!
By now you've certainly heard about blogging and its value to inbound marketing. Simply put, blogging is the fastest way to get you on your way to being a quality content generating machine!
Consider this statistic: businesses that blog get 55% more website visitors than those who do not. But before you go clamoring for the keyboard to whip up your first blog post, you must first know the importance of optimizing your blog content for keywords that you want your potential customers to find.
This will greatly help your standing in the search engines, which in turn will help to drive more relevant traffic to your website.
Sharing through Social Media
Social media websites are one of the most valuable resources a business can have. Sites such as Facebook, Twitter, and LinkedIn are chock full of members of your niche audience and other potential customers waiting to be found. So be sure to share your content with them! It may even help to answer many of their questions while simultaneously establishing your credibility.
You've spent the time to create quality blogs, so sharing these through social media sites will maximize the potential of each individual blog post and expand your reach through shares and discussion among your followers.
Ebooks, Videos, and E-Mails
Blog posts are not the only effective creative content that can help to generate leads. Ebooks, videos, and e-mails also help in sharing informative content with your readers.
Remember, your potential customers are looking for help and answers to their problems. By offering that through freely shared content, you're establishing yourself as an industry expert and also building trust with your readers.
Be Helpful and Entertaining
As we discussed above, potential customers have questions or problems that you should take aim at through your content. However, a good way to drive away these potential customers is by boring them to tears with poorly constructed content.
Be sure to inform your readers in a way that engages them. Entertain! Videos go a long way toward achieving this, as it can often be a welcome break from the blocks of text that constant blogging will generate.
Also, make them feel good. You're helping them; you're solving their problems. Let them know they're right on track or will be shortly. The whole idea of creating helpful, quality content is to help steer your potential customers in the right direction. They will be grateful, and more importantly, may reward you in doing so.
Final Thoughts
The most important thing you can do in regards to content marketing is to get started. Once you have done this, make sure you're optimizing your blog posts and other content so that your potential customers can find your helpful information in the search engines. This is extremely important. Be visible! You have a lot of helpful content to offer, make sure those who need it are finding it...and finding you!
Also, while blog posts and other forms of content marketing like ebooks are not traditional advertisements, be sure to include calls-to-action and other offers throughout your content to point your readers in the right direction…toward you!
Need Help?
If content marketing is something that you are interested in but don't know how to get started, contact us today to schedule your free marketing analysis.