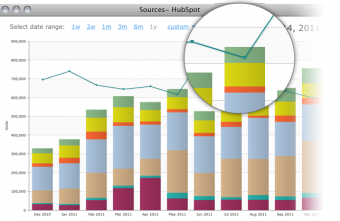 HubSpot offers many features to help businesses and entrepreneurs analyze and improve their marketing efforts. One of these features is HubSpot Marketing Analytics, a HubSpot analytics tool that provides users with a complete view of their marketing campaigns. Watch the following video to learn more about all of the capabilities of HubSpot Marketing Analytics.
Closed Loop Analytics
Because HubSpot analytics uses closed loop marketing, it is able to accurately measure marketing ROI by analyzing the number of leads and customers that each campaign attracts. HubSpot analytics can even track where leads are being generated, whether it be your website, local media outlets, or other campaigns. By providing the ability to determine where the most leads are coming from, HubSpot analytics allows its users to focus on the outlets that have the greatest conversion rates, while also working to improve the mediums that may not be attracting as many leads.
Marketing Campaigns
HubSpot's marketing analytics offers many different ways to view marketing campaign data. The user can view leads over different periods of time, see where the most traffic is coming from, or focus on specific lead types being generated. Each informative graph also includes a more extensive chart beneath it, which allows users to view the exact data they are looking for.
Conversion Rates
Furthermore, HubSpot analytics has a lot to offer when it comes to one of the most important marketing factors: the conversion rate. HubSpot's marketing analytics tracks leads and can show which marketing campaigns are producing the most visitor-to-lead conversions, as well as the most lead-to-customer conversions. By understanding where most of their leads and customers are coming from, users learn how to best reach their target audience.
For more information on HubSpot analytics, go to www.hubspot.com.
Need Help?
If marketing analytics is something that you are interested in but don't know how to get started, contact us today to schedule your free marketing analysis.