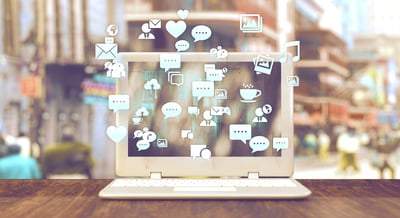 Many people are still trying to determine the success and influence social media has on their overall return on investment.
CEO's and business owners are asking their social media managers if social media is a waste of time. Should they put more effort and initiative into another marketing activity?
You won't know how much of an impact your campaign has on the overall success of your marketing campaign if you're not actively measuring your efforts.
Before you put a halt on your social media marketing campaign, there are several key performance indicators you should look at to determine the reach and social engagement of your company.
We all know that no one wants to support an activity that's losing his or her company money. By tracking the right KPI's, your company will be able to make adjustments to your social media strategy and budget.
Social Media KPI's You Should be Tracking on a Regular Basis
Just like every other marketing and business activity, there are key performance indicators you should be tracking to identify areas within your strategy that needs improvement.
You cannot just set up a campaign and then forget about it. You continuously need to measure its effectiveness and make changes where necessary.
Before you kick social media marketing to the curb, here's some KPIs you should check to ensure you're effectively reaching the right audience.
Reach
1. Number of Fans and Followers
Since you started actively engaging and participating on social media; whether it's Facebook, Twitter, Pinterest, LinkedIn, Google + it's important to know how many fans, followers, likes, connections, and how many people are in your circles.
This is a good indication of your companies reach. You want to work to ensure that the number continues to grow week after week and month after month.
On the other hand, if you begin to notice that more people are unfollowing you than the number of people who are following you; the red flags should be popping up. If that happens you'll need to adjust your strategy. All you might have to do is change the frequency of your posts and possibly even the content you're posting. Make sure that your content is in line with the content your target audience wants to receive.
2. Demographics and Location
Wouldn't you love to know the percentage of males and females engaging with your company on social media? Of course you would. And that information is easily available within your Facebook Page Insights and Twitter Ads Analytics.
No, you don't need to use Twitter ads to access this information. All you have to do is login to Twitter and upon clicking on your image or logo in the top right-hand corner select Twitter Ads or Analytics. Once you've finally reached your Twitter analytics dashboard you will be inundated with a tidal wave of information, you can use to identify you're audience on that social platform.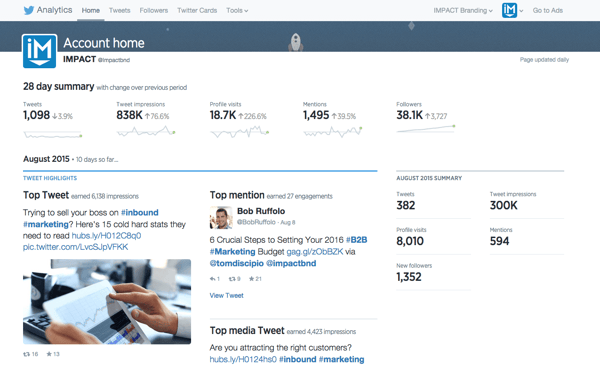 Here's a deeper look into our followers. Not only does it show us how many of our followers are male (68%) and female (32%) but it tells us where our followers are located. This can give you more insight into when you should be posting. Are your tweets effectively reaching your target audience? They might not be if a majority of your audience is located in a different country or time zone.
It's also interesting to know that followers are interested in leadership, technology, SEO and startups.
That's a lot of information you can use to your advantage to impact your reach and engagement.
Not only does Facebook, identify the gender of your audience, but they also go one step further to break them down into age groups.
Is your target audience among that group? You might find that you're reaching a different age group and persona on a social network that you weren't previously targeting through that social platform.
Engagement
3. Number of Active Followers
Not everyone following you is going to be active. Unfortunately, this happens more often than you might think. An active follower is considered to be someone who has logged in and interacted within the past 30 days.
No wants to interact with someone who never logs into their account. A great FREE tool for identifying any individuals that are inactive, are fake, and don't have a profile image is MangeFlitter. It takes seconds to sign-up and you will be removing any irrelevant followers in no time.
Your following should be made up of a relevant and influential people who actively interact and engage with your company.
4. Likes and Shares
A quick check to see if your audience likes any of your posts is a good indication of whether or not your content is attractive to them.
No one will want to share or like a post that isn't relevant to them or their network. Changing your strategy is one way to increase the reach your posts have.
5. Comments
Social media should be a place where companies and their audience are having a two-way conversation. And comments are a way to keep the conversation going. Just don't forget to respond to any comments in a timely manner.
If you go without responding to a comment or question, you might find that those individuals have unfollowed you or unliked you.
6. Mentions
Is anyone mentioning you in their tweets? It's a great way for your followers to communicate with you and share your content.
Often times when people retweet or share your content they include the company or author in the tweet. Not only are they giving you credit but your content is then shared with their network. You can easily find your mentions by clicking on the connect tab and then mentions.
If you're looking for an overall number of mentions from the last couple of months, that number is readily available on your Twitter Analytics section.
7. Retweets
Is anyone retweeting your posts on Twitter? If not, you might want to consider changing the content and tone of your tweets.
The more retweets you have the more reach your posts will have. Increasing the number of people who will see your post. Retweets are also an indication of what types of content and posts your audience likes to see. You might find that statistics and quotes have more traction and reach than a generic tweet containing the title of your latest blog article. One way you can increase engagement is by ensuring that your content doesn't appear automated. You don't want to post the same tweet consecutively over a period of time.
8. Traffic Data
This is a huge one. What percentage of the traffic to your website is coming from social media? This is a great metric to know.
You can easily identify this number if you're using HubSpot. All you have to do is visit the sources section of reports. See if a good chunk of your traffic is coming from social media. If not, you might just have to expand the reach of your posts. Consider using a social media publishing tool like GaggleAMP.
Download the complete marketing KPI report
Fill out the form below for actionable tips on hitting your numbers