Consider this; 75% of internet users never scroll past the first page of search results.
Whoa.
So how is your business performing in the search engines regarding terms relating to your industry? With more people than ever going to the search engines for product research, it's no longer a luxury to be ranking high in search engines like Google; but rather a necessity.
Google has essentially become the new Yellow Pages. With 78% of Internet users using search engines to research products, one has to consider; "is my business a valuable resource in these users findings?"
If not, or even if you're not sure, it's time to consider an SEO overhaul as it relates to your campaign. The fact of the matter is there are essential search engine optimization tips that can get you on the road to ranking higher right now as highlighted in our new Ebook, "How an inbound Marketing Agency Does SEO."
Fresh from the Ebook is this awesome infographic, highlighting the steps more thoroughly discussed in the Ebook to get you ranking higher.
If your search engine ranking, or lack thereof, has you feeling a bit disheartened, give us a call here at IMPACT and learn how we can help! In the meantime, check out our awesome infographic detailing the steps to a powerful SEO campaign!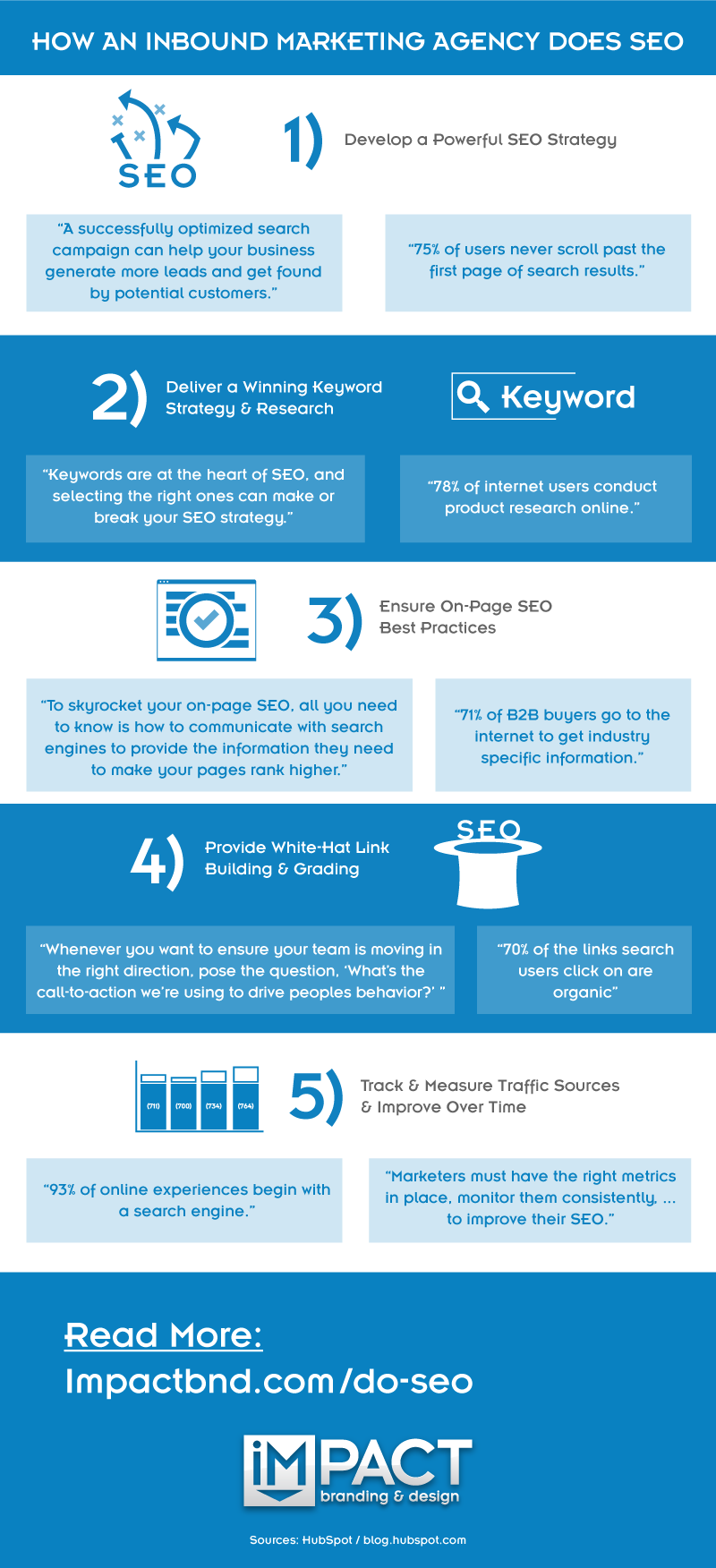 Utilize these Search Engine Optimization Tips
As you can see, a successful SEO strategy is one that encompasses many different aspects, ranging from keywords, to on-page SEO, to measuring metrics in order to improve your overall campaign. Anytime you feel lost regarding your search engine optimization, be sure to refer back to our search engine optimization tips and you won't be lost for long.
Always consider our five main steps.


Develop a powerful SEO strategy – Be sure that you're tackling all aspects of a successful SEO campaign. Step one; get started!


Deliver a winning keyword strategy – Always research and include the right keywords for your company and industry.


Ensure on-page SEO best practices – Optimizing all web pages will dramatically improve your overall SEO.


Practice white-hat link building – Creating links that direct users to other pages or resourceful content is a proven way of improving your SEO and generating traffic.


Track and measure traffic sources to improve over time – This is important, as it's critical that you know what's working, what isn't, and make the necessary changes.


If you're feeling intimidated at the steps necessary to deliver a powerful SEO campaign, give us a call here at IMPACT and learn how we can help!
For more expert tips on improving your SEO, continue reading the full Ebook...