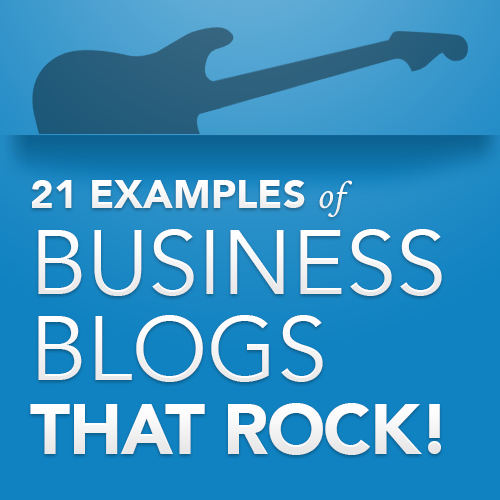 For those about to rock....we salute you.
Rock it on your business blog that is.
There are thousands of business blogs available on the internet, unfortunately not all of them rock. Blogging is extremely important for a business to communicate with their target audience and show their knowledge and expertise.
Everyone wants to be the queen or king of content creation in their industry, creating a blog that shows your personality and allows you to engage with your readers is key. You might be wondering what makes a good blog. Here's a list of some elements your blog should include:


Comments


Social Sharing


Powerful CTA's


Amazing titles


Now see if your company made the cut.
21 Business Blogs that Rock
1. River Pools and Spas
River Pools and Spas has a GREAT blog!! Marcus Sheridan has done a fantastic job of including a number of key elements that create a great blog. Who doesn't want to be known as an expert in their industry? Everyone does, therefore, your content should reflect that. Make your blog personal, you want to be able to make a connection with your readers, as well as writing about topics your readers will be interested in. OK, So he can write a blog article, you might be wondering what makes his blog so great.
As an influential thought leader you want to your blog to engage and interact with readers, create a discussion. When looking at going to the "Most Educational Swimming Pool Blog in the Country" you will notice the amount of social media engagement, as well as the comments left by readers. The readers are asking questions, looking for advice and are being educated.
2. SmartBear
This blog has it all!! SmartBear has done a fabulous job creating a blog that people just love. It has everything from interesting titles to awesome featured images to great content. As a company that offers software development, testing, performance and post deployment monitoring tools, they've taken a subject area most people might find slightly boring and make in fun and interesting. SmartBear utilizes interesting titles such as "Saving the Marriage (Between Your Website and Its Users)", "Where Were you When your Phone Scared you Half to Death?" and "Chips, Dips and Apps for Super Bowl Sunday."
Who wouldn't want to read an article with these titles, they draw you in, making you want to know what they're talking about. You might be wondering how exactly your phone could scare you to death, with the advancements of technology I guess anything is possible.
3. Jill Konrath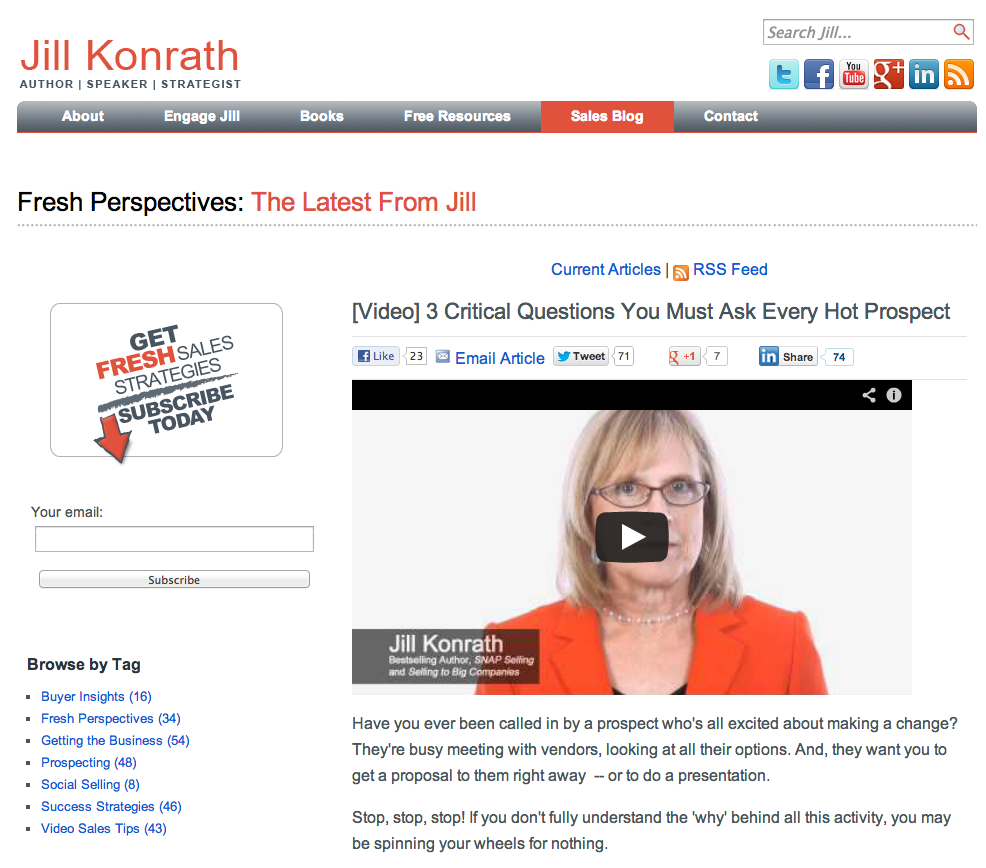 Not only is Jill Konrath the author of two bestselling sales books and a popular speaker who helps sellers crack into new accounts, speed up sales cycles and win more business, but she's also developed a fantastic blog. I personally would give it an A+, her sales strategies blog includes all of the basic elements of a great blog plus some.
As a reader, everyone wants to read something that's interesting, engaging, educational and fresh, what about watching a video? A video is a great way for you to show your audience your personality and convey the passion and knowledge you have for the industry.
4. FotoBridge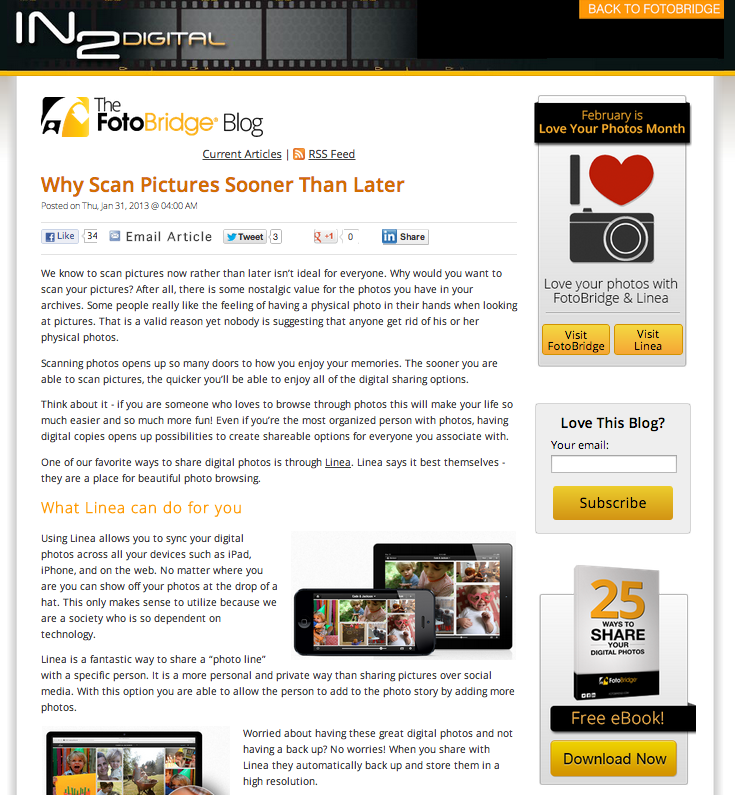 Who doesn't love photos? We are living in the age where almost everything is digital. Think about all the photos and videos you take with your smartphone or your digital camera.
As a company that specializes in photo scanning and making your old photos digital, FotoBridge has turned their blog into a knowledge source, providing their readers with great content that focuses on how you can benefit from turning your old photos digital to fun aspects such as DIY projects and fun photo apps you can find on your phone.
5. Grantham University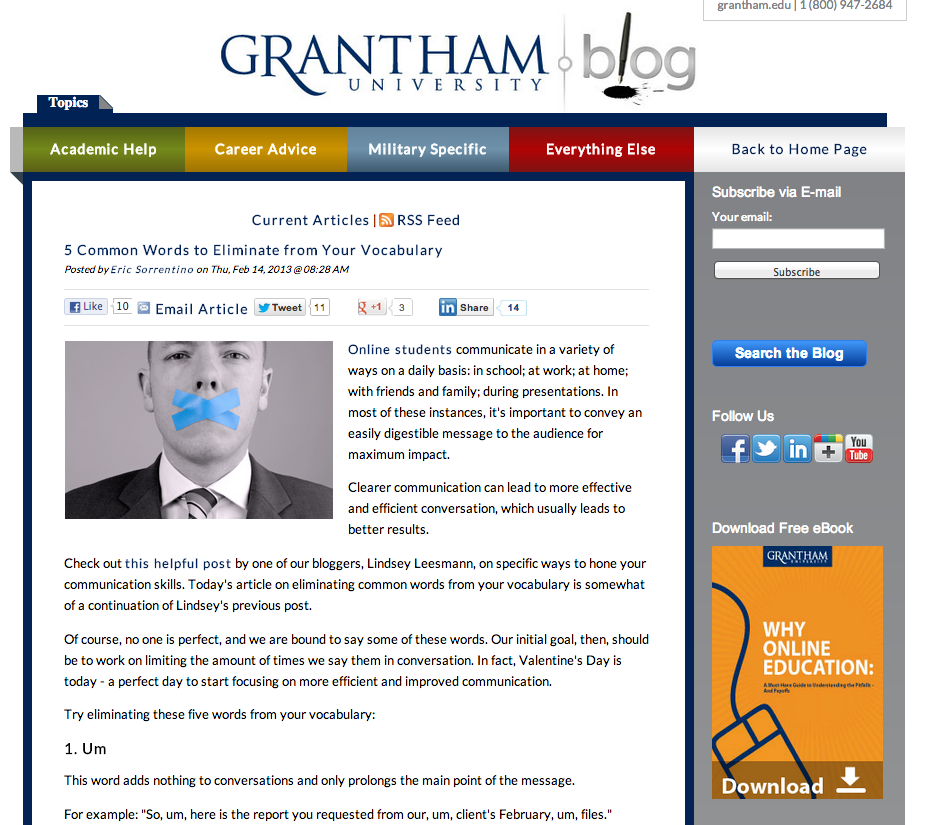 What a great blog from Grantham University, specifically in this post they talked about a topic that almost everyone can relate to. Just think about it, how many times have you heard a public speaker or a politician use the word um? It actually happens more often than your think. Ok, so they have great topics but well else is so great about this blog?
Well, they have a number of the basics such as powerful call-to-actions, awesome feature images, a lot of engagement and it is regularly updated. Along with all of those basics, Grantham added this great navigation bar at the top of their blog allowing readers to select which topics they 're interested in.
6. Yottaa
Everyone wants to ensure that their website is fast, a slow website can cause visitors to visit your competitors site. Not only does this blog talk about making sure that you website performs well but they also provide their readers with inforgraphics, best practices and implement fun.
A great article I found by Yottaa was their article about this years Super Bowl, "Coke, SodaStream & the 13 Websites That Crashed During Super Bowl 2013", who doesn't want to learn about sites that crash? As long as its not yours! As well as utilizing interesting titles and great content, Yottaa does a great job of creating content people actually want to share.
7. Information Technology Group
Information Technology Group does an all around great job utilizing their blog, as a company that implements virtual desktop infrastructures, their blog provides tips, comparisons and step by step guides. You might be wondering how a company that provides IT planning, set up and management services has such a great blog.
Their blog includes ALL of the basic elements that a great business blog would consist of, its regularly updated, have awesome featured images, compelling call-to-actions, great content and a strong subscribe box. Why wouldn't you want to read this blog if you are thinking about implementing windows 8, installing a virtual desktop and tips on how to keep your passwords secure. Especially today, keeping your data and information safe is critical.
8. Ken Lauher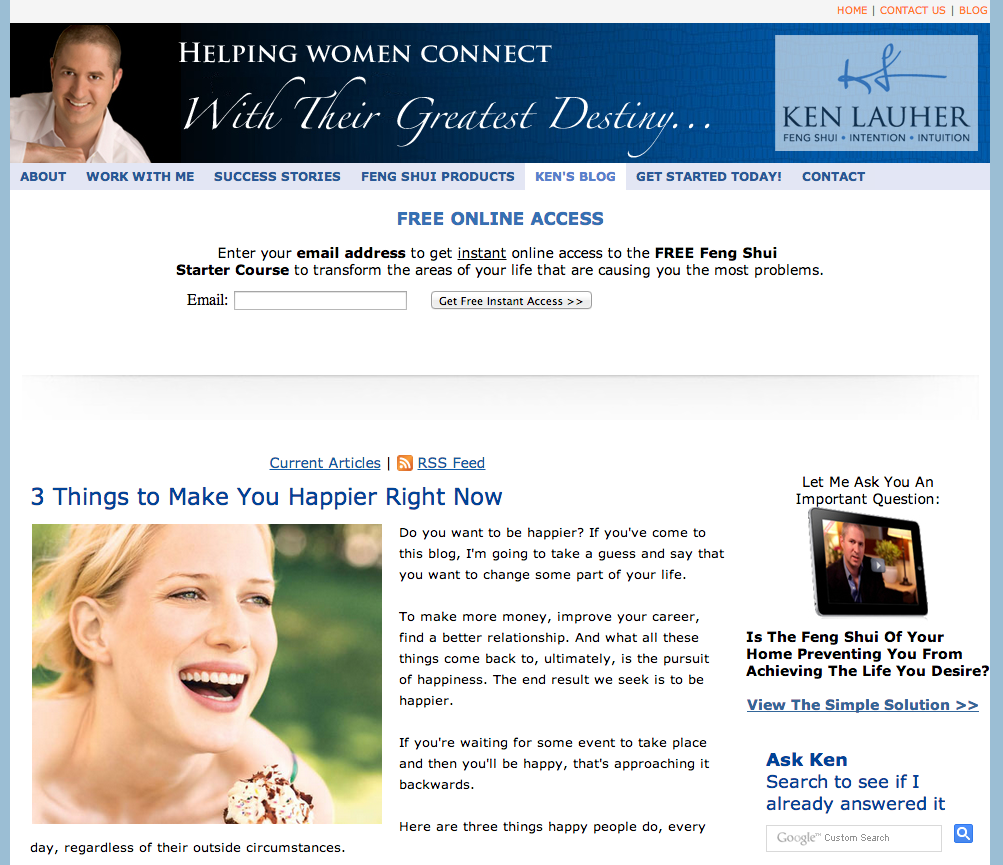 Who doesn't want to be happy? Ken Lauher is all about helping women connect with their greatest destiny. He uses the basic elements of a great blog to portray how feng shui can help improve your life. One of the elements Ken utilizes the most is great content and the personalization he provides, he is able to connect with his readers by adding his signature at the bottom and in some posts he also uses videos.
9. Godfrey - Hoffman & Hodge, LLC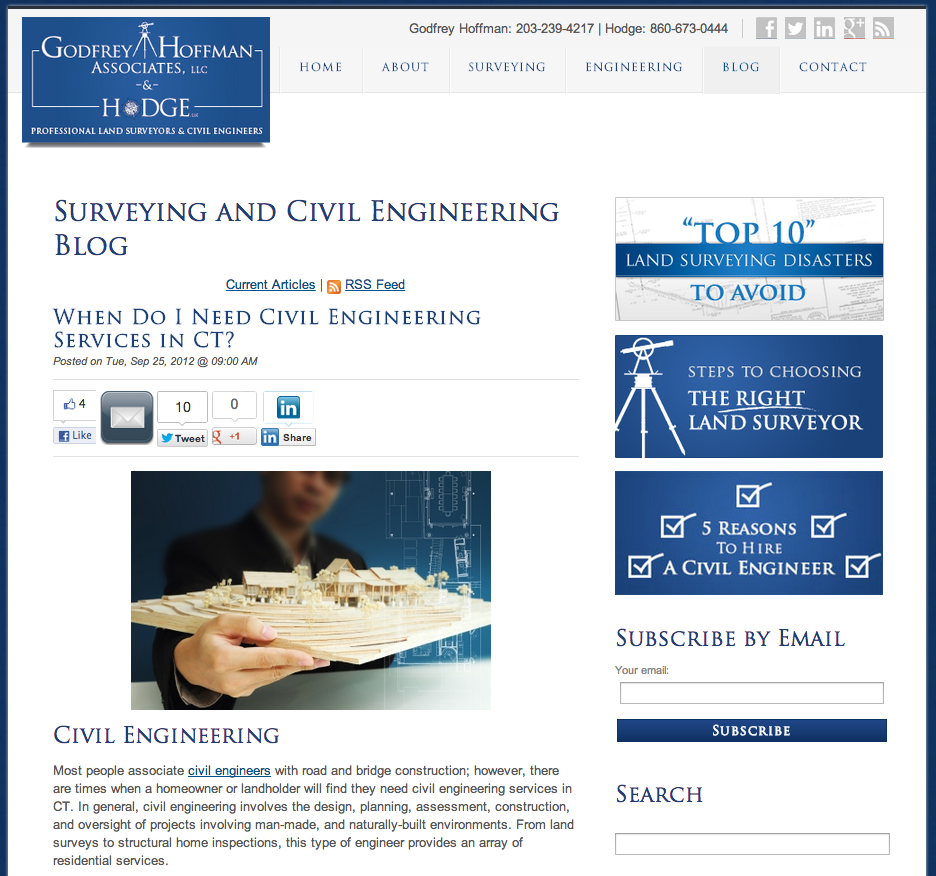 This is a great blog by Godfrey - Hoffman & Hodge, LLC a local land surveying and civil engineer company. For a company that works primarily with residents in Connecticut, the effectively utilize focus keywords to help optimize the articles for that area.
However, the company talkes about topics that could pertain to homeowners and businesses across the United States. Not only do they have great content but they have engaging and attractive call-to-actions, wouldn't you want to learn more about "The 10 Land Surveying Disasters to Avoid"?
10. Goodbye Crutches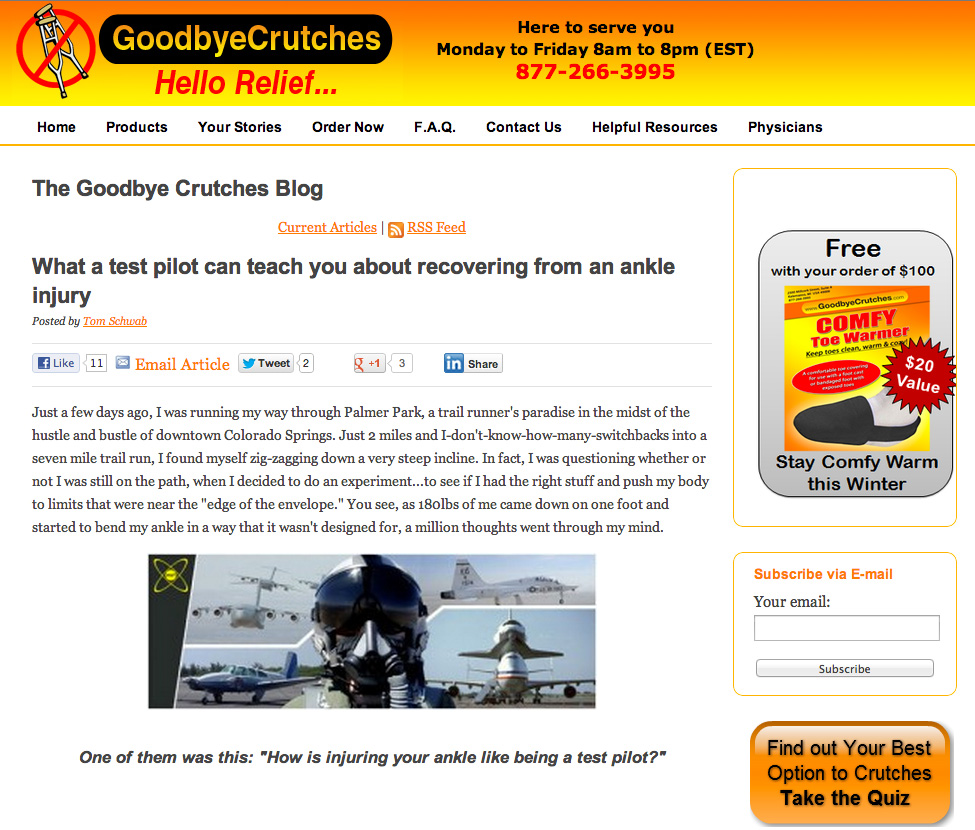 Goodbye Crutches is a great company that takes a fun approach to crutches. Everyday hundreds of people injure their knee, leg, foot or ankle forcing them to walk around with crutches. They also take that fun approach and implement it throughout their blog, with titles such as "4 Ways to Brighten Someone's Day when They're on Crutches", "Why Free Crutches are like a Free Lunch" and "How to Deck Your Halls when on Crutches."
However, not all of their content has a fun spin, but they provide advice and how to quickly recover from your injury without crutches.
11. About Leaders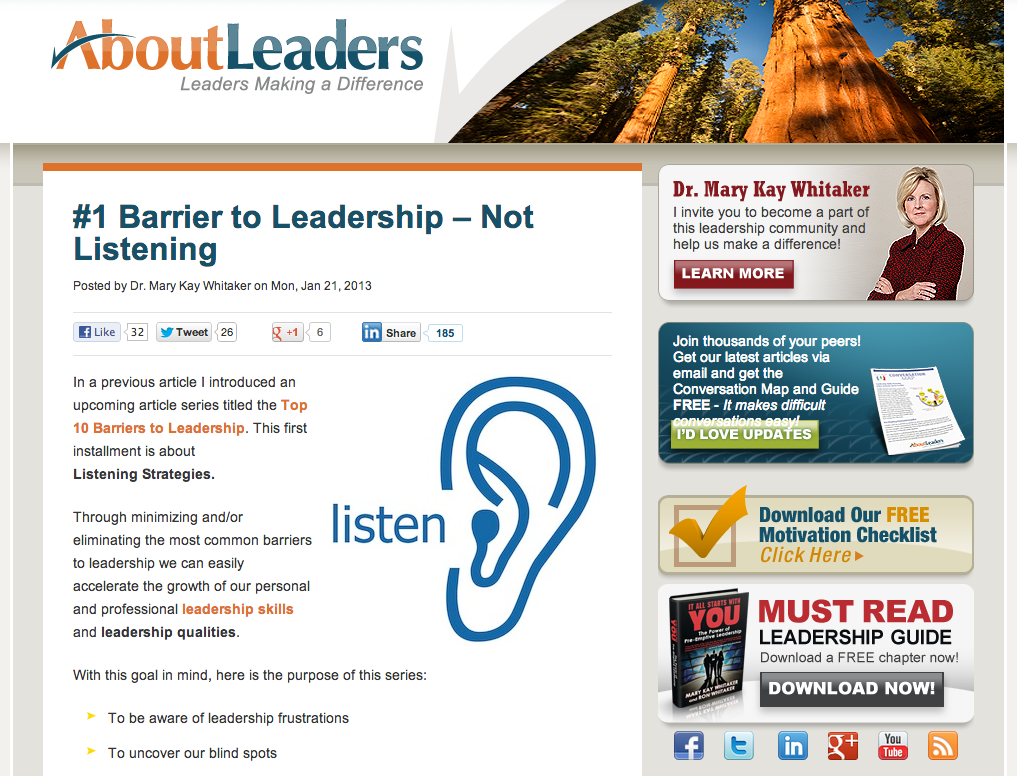 About Leaders has a great blog, where they talk about how you can become a leader. Most blogs tend to have the same voice or person writing all of their posts, however, at About Leaders their blog is different, their posts are written by multiple people. Who doesn't want to be a leader, someone that people look to for advice?
However, sometimes even those who are leaders don't have all of the qualities that make someone a leader. Not only do they provide great tips, but their blog utilizes powerful call-to-actions, a lot of social media engagement and the blog is regularly updated posting 4 to 5 times a week.
12. Icon Presentations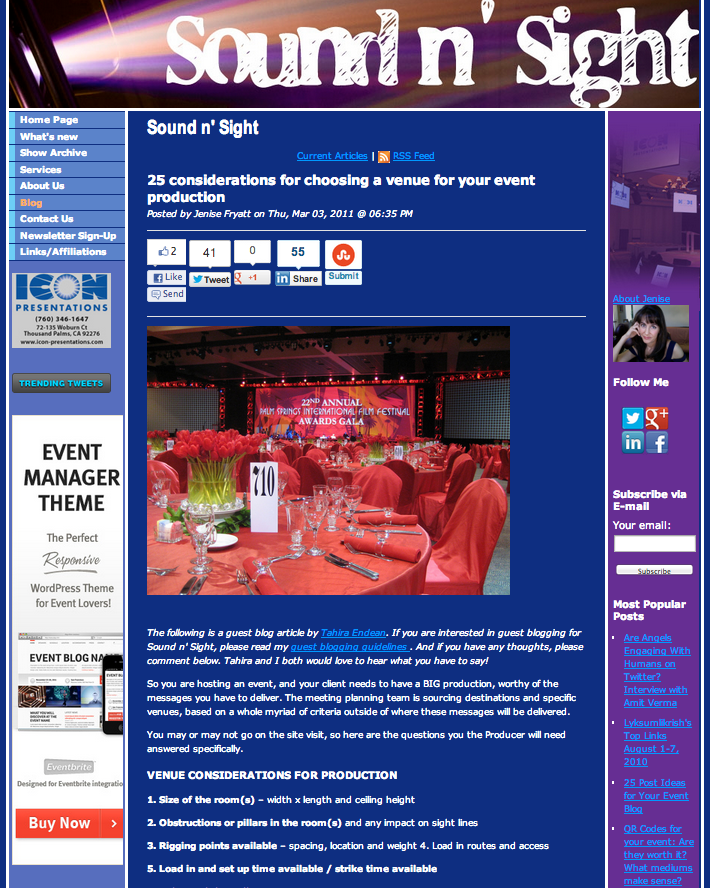 Icon Presentations has a great blog that provides tips and information about blogging, social media marketing and event planning, just to name a couple.
Some elements that Icon Presentations has done effectively is by adding interesting feature images that grab the attention of their readers as well as great content that make their readers want to share on social media sites.
13. Phonetel
Keeping their brand consistent is extremely important, I love how their blog mirrors their website. Every company likes to add an element of fun into their content. As a small local company Phonetel did a great job of not only showing their readers who their company is but also who influences them.
Everyday companies interact with each other on social media sites such as Twitter, Facebook, Linkedin and Google+, developing a post like this allowed the company to gain a significant amount of social media engagement as well as interaction between the company and their influencers. Another great element that is blog is there call-to-actions. You may have noticed that there are no cheesy stock photos of people who "might" work at the company.
14. The Bridge Group, Inc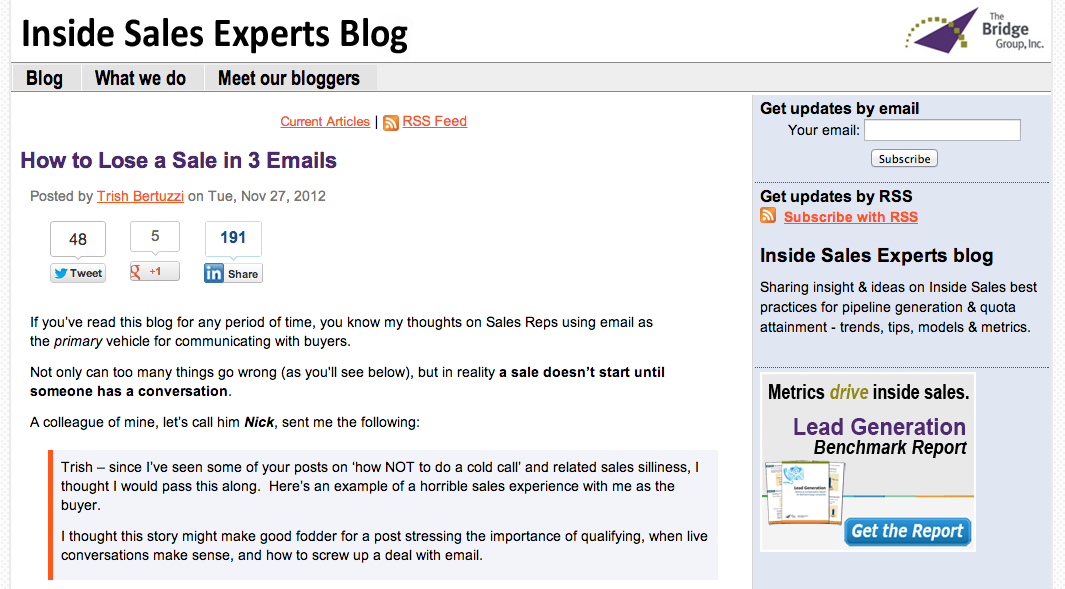 The Bridge Group, Inc provides a lot of great information on their blog about how to improve sales methods, approaches and metrics, all important things your sales team should know. Content is one of the elements that makes this blog so great, Within the article featured, the company talkes about situations that could happen to a sales person during the sales process, such was how you could lose a sale in 3 emails. The layout is interesting since there is no feature image in the post, however, they utilized the email and parts of conversation to break up all of the text.
The Bridge Group, Inc also does a great job of developing topics that will allow them to engage and interact with their readers. Everyone wants to create content that their readers will share!
15. VPX Sports
Another great blog for health and fitness buffs is by VPX Sports, a company that provides nutritional supplements and performance beverages. Some of the elements that make this a great blog is their social media engagement, the company is creating great content around topics that can beneficial to athletes and individuals interested in having a healthy lifestyle.
The topics also vary from tips on how to gain more motivation, the importance of working out in the morning, as well as how to build muscle.
16. Just Add Ice Orchids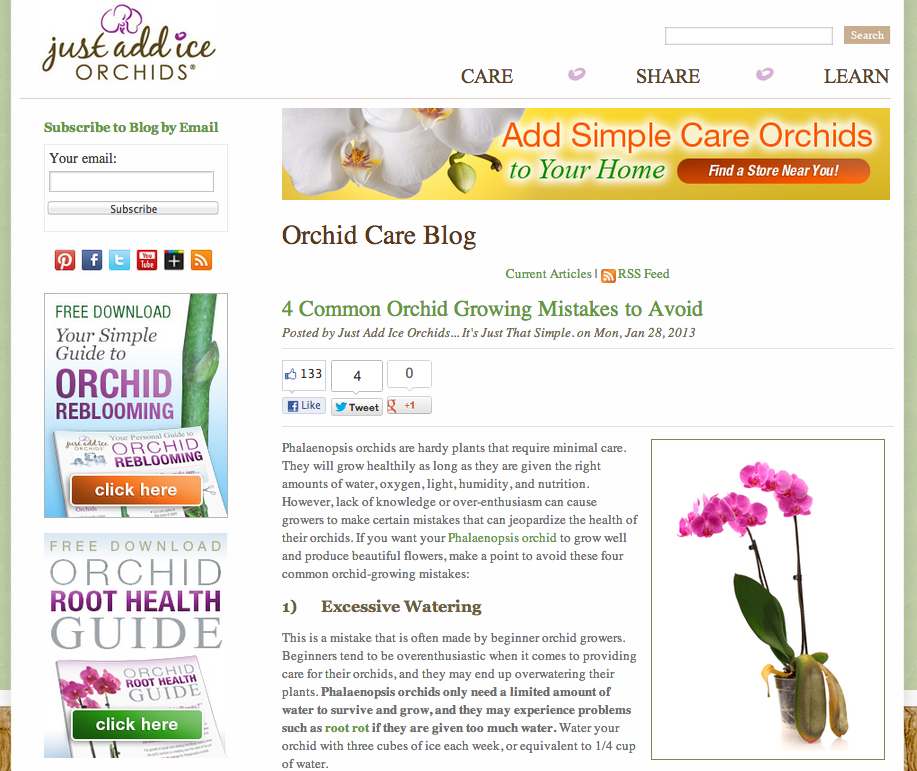 Do you love Orchids? If so you should check out this great blog by Just Add Ice Orchids. They provide a ton of information pertaining to the maintenance and care of orchids, the history of orchids and much more. This blog has it all from great content to lots of social media engagement to powerful call-to-actions to a ton of comments.
The thing I love about Just Add Ice Orchids' blog is the great content they're providing their readers, allowing them to become industry leaders .
17. Energy Vanguard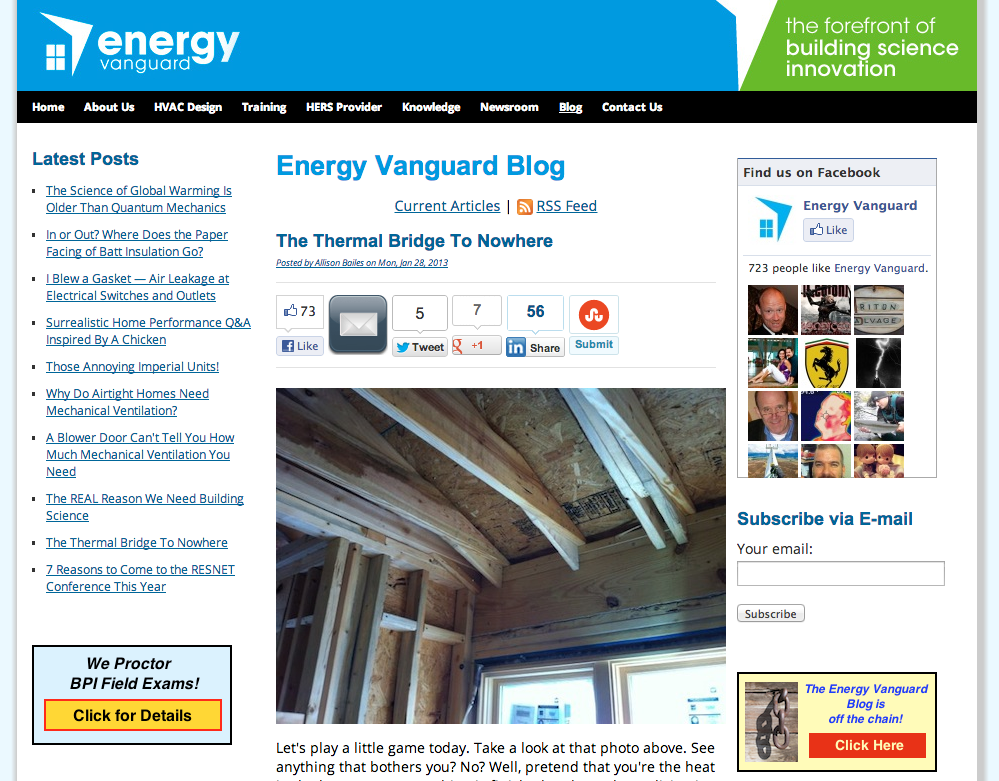 Energy Vanguard also has a great blog, when you are company that is passionate about what they do, it becomes easy for them to develop content that will grab the attention of their readers.
Their blog contains a number of the elements a great blog should have, such as great content, social media engagement, comments and interesting titles.
18. All-Nutrient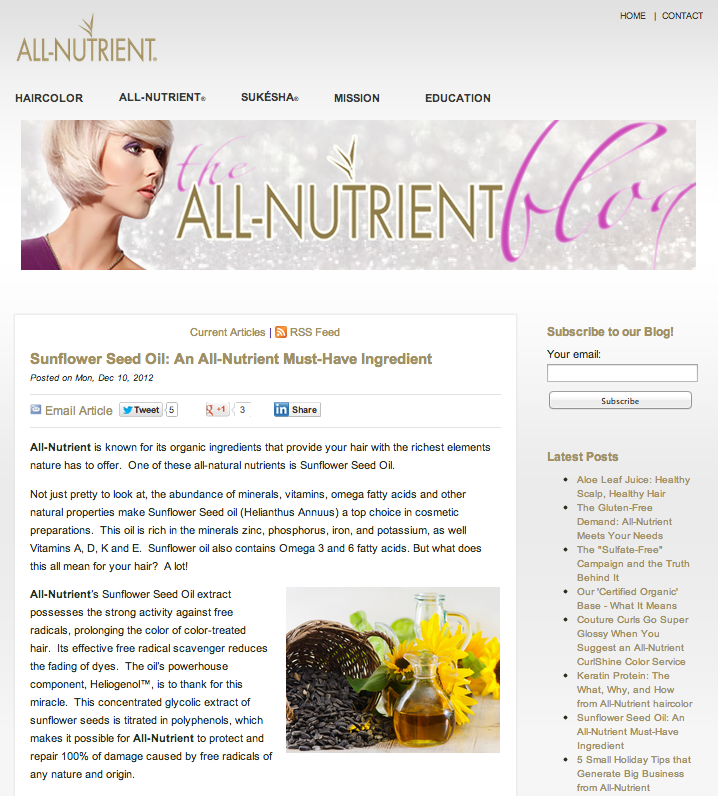 When it comes to haircare, this could be a foreign topic to some people. All-Nutrient does a great job of informing their readers about the importance of having a healthy scalp and hair, by talking about products and nutrients that can be beneficial to your hairs health, as well as haircolor, trends and user guides.
This is a great educational blog for stylists and those interested in learning how to protect their hair, All-Nutrient is dedicated to instilling innovative information, technical advice, and interactive training into the hands and minds of stylists nationwide. The elements that All-Nutrient effectively implements in their blog is their great content, awesome feature images and the blog is regularly updated.
19. Chinese Language Blog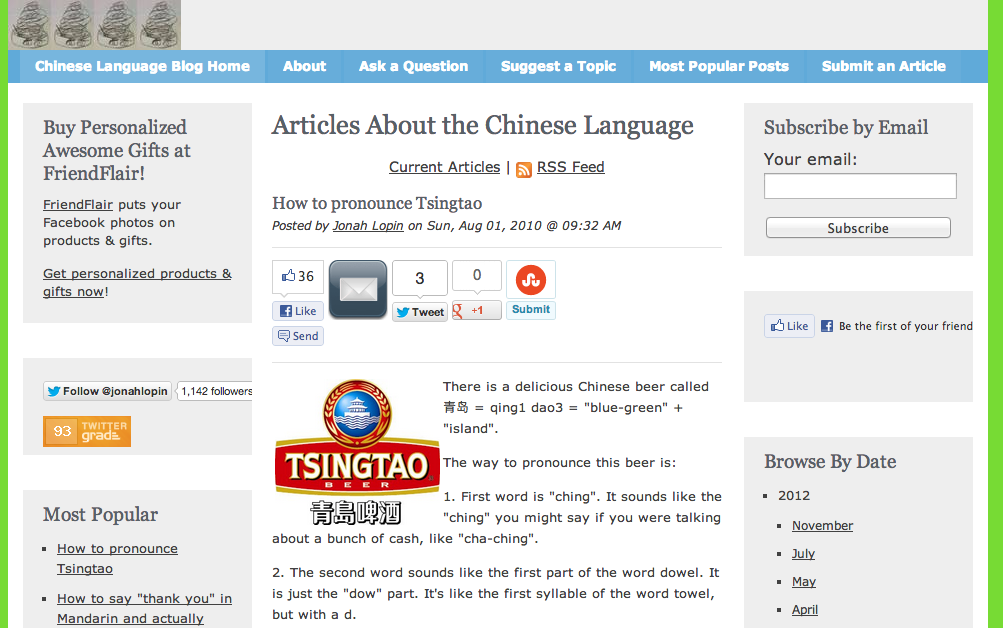 This is a great blog for people you are interested in learning the Chinese language as well as for those thinking about traveling or even moving to China. As one of their most popular blog posts, the authors of the Chinese Language Blog provide step by step instructions on how to pronounce particular words in Chinese, they also provide tips and places you should to see while in China.
Some of the great features of this blog is their feature images, the amount of comments they receive and the content.
20. Assembla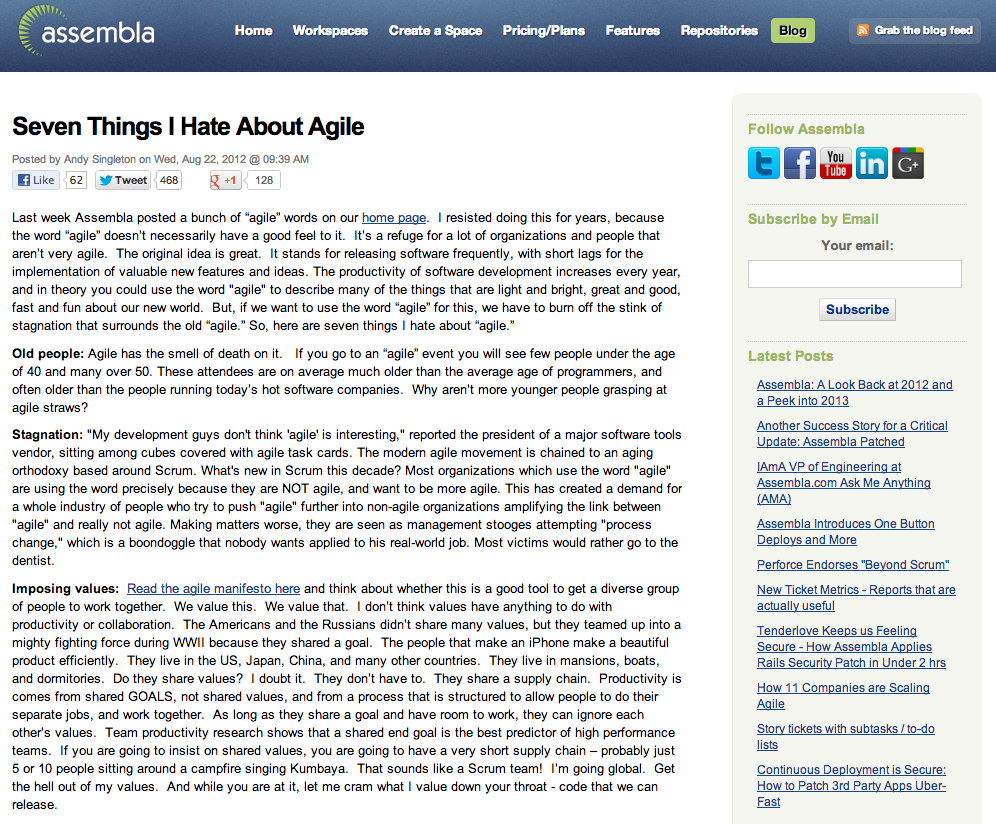 Assembla has a great blog that provides a ton of information to it's readers about the tools and services they provide to accelerate software development and support distributed agile teams. Showing how your company could effectively implement software development systems.
Another topic that could be overwhelming to those who do not understand or know much about the product or service. However, a great element added throughout the blog is the amount of graphs and charts used to explain the products and services they provide.
21. Unitiv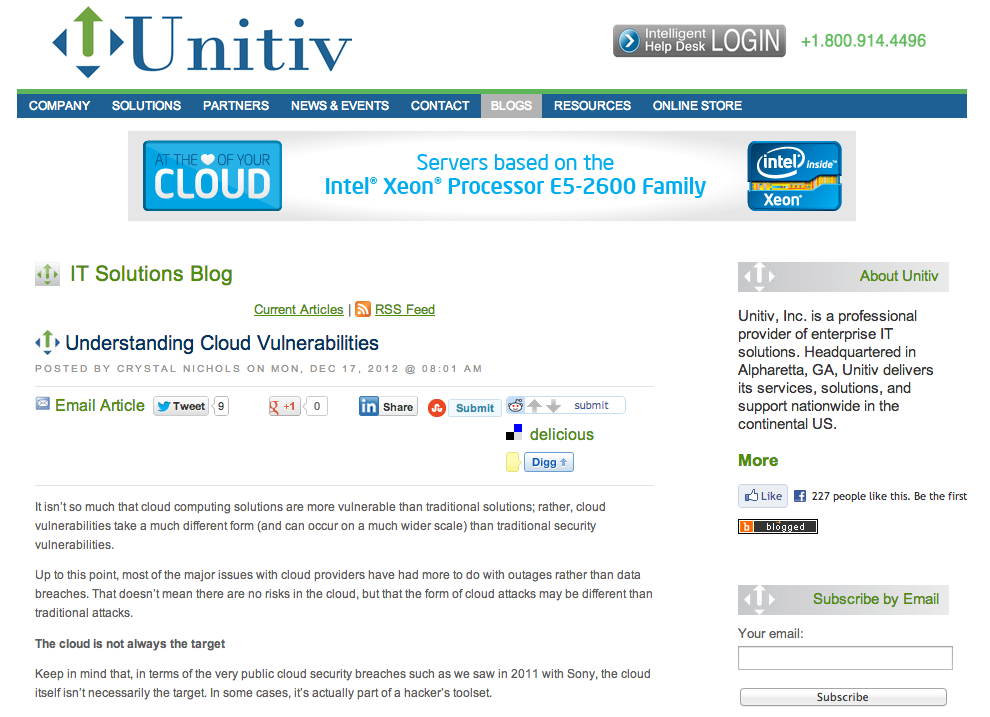 People love reading blogs that have 5 tips ..., 5 ways..., 3 reasons ... and even answers to frequently asked questions, these are great titles that Unitiv develops around IT solutions. As an IT solutions company, it can be hard to engage with readers and prospective readers.
Unitiv does a great job of implementing their focus keywords into their blog titles, by utilizing focus keywords their ideal lead would search is key, giving them a better chance of someone stumbling upon their blog. Another element that I love about their blog is that they break up the content within each article by using bullet points, you don't want to use just big paragraphs, you want to be able to highlight the important information within the article.